January, 2016
ENTREES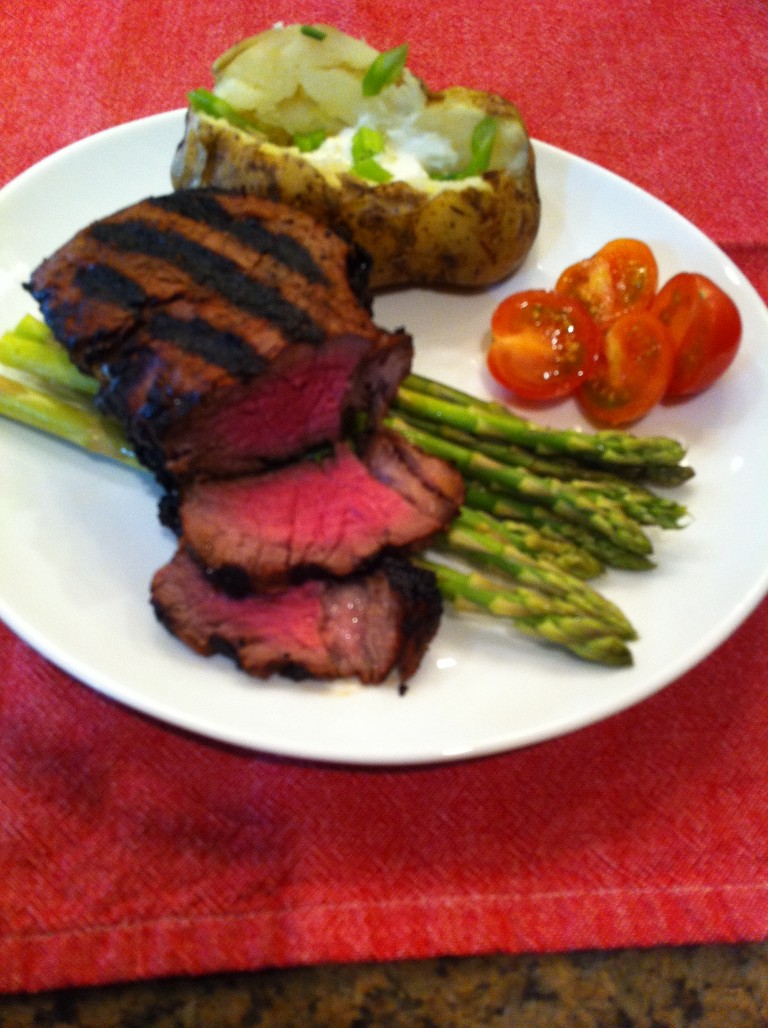 Ingredients
4 1/2 inch-thick (8-10 ounces) filet mignons
2 Tablespoons extra Virgin olive oil
1 Tablespoon of ketchup
Salt and freshly ground pepper
Preparation
1. Remove Filets Mignons 20-30 minutes from refrigerator before grilling .
2. Preheat  grill to high temperature about 400 grades Fahrenheit.
3. Brush steaks with ketchup and Olive Oil and seasoned with salt and pepper.
4. Place the steaks on the grill and cook for about 4 to 5 minutes in each side until golden brown and charred for a medium-rare.
5. Transfer the steaks to a plate and cover with foil paper and let it rest for about 3 to 5 minutes before slicing.
6. Cut and enjoy the most juicy and tender steak ever.
A HEALTHY MEAL PLAN, COOK FOR A CROWD, ENTREES, MEDITERANIAN DISHES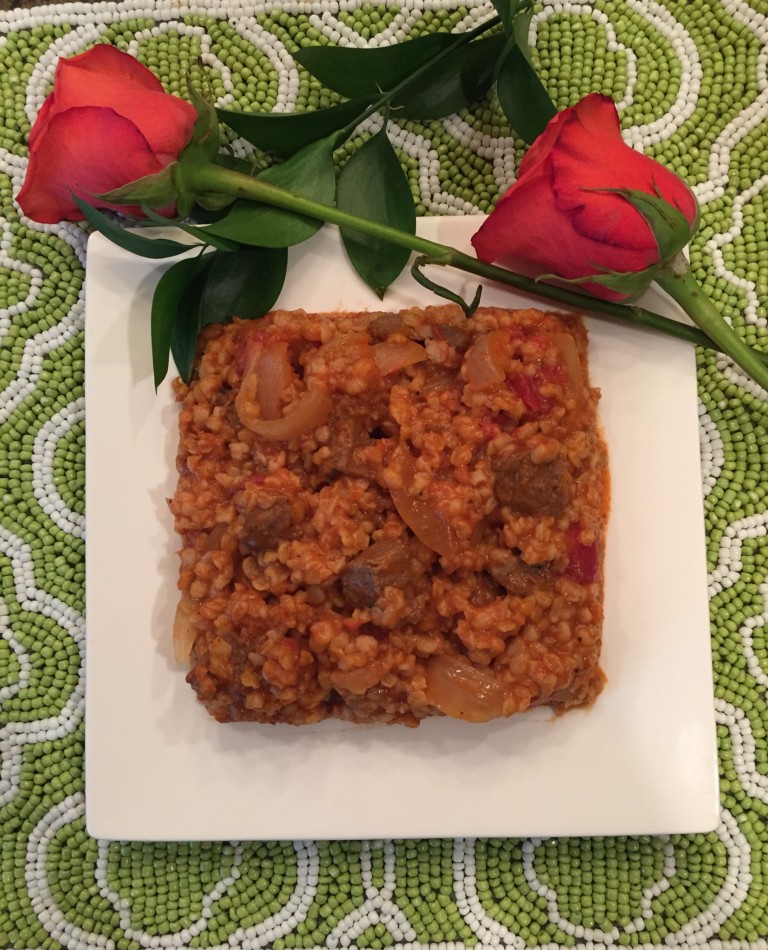 A healthy and hearty Lebanese dish made with Cracked wheat or bulgur, ideal for winter season. It will warm your soul.
Ingredients
1/2 pound of beef stew, cut into small cubes
1 large onion, long slices
2 Tablespoon tomato paste, dissolved in a cup of water
4 Roma tomatoes, large diced
2 tablespoon extra virgin olive oil
1 cup coarse bulgur
2 cups of beef broth
1 teaspoon cinnamon
1 teaspoon salt
1 teaspoon pepper
1 teaspoon allspice
Preparation
1. Heat olive oil in a large pan over medium heat. Add sliced onions and sauté until soft for about 3 to 4 minutes.
2. Add beef and cook until tender.
3. Add allspice, salt, pepper, and  cinnamon. Add bulgur grains and sauté for about 3 minutes to absorb all the spices.
4. Add 3 cups beef broth and  the cup of tomato paste dissolved to the cracked bulgur uncovered till start boiling.
5. Reduce heat to low, cover the pan and cook until all water has been absorbed for about 30 to 35 minutes till bulgur is cooked completely. Serve warm. "Plain yogurt is great next to it". Enjoy!
ENTREES, LATIN DISHES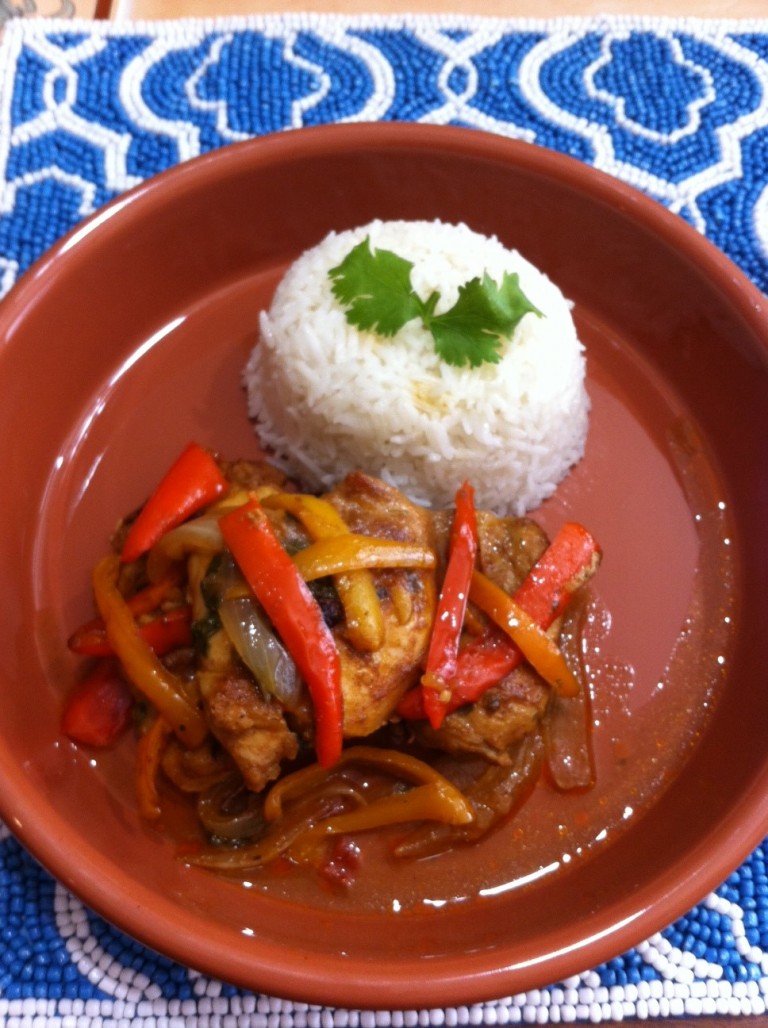 Ingredients
1 Pound skinless, boneless chicken tights (more flavor)
1 Large yellow onion, sliced into strips
3 bell red and yellow peppers, sliced into strips
3 Tbsp. canola oil
Chicken Marinade
2 Tbsp. olive oil
2 garlic cloves, minced
1 tsp. cumin, ground
1 tsp. coriander, ground
1 tsp. paprika
1 tsp. chili powder
1/2 cup, chopped cilantro
1 tsp. salt
1 tsp. black pepper
1 tsp. adobo seasoning
Preparation
1. Add all marinade ingredients to the chicken in a glass container. Cover, marinade and place into the refrigerator for at least 2 hours.
2. Remove from refrigerator and let marinade 1/2 an hour at room temperature.
3. Heat a large cast iron pan on medium-high heat and add 2 tablespoon of canola oil. Cook chicken for about 3 to 4 minutes until golden brown in each side.
4. Remove chicken from heat and cover. Sate onions and peppers in same pan with a tablespoon of canola oil till bright and tender for about 3-4 minutes.
5. Slice chicken against grain into strips and add to the pan with the onions and peppers to absorb flavors for 1-2 minutes.
6. Serve warm next to white rice. Enjoy! Do not forget warm tortillas, guacamole and salsa.