September, 2016
DESSERTS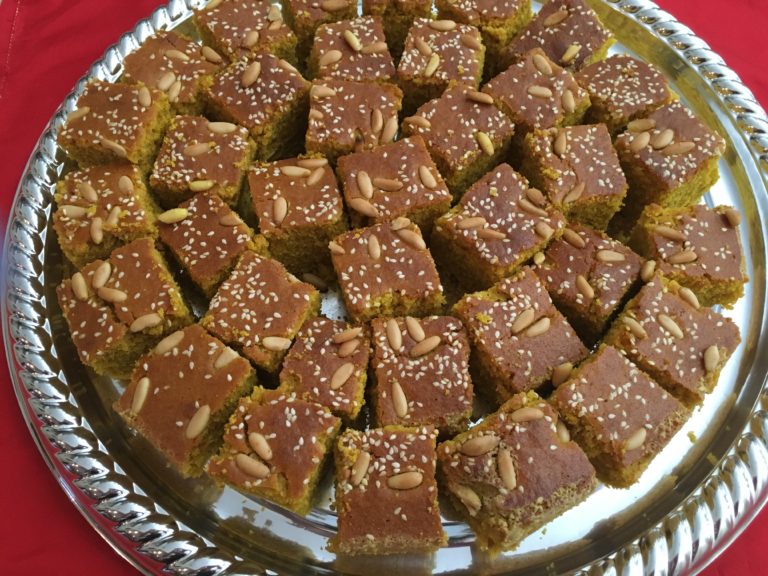 Turmeric: A miracle yellow-bright spice that supports a healthy brain, promotes a youthful radiant skin and by having a piece of this delicious light cake you will also improve your mood 🙂
Ingredients
4 cups flour
2 cups semolina, finely ground
2 Tablespoon Turmeric
1 Tablespoon Anise, ground
1 1/2 cup vegetable oil
1 Teaspoon baking powder
1/2 teaspoon baking soda
3 cups granulated sugar
3 cups nonfat milk
2 Tablespoon tahini
1/2 cup pine nuts
1/3 cup sesame seeds
Preparation
Mix flour with semolina in a big bowl with your hands. Add baking powder, baking soda, turmeric and ground anise.
Add vegetable oil and mix all with your hands until is all crumbly.
Incorporate sugar into the milk, mix well and pour over batter until you reach a soft texture.
Grease a 12 inches square or round pan with tahini. Pour the batter in. Brush top with tahini paste using a pastry brush.
Release air from the pan by hitting the pan over your kitchen counter to make a flatten and even cake batter. Decorate top with pine nuts and sprinkle over with some sesame seeds.
Place your cake in a 400 Fahrenheit preheated oven. Bake for about 30 to 35 minutes until top is golden.
Remove cake from oven. Allow to cool.
Cut cake into squares and enjoy.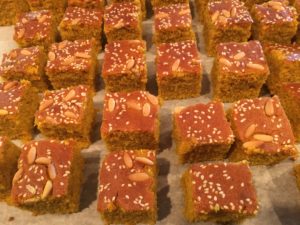 DESSERTS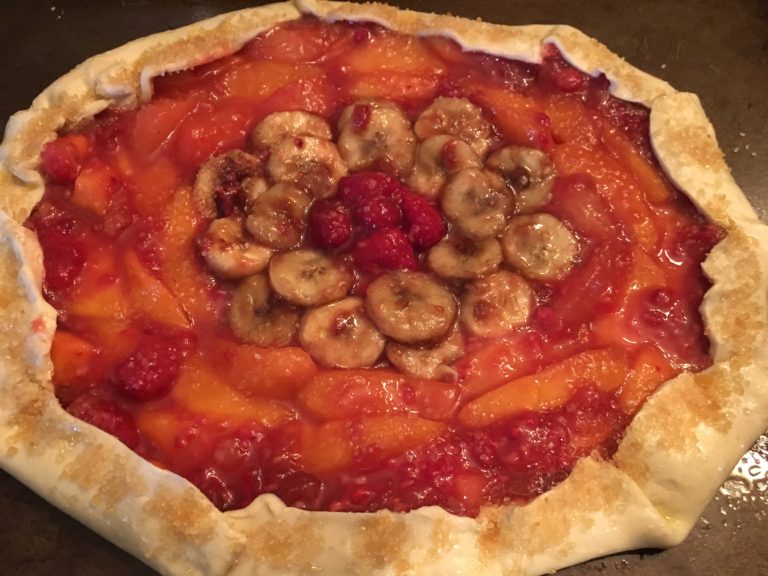 Ingredients
Crostata Pastry:
1 cup whole wheat flour
1/3 cup cold unsalted  butte, diced
3 Tablespoon cold water
2 Tablespoon sugar
1/3 teaspoon salt
Berries Filling:
1/4 pound ripe peaches peeled , sliced
1/3 pound fresh raspberries
1 banana, sliced
1/3 teaspoon grated orange zest
1/2 Tablespoon cornstarch
1/3 cup granulated sugar
2 Tablespoon turbinado sugar
2 Tablespoon apple juice
1/2 teaspoon cinnamon, ground
Preparation
Pastry:
Place flour, salt and sugar in a food processor and pulse until well combined.
Add butter and pulse for about 10 to 12 times until butter is incorporated. Add cold water while processor is running.
Remove pastry dough from  processor when it's about to come all together.
Roll dough into a ball over a flour board. Flatten dough into a disk.
Wrap the disk in plastic and place it in refrigerator for 1 to 2 hours.
Meanwhile, preheat oven to 400 degrees Fahrenheit.
Roll dough into a 12 inch circle over a floured board.
Place dough over a baking pan lined with parchment paper. Set aside.
Filling:
Cut peaches in wedges.
Place raspberries, sliced bananas and peaches into a bowl.
Toss them with sugar, cinnamon, cornstarch, orange zest and apple juice. Mix all fruits well. Let them macerate for at least 20 minutes.
Place peaches and raspberries over pastry dough all around.
Place bananas in the center.(assemble fruits as you desire).
Gently fold edges of dough over fruits all around.(doesn't need to be perfect, we are looking for a rustic homemade look).
Sprinkle edges all around with turbinado sugar.
Bake for about 30 to 35 minutes until crust is lightly golden and fruits look moist and juicy.
Remove crostata from the oven. Let it rest for about 20 minutes. Enjoy warm or at room temperature.