August, 2018
LATIN DISHES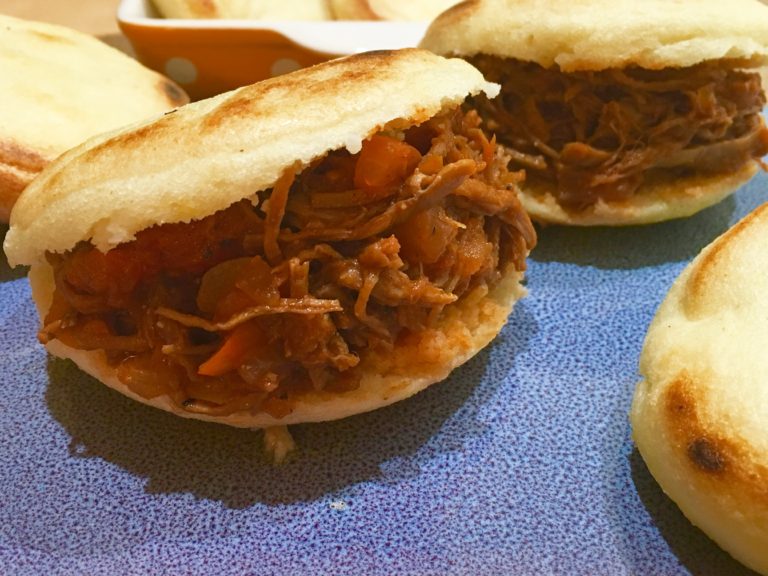 Arepas Dough
Ingredients
2-3 cups Arepa Flour (White pre-cooked Corn Flour)
2-3 cups warm water
1 1/2 teaspoon salt, fine
2 Tablespoon vegetable oil, some extra for the griddle
Preparation
Place into a large bowl arepa flour and salt. Mix it with your hands.
Add warm water slowly, keep mixing as you add until no lumps.
Incorporate vegetable oil. Mix in until dough is firm, well combined and smooth.
Cover the bowl with a damp towel. Set aside and let the dough rest for 20 minutes.
Preheat and set on medium heat your electric griddle or cast iron griddle brushed with vegetable oil.
Meanwhile form Arepas by dividing your dough into 12-15 pieces each of approximately  4  inches disc in diameter and 1/4 inch thick.
Cook the arepas for about 2 minutes on each side until lightly charred.
Remove from griddle. Split arepas in half with a serrated knife nearly all the way and stuff. Ready to serve warm and delicious. Enjoy!
      Shredded Beef Filling (see recipe on my site)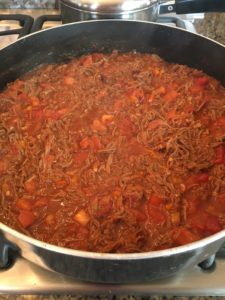 Arepas can also be fried or baked using same Dough recipe. They can be stored in the refrigerator up to 3-5 days, and best reheated in an oven at 350 grades Fahrenheit for about 15 minutes .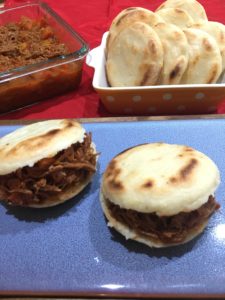 DESSERTS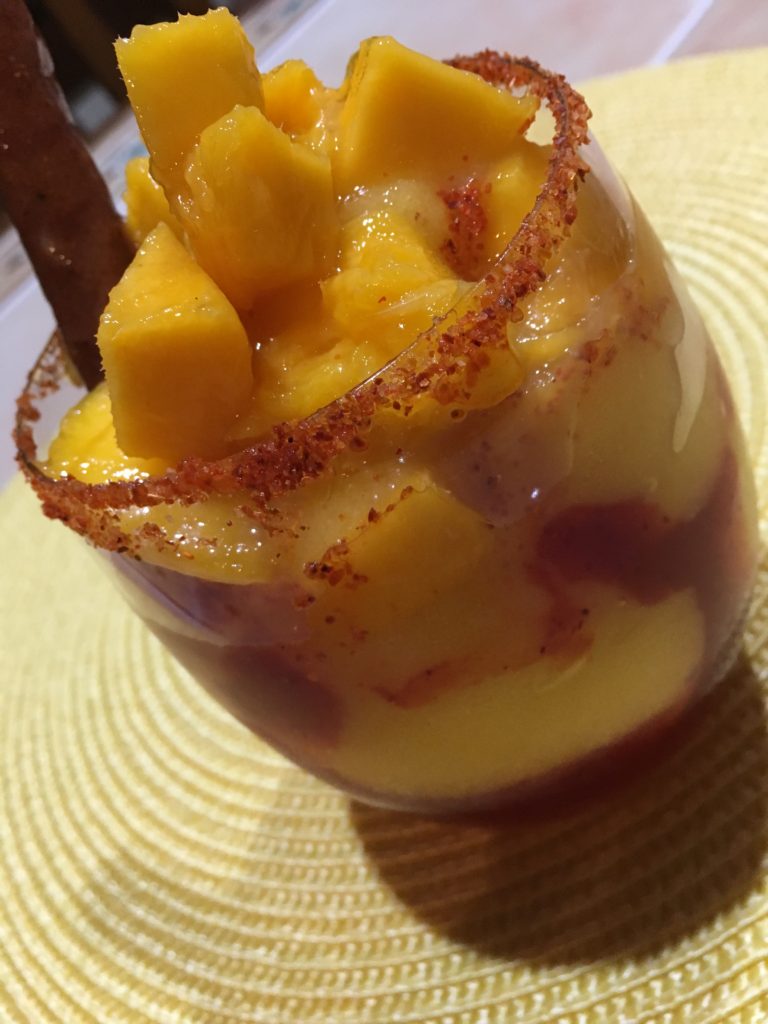 Ingredients
2 cups mango nectar
3 mangos, peeled and quartered frozen
2 fresh mangoes, peeled and quartered
1/2 Lemon, juiced
3 Tablespoons chili sauce (chamoy)
1 Tablespoon tajin seasoning
1 1/2 cups ice cubes
2 Tamarindo candy straws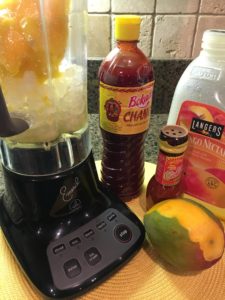 Preparation
Place frozen mangoes, fresh mangoes and nectar into the blender and blend well till very smooth.
Deep each glass tops into lemon juice first , and follow with the tajin seasoning all around.
Pour about 2 Tablespoon of chamoy sauce in each glass. Add frozen mango mixture.
Top with fresh mangoes with a drizzle of chamoy if you want and a sprinkle of tajin seasoning.
Place  Tamarindo Straws into the cups. Enjoy immediately.