A HEALTHY MEAL PLAN, LATIN DISHES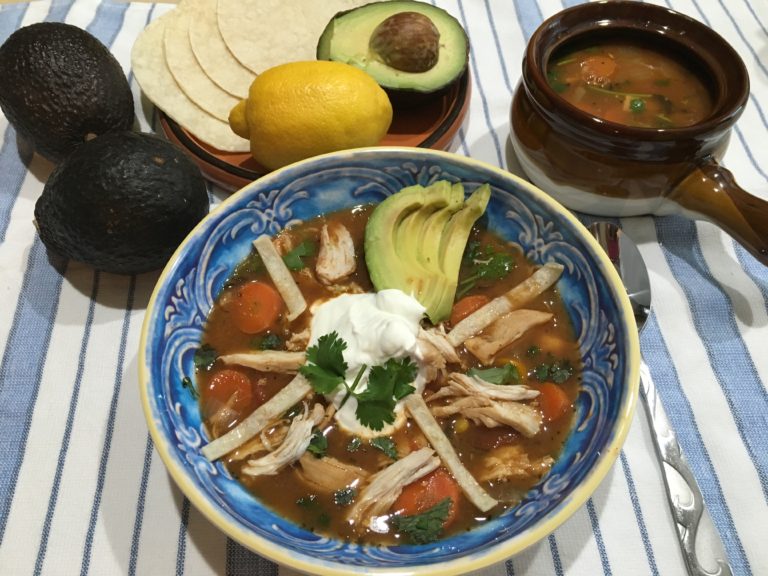 Best ever soup…
Ingredients
2 Tablespoon olive oil
2 (8 ounce)cans diced tomatoes
1 (15 ounce)can corn
1 (46 ounce) can chicken broth or make your own
1 (8 ounce)can tomato sauce
1 large onion, small diced
4 cloves garlic, minced
3 stalk of celery, small diced
3 carrots, round cut
1 jalapeno pepper, diced
3 tablespoon cilantro, minced
1 fresh juice of  a lemon
4 cups cooked shredded chicken
1 teaspoon chili powder
1 Tablespoon cumin
1 Tablespoon salt
1 teaspoon pepper
Garnish
Avocado slices, strips of tortilla, cilantro leaves and sour cream.
Preparation
In a large pot, on a medium heat sate in olive oil onions, celery, carrots and garlic for about 10 minutes. Add tomatoes, jalapenos, corn and shredded chicken. Stir all ingredients well.
Place chicken broth on top of vegetables. Add tomato sauce. Season with salt, pepper, chili powder and cumin.
Bring soup to a boil uncovered. Lower heat and simmer for about 1 1/2 to 2 hours. Pour lemon juice over soup. Add cilantro.
When ready to serve, garnish with sour cream, extra cilantro leaves, and tortilla stripes. Enjoy!