Browsing Category

A HEALTHY MEAL PLAN

A HEALTHY MEAL PLAN, APPETIZERS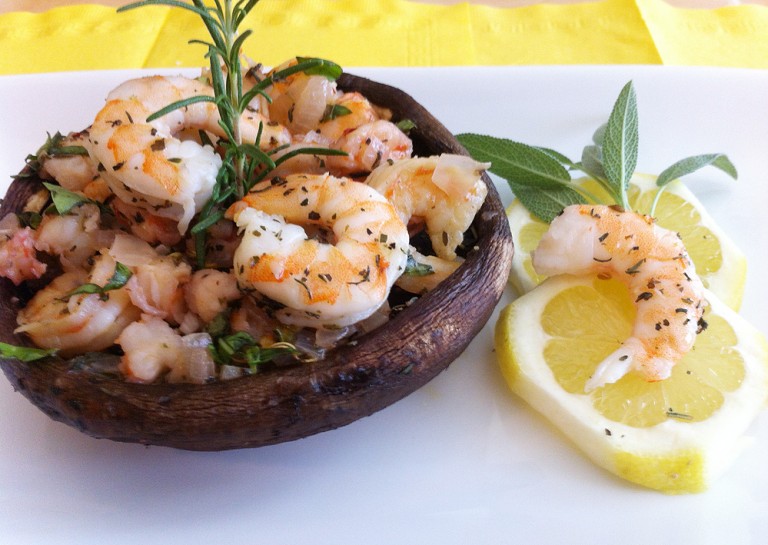 Portobello Mushrooms Stuffed with Shrimp
A devine dish made for beef lovers, without the guilt. The portobello mushrooms melt in your mouth just like the best cut of filet mignon. Great as a starter or for a nice and light lunch.
Ingredients:
5 Large portobello mushrooms
8-10 Ounce cooked shrimp
1/2 Cup chopped shallots
1/4 Cup olive oil
1/3 Cup red wine
2 Cloves garlic, chopped
1/3 Cup Fresh Rosemary, chopped
1/4 Cup fresh basil, chopped
1/4 Teaspoon Herb De Provence
1 Pinch crushed red pepper
1 squeeze of  lemon juice
Salt and pepper
Preparation:
1. Preheat oven to 400°F.
2. Brush mushrooms with olive oil infused with Herbes De Provence.
3. Arrange mushrooms on baking tray stem side down.
4. Roast mushrooms for 5-7 minutes until tender, but still firm.
Filling:
1. In a large skillet heat olive oil over medium-high heat.
2. Saute garlic and shallots until soft.
3. Add cooked shrimp, crushed red pepper, rosemary salt and pepper (to taste), red wine and simmer for 2 minutes.
4. Fill mushroom caps with shrimp mixture.
Serve garnished with chopped basil and a whole shrimp. Drizzle lemon juice over top.
"Buen Apetito"
A HEALTHY MEAL PLAN, FAST AND EASY SIDE DISHES, MY CHILDREN'S FAVORITES, SALADS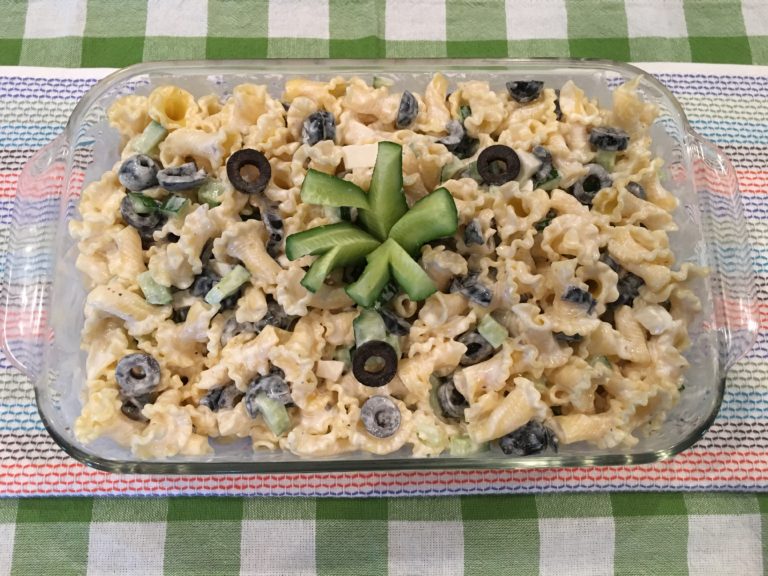 My Daughter's Favorite Yogurt Pasta Salad.
Ingredients
1 12-Ounce box whole wheat Campanelli or Bellflowers
1 Cup sliced Kalamata olives
2-3 Persian cucumbers, diced
1 Cup Lebanese plain yogurt
3 Tablespoon mayonnaise
1/4 Cup extra-virgin olive oil
1/4 Cup apple cider vinegar
1/2 Teaspoon sugar
Salt and freshly ground black pepper
Preparation:
1. Boil pasta in salty water till Al Dente for about (10-12 minutes).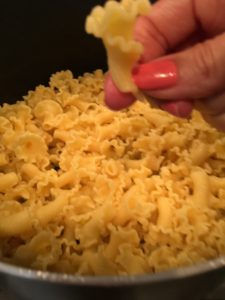 2. Whisk together yogurt, mayonnaise, vinegar, sugar, salt and black pepper. Drizzle olive oil slowly until well combined.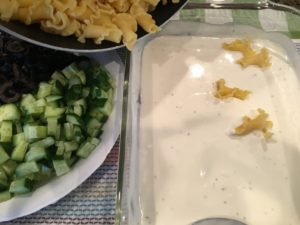 3.  Add cucumbers, olives and well drain pasta to sauce and toss all ingredients till well incorporated.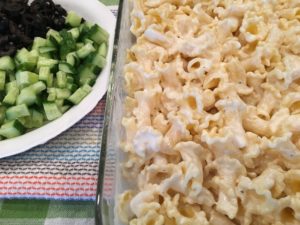 4. Refrigerate covered for at least 1 hour before serving to allow all flavors to absorb.
"Buen Apetito to all!"
A HEALTHY MEAL PLAN, MEDITERANIAN DISHES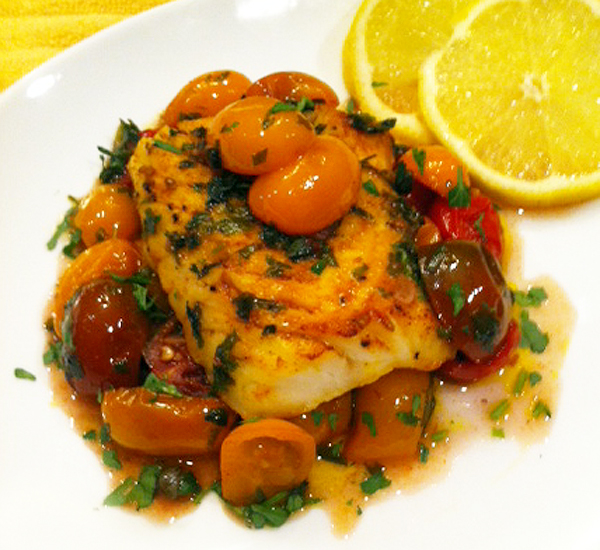 Lemon Olive Oil Roasted Cod Fish
This healthy and delicious dish will melt in your mouth. Flaky, juicy, and tender fish with blistered cherry tomatoes sauce. Could also be made with tilapia, halibut or catfish. Great served over mashed potatoes and spinach salad. Enjoy!
Fish Spices Ingredients:
2 lb. Cod fillets (5-6 servings)
2 Tablespoon extra Virgin Olive Oil
Juice of 1 lemon
1/3 teaspoon paprika
1/3 teaspoon turmeric
1 dash crushed red pepper
Salt & pepper to taste
Ingredients for Sauce
2 cups mixed color cherry tomatoes
1 tablespoon capers
2 minced garlic cloves
1/4 cup of white wine
1 tablespoon olive oil
1/2 teaspoon butter
Juice of one lemon
1/3 cup chopped parsley, for garnish
Preparation
1.    Cut cod fillets into serving sizes and pat dry.
2.    Place fillets in a baking sheet and drizzle with olive oil.
3.    Sprinkle with paprika, crushed red pepper, turmeric, salt pepper, and lemon juice.
4.    Roast uncovered in 375 f oven for 30-35 min, till fish is flaky.
5.    Set aside.
Lemon sauce:
Saute garlic in butter and olive oil on medium heat until tender for 2-3 minutes.
Add capers, cherry tomatoes cut in half.Cook for 3 minutes.
Add lemon juice and white wine.
Let it reduce till sauce is all incorporated and wine evaporated.
Pour sauce over cod. Put it back into the oven for another 15 minutes.
Remove from oven and sprinkle with chopped parsley over warm cod.
"Buen Apetito"