Browsing Category

FAST AND EASY SIDE DISHES

APPETIZERS, FAST AND EASY SIDE DISHES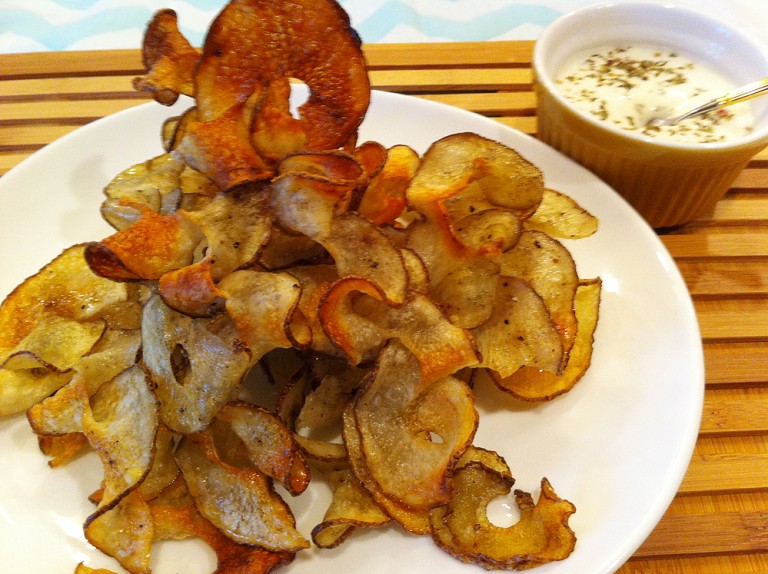 Healthy chips to your kids. Baked in no time. Spend less time cooking and sit with the family.
Ingredients
2 Organic russet potatoes
2 Tablespoon Olive Oil
½ Teaspoon thyme, ground
1 Teaspoon Kosher salt
½ Teaspoon freshly ground black pepper
½ Cup plain nonfat yougurt
½ Teaspoon dried mint
Preparation
1. Preheat oven to 375° Fahrenheit and place unpeeled potatoes, sliced thinly with a mandolin, if you have it; otherwise use a very sharp knife.
2. Toss potatoe chips with olive oil, and lay them uniformly on a baking sheet.
3. Sprinkle with salt, pepper and ground thyme.
4. Roast chips for about 15 minutes.
5. Rotate chips pan to let them cook evenly for another 5-8 minutes or until golden brown and crispy.
6. Remove from oven, sprinkle again with a little kosher salt.
7. Let them rest. As they rest in the same pan will continue to crisp up.
8. Ready to serve with plain nonfat yougurt mix with ½ teaspoon dried mint for a very refreshing taste. Enjoy!
Note: Also, fresh mint or fresh rosemary could be used in the dip with the zest of lemons.
A HEALTHY MEAL PLAN, FAST AND EASY SIDE DISHES, MY CHILDREN'S FAVORITES, SALADS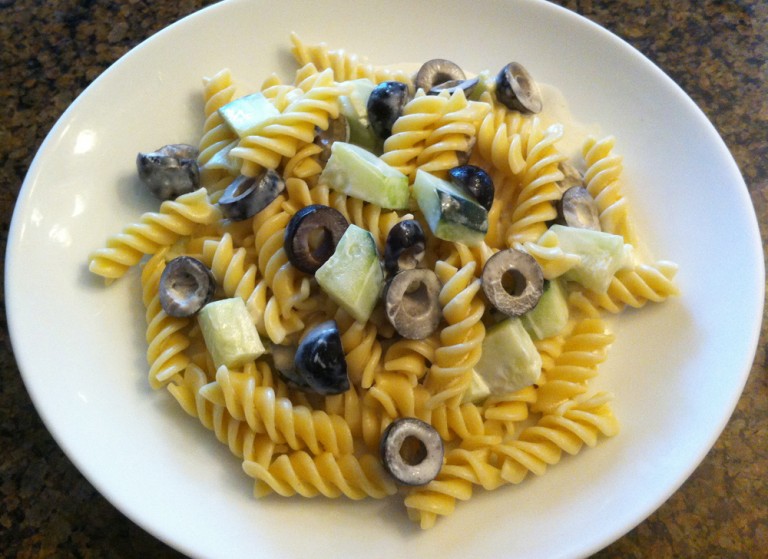 My Daughter's Favorite Yogurt Pasta Salad
Ingredients
1 12-Ounce box whole wheat rotini macaroni
1 Cup sliced Kalamata olives
2 Large half-peeled cucumbers
1 Cup Lebanese plain yogurt
3 Tablespoon mayonnaise
1/4 Cup extra-virgin olive oil
1/4 Cup apple cider vinegar
1 Teaspoon sugar
Salt and freshly ground black pepper
Preparation:
1. Boil pasta in salty water till Al Dente for about (10-12 minutes).
2. Whisk together yogurt, mayonnaise, vinegar, sugar, salt and black pepper. Drizzle olive oil slowly until well combined.
3. Pour sauce over well drained pasta. Add cucumbers and olives.
4. Refrigerate covered for at least 1 hour before serving to allow all flavors to absorb.
"Buen Apetito to all!"