Browsing Category

MEDITERANIAN DISHES

A HEALTHY MEAL PLAN, MEDITERANIAN DISHES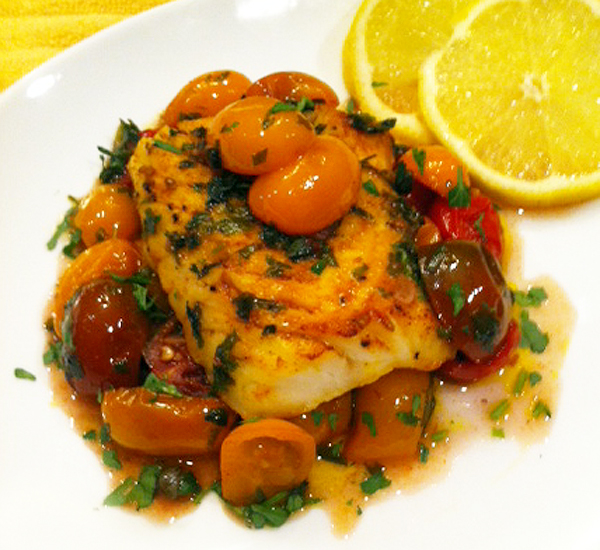 Lemon Olive Oil Roasted Cod Fish
This healthy and delicious dish will melt in your mouth. Flaky, juicy, and tender fish with blistered cherry tomatoes sauce. Could also be made with tilapia, halibut or catfish. Great served over mashed potatoes and spinach salad. Enjoy!
Fish Spices Ingredients:
2 lb. Cod fillets (5-6 servings)
2 Tablespoon extra Virgin Olive Oil
Juice of 1 lemon
1/3 teaspoon paprika
1/3 teaspoon turmeric
1 dash crushed red pepper
Salt & pepper to taste
Ingredients for Sauce
2 cups mixed color cherry tomatoes
1 tablespoon capers
2 minced garlic cloves
1/4 cup of white wine
1 tablespoon olive oil
1/2 teaspoon butter
Juice of one lemon
1/3 cup chopped parsley, for garnish
Preparation
1.    Cut cod fillets into serving sizes and pat dry.
2.    Place fillets in a baking sheet and drizzle with olive oil.
3.    Sprinkle with paprika, crushed red pepper, turmeric, salt pepper, and lemon juice.
4.    Roast uncovered in 375 f oven for 30-35 min, till fish is flaky.
5.    Set aside.
Lemon sauce:
Saute garlic in butter and olive oil on medium heat until tender for 2-3 minutes.
Add capers, cherry tomatoes cut in half.Cook for 3 minutes.
Add lemon juice and white wine.
Let it reduce till sauce is all incorporated and wine evaporated.
Pour sauce over cod. Put it back into the oven for another 15 minutes.
Remove from oven and sprinkle with chopped parsley over warm cod.
"Buen Apetito"
ENTREES, MEDITERANIAN DISHES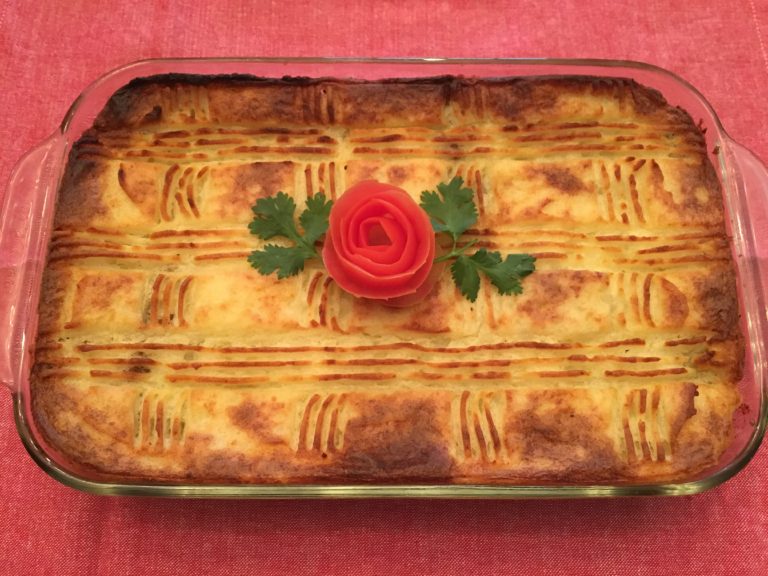 Ingredients for Mashed Potato
4-5 Large potatoes peeled, diced
2 Tablespoon butter
1/2 Cup nonfat milk
1 teaspoon salt + 1 Tablespoon for boiling water
Meat Filling Ingredients
1 Pound ground lean beef (16 oz.)
1 teaspoon butter
1 teaspoon olive oil
1 Onion, small diced
1/2 teaspoon nutmeg
½ teaspoon cinnamon
1 teaspoon dried basil
¼ Cup pine nuts (optional)
Salt and pepper TT (to taste)
Note: For Topping:
No bread crumbs topping. It's healthier, but it could be used.
Mashed Potato Preparation
1. Peel potatoes and cut in large even peaces.
2. Bring about 1 liter of cold water to boil. Add one tablespoon of salt to water.Add diced potatoes.
3. Simmer gently until potatoes are fork-tender for about 15 to 20 minutes.
4. Mash potatoes and add butter, salt, and milk. Mash all together.
5. Set aside.
Meat Filling Preparation
1. In a large pan over medium heat add butter and olive oil.
2. Add onions and satee until soft for about 2 minutes.
3. Add ground beef and stir to combine with onions till meat is cooked completely.
4. Seasoned with nutmeg, cinnamon, dried basil, salt and pepper. If you are using pine nuts, toast them till golden brown over the stove in a pan and then add to the meat and onions mix.
5. Layer half of mashed potatoe on greased pan. Spread meat filling over.
6. Cover with remaining mash potatoes. To decorate with the back of a fork deeped in water to stamp your design.
7. Bake for 30 minutes at 350 grades Fahrenheit  .
8. Broil for another 3 to 5 minutes till top is golden brown.
9. Remove from oven and let it rest for 15 minutes before serving. Enjoy!