Browsing Category

MY CHILDREN'S FAVORITES

A HEALTHY MEAL PLAN, APPETIZERS, MY CHILDREN'S FAVORITES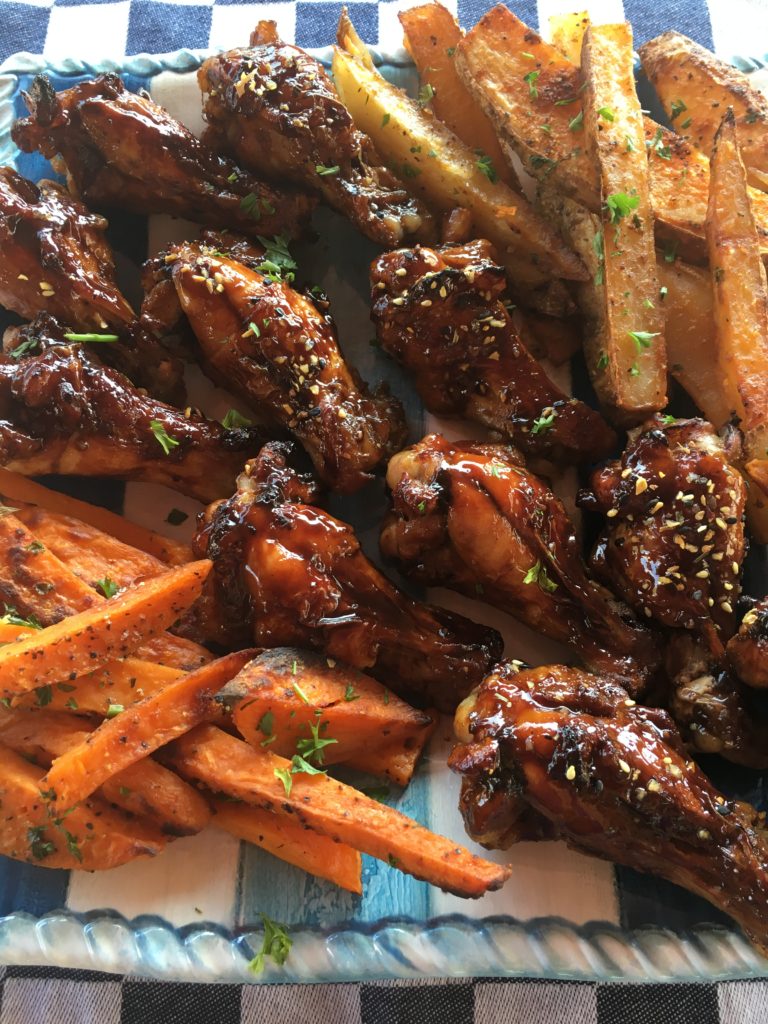 Sweet and a little fiery. Very crunchy, baked chicken drumetts. You won't miss the fried ones. Great appetizer for a crowd . My daughter's favorite.
Ingredients
3 Pound chicken drumettes
1 Cup Organic honey
3 Tablespoon Ketchup
2 Tablespoon Worcestershire Sauce
1 Cup Orange juice or Pineapple juice
1/3 cup Rice Vinegar
1 Tablespoon Pomegranate Molasses
1 Tablespoon Olive oil
2 Garlic cloves, minced
1 Teaspoon fresh ginger, grated
1 Teaspoon Paprika
1 Teaspoon Cayenne Pepper
1 Teaspoon sea salt
1 Teaspoon freshly ground pepper
1 Tablespoon sweet ginger garlic seasoning
Make ahead
1. Preheat oven at 425 grade Fahrenheit .
2. Marinate drumetts in a sealed bag mixing 1/2 cup orange juice, olive oil, salt, pepper, cayenne pepper, paprika and minced garlic.
3. Place in refrigerator for at least 2 hours.
4. Place into the oven for 35 minutes until completely cooked and top is crispy.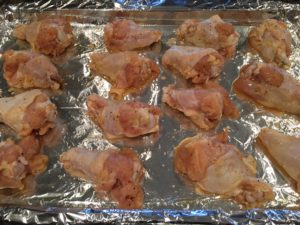 Glaze
1. In a medium saucepan over medium heat, combine honey, ketchup, pomegranate molasses, Worcestershire sauce, rice vinegar and rest 1/2 cup of orange juice. Stir until smooth and simmer for 10 to 12 minutes.
2. Reduce heat and cook for another 3 to 5 minutes till sauce thickened.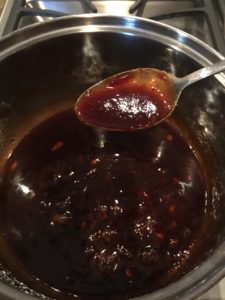 3. Remove drumetts from oven and brush them with glaze. Sprinkle with sweet ginger garlic seasoning and some chopped parsley.
4. Place them back into the oven for another 5 to 6 minutes.
5. Ready to serve. Brush them again before serving so they will be shiny and more tasty. Delicious next to sweet potatoes baked fries and regular fries.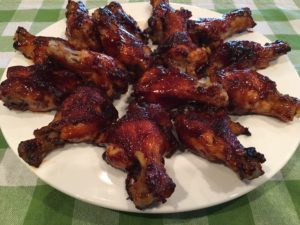 "Buen Apetito"
APPETIZERS, MY CHILDREN'S FAVORITES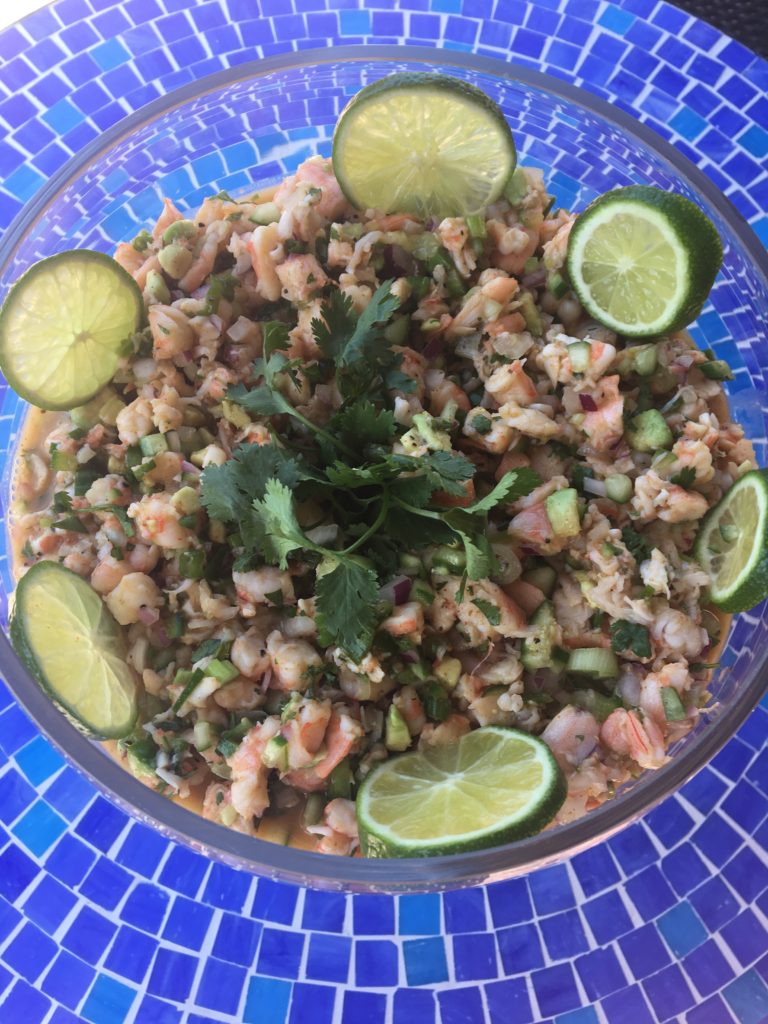 Best Shrimp Avocado Ceviche
A very popular Spanish dish. This typical dish is made from raw fish or shrimp and cured in a very refreshing citrus juices. Delicious and healthy. One of my handsome son's favorite.
Ingredients
1 Pound fresh wild pacific cold water shrimps, cleaned and deveined
1 ½ Cup lemon juice
1 Cup small onion, diced
2 Celery talks, diced
2 Avocados, small diced
1 Large cucumber, peeled diced into ½ inch pieces
1/3 Cup cilantro, finely chopped
3 Tablespoon fresh orange juice
½ Teaspoon Lea & Perrins sauce
1 Dash hot sauce or more
1 Small jalapeno, finely diced
Salt and pepper
Preparation
1. Place shrimps in a glass bowl. Mix in the lemon juice, orange juice and Lea & Perrins sauce.
2. Add onions, celery, jalapeno, and cucumbers and mix all ingredients. Refrigerate for 1 hour.
3. Right before serving add hot sauce, avocados, and cilantro.
Serve into glass bowls: garnish with cilantro and lime slices.
"Buen apetito"
A HEALTHY MEAL PLAN, FAST AND EASY SIDE DISHES, MY CHILDREN'S FAVORITES, SALADS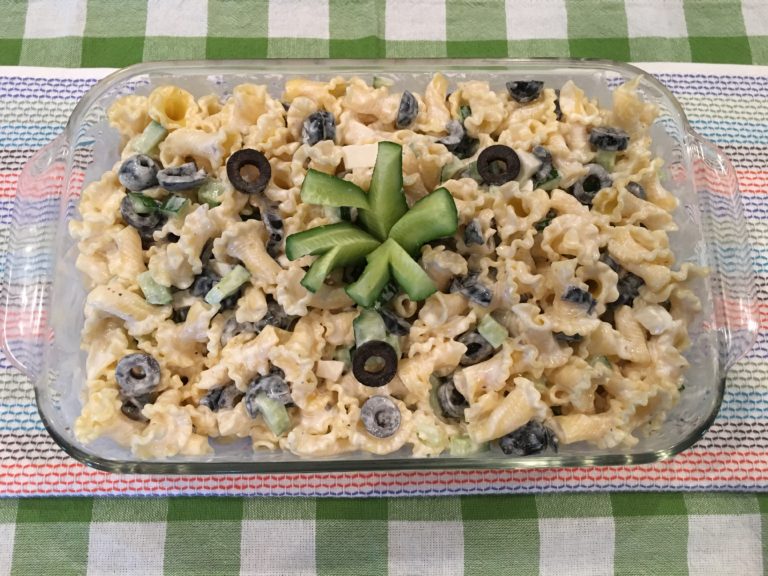 My Daughter's Favorite Yogurt Pasta Salad.
Ingredients
1 12-Ounce box whole wheat Campanelli or Bellflowers
1 Cup sliced Kalamata olives
2-3 Persian cucumbers, diced
1 Cup Lebanese plain yogurt
3 Tablespoon mayonnaise
1/4 Cup extra-virgin olive oil
1/4 Cup apple cider vinegar
1/2 Teaspoon sugar
Salt and freshly ground black pepper
Preparation:
1. Boil pasta in salty water till Al Dente for about (10-12 minutes).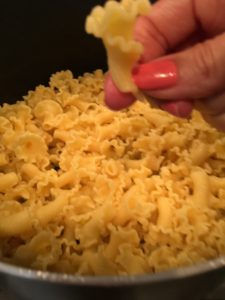 2. Whisk together yogurt, mayonnaise, vinegar, sugar, salt and black pepper. Drizzle olive oil slowly until well combined.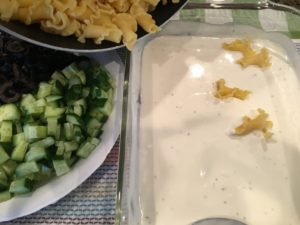 3.  Add cucumbers, olives and well drain pasta to sauce and toss all ingredients till well incorporated.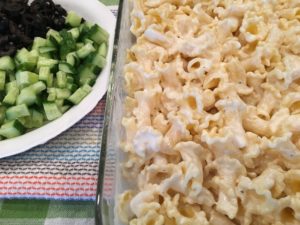 4. Refrigerate covered for at least 1 hour before serving to allow all flavors to absorb.
"Buen Apetito to all!"