Browsing Category

ORGANIC PIZZAS

ORGANIC PIZZAS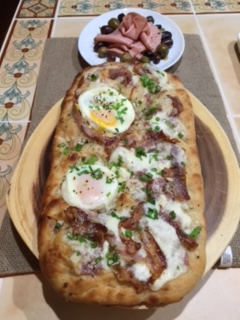 Who doesn't like a Gourmet pizza? If you love starting your day with eggs sunny side-up, you will definitely add this rustic homemade pizza to your breakfast favorite. Try it!
Pizza Dough ( see post on Anita's Family Organic Pizza Recipe)
Pizza Topping:
3 ounces grated parmesan cheese
4 ounces grated Asiago cheese
10 thin slices of Pancetta
2 tablespoon Extra Virgin Olive Oil
1/2 cup green onions, chopped
1/4 teaspoon freshly ground black pepper
Preparation
After preparing your Pizza Dough, extend and press dough out with your  hands into a  flour surface. Drizzle dough with 1 Tablespoon of olive oil and transfer it to a heated stone or a baking sheet. Place dough into a pre-heated oven at 450 grades Fahrenheit for about 15 minutes on rack in top third of the oven.
Meanwhile cook pancetta in 1 Tablespoon of olive oil at low heat for about 12 to 15 minutes until golden brown and crispy. Place pancetta over a paper towel to take off some of the fat.
Remove Pizza from oven. Add Asiago cheese, slices of cooked pancetta and green onions. Bake for another 5 to 7 minutes until cheese is melted.
Take Pizza out. Crack two eggs over pizza. Return pizza to oven. Bake for about 3 to 4 minutes until egg is set.
Remove Pizza from oven and sprinkle with parmesan cheese and freshly ground black pepper. Enjoy next to mortadella and olives. Yummy Pizza!
ORGANIC PIZZAS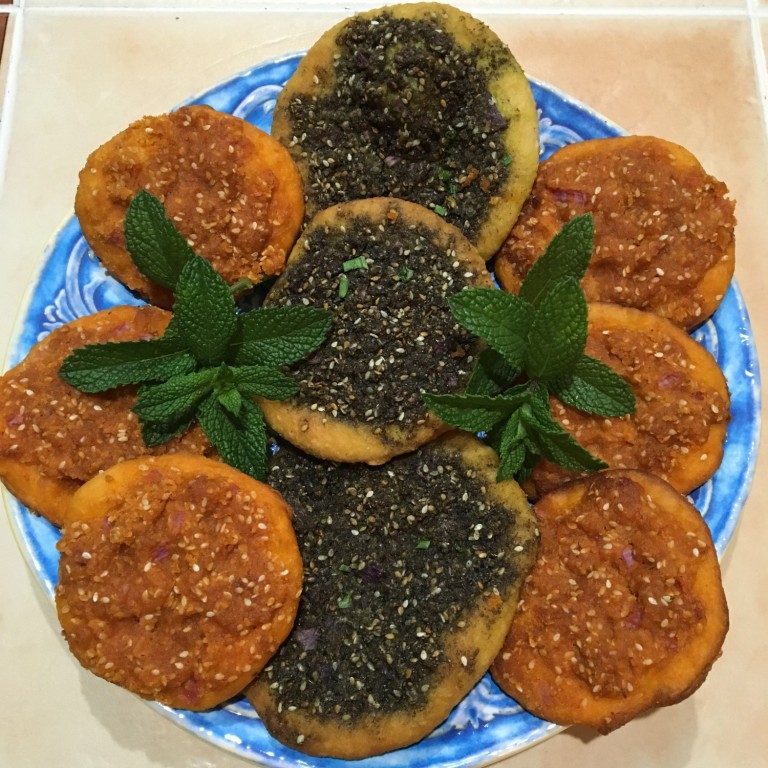 Kishk: A vegetarian, simple and delicious mixture  of yoghurt and ground fine bulgur prepared by a very special community in Lebanon. A historical and touch to the heart dish, specially when the ingredients comes right from its origin.
Zaa'tar: Healthy, rich mix of spices that commonly include dried thyme, ground sumac, sesame seeds, marjoram and salt. "The best morning fuel that wake up our brain".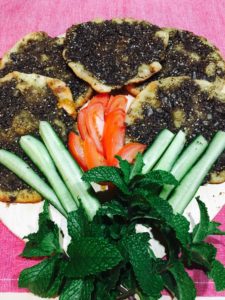 Pizza Dough (see post on Anita's Family Organic Dough Recipe)
Kishk Topping:
1 Red onion, small diced
2 cups Kishk
1/2 to 1  cup extra virgin olive oil
4 Tablespoon toasted sesame seeds
3 Tablespoon tomato paste
1 teaspoon red pepper flakes
Note: Kishk is available online or homemade.
Preparation for Topping
Mix Kishk with extra virgin olive oil, add tomato paste and mix well until kishk have absorbed all ingredients and has an even red color.
Add red pepper flakes, and sesame seeds. Set aside
Prepare your pizza dough See post on organic pizza dough)
Top with Kishk mixture. Enjoy for breakfast, lunch or even dinner !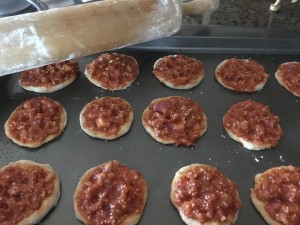 Preparation for Zaa'tar Topping:
Dough( See post on Anita's Family Organic Pizza Dough Recipe)
Mix 1 cup of Zaatar with 1/4 cup of extra Virgen Olive oil. Add some small diced onions. Top pizzas, spread your bread… Enjoy next to tomatoes, mint, labneh, olives or have it as a Zaatar sandwich! Yummy!!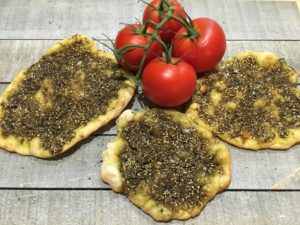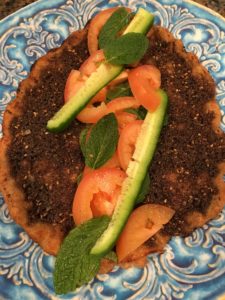 Make your Zaatar pizza into an open face sandwich. Delicious!
MY CHILDREN'S FAVORITES, ORGANIC PIZZAS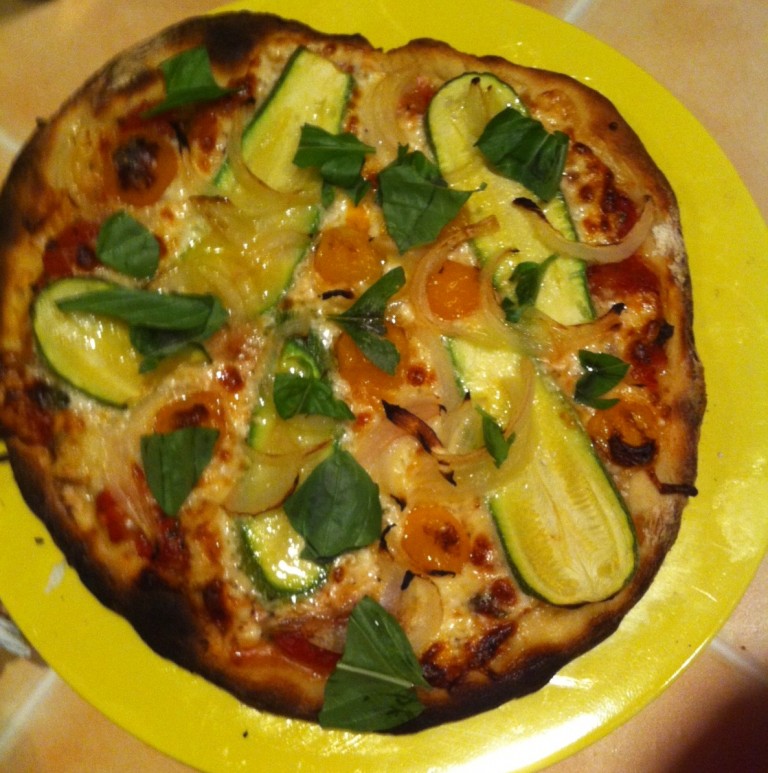 Crispy, perfect thin crust, organic dough topped with fresh grilled organic zucchini, onions, organic yellow cherry tomatoes and basil. Best Pizza ever whether using charcoal or gas grills. The grill will give your pizza the greatest smoky flavor that you cannot get from your regular oven and you will be able to taste a variety of pizzas with different topping instead of over filling yourself with an extra thick one.
Ingredients
4 Cups Organic Unbleached Flour
3/4 Cup of your starter(organic yeast created)
2 1/2 Cup filtered water, room temperature
1/2 teaspoon salt
1 tablespoon extra virgin olive oil
Please see our Organic Yeast creation (Recipe under A Healthy Meal plan page).
Preparation
If your looking for a crispy and extra thin crust, we recommend you to use a pizza stone. For a thicker crust you can place your pizza directly on the grill.
For the Dough:
1. Combine water and organic fresh yeast in a bowl. Let it sit for 10 to 12 minutes, until bubbly.
2. In another bowl, combine flour and salt. Add the yeast and extra virgin olive oil. Mix until flour  is well incorporated with rest of the ingredients.
3. Transfer your dough to a floured surface. Knead it for 4 to 5 minutes and shape into balls.
4. Place the dough into a well greased bowl with olive oil.
5. Cover with a clean towel and place dough into a warm spot in your kitchen to rise for about 2 to 3 hours.
6. Preheat gas grill to 450 degrees Fahrenheit and locate pizza stone over the grill raised up about 3 to 4 inches above.
7. Meanwhile, place dough into a well floured surface and roll out.
8. Transfer dough to a well floured pizza spatula.
9. Place pizza crust over pizza stone. Assemble with topping.
10. Cover the grill and cook pizza for 5 to 6 minutes until edges are crispy and golden brown.
11. Drizzle extra virgin olive oil on top and ready to share.
Enjoy!