Browsing Category

SALADS

A HEALTHY MEAL PLAN, APPETIZERS, SALADS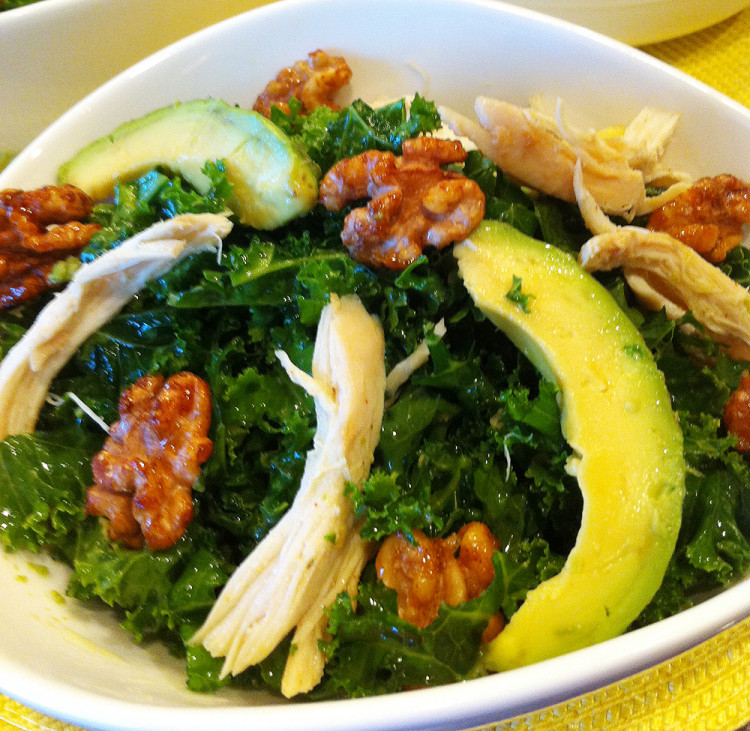 Anita's Kale Chicken-Avocado Salad
A leafy green salad, great for your everyday diet. Jump into a new start. Delicious and healthy.
Ingredients
1 Bunch curly kale (sliced into small ribbons)
2 Cups chicken, roasted
1 Avocado, medium diced
½ Fresh lemon juice
½ Fresh orange juice
2 Tablespoon extra virgin olive oil
1 Teaspoon honey mustard
¼ Teaspoon salt
¼ Teaspoon pepper
½ Cup roasted walnuts (see recipe below)
Preparation for roasting walnuts
1. Set oven at 375°? and lay 2 cups of walnuts on a baking sheet pan.
2. Drizzle 1 tablespoon of coconut cooking oil. Add 1 teaspoon of cinnamon, 1/3 teaspoon salt,1 /3 teaspoon of ground paprika, 1 tablespoon brown sugar and 1 tablespoon of blue agave nectar.
3. Mix and combined all. Place into oven and roast for 15 minutes.
4. Remove from pan. Let it cool.
5. Place into glass jars for best lasting and freshness.
Preparation for salad
1.    Whisk together lemon juice, orange juice, and honey mustard. Drizzle olive oil slowly.
2.    Add salt and pepper.
3.    Add avocados and walnuts. Mix and massage kale with your lovely hands combining all ingredients.
"Buen apetito"
A HEALTHY MEAL PLAN, FAST AND EASY SIDE DISHES, MY CHILDREN'S FAVORITES, SALADS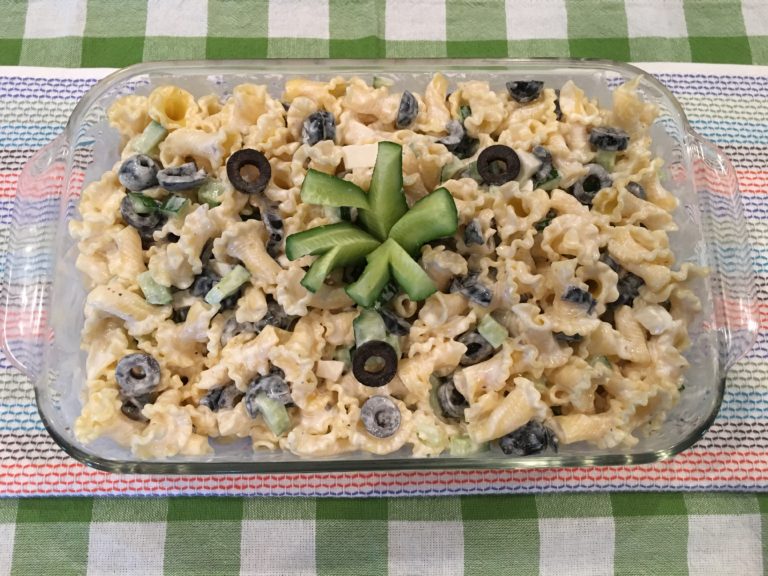 My Daughter's Favorite Yogurt Pasta Salad.
Ingredients
1 12-Ounce box whole wheat Campanelli or Bellflowers
1 Cup sliced Kalamata olives
2-3 Persian cucumbers, diced
1 Cup Lebanese plain yogurt
3 Tablespoon mayonnaise
1/4 Cup extra-virgin olive oil
1/4 Cup apple cider vinegar
1/2 Teaspoon sugar
Salt and freshly ground black pepper
Preparation:
1. Boil pasta in salty water till Al Dente for about (10-12 minutes).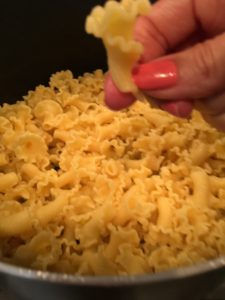 2. Whisk together yogurt, mayonnaise, vinegar, sugar, salt and black pepper. Drizzle olive oil slowly until well combined.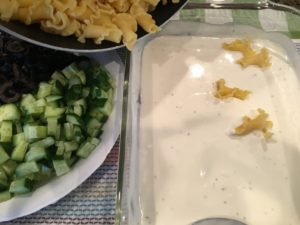 3.  Add cucumbers, olives and well drain pasta to sauce and toss all ingredients till well incorporated.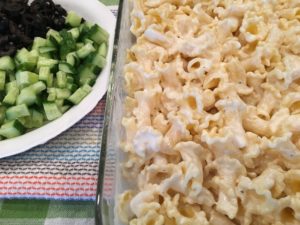 4. Refrigerate covered for at least 1 hour before serving to allow all flavors to absorb.
"Buen Apetito to all!"