February, 2016
A HEALTHY MEAL PLAN, APPETIZERS, MY CHILDREN'S FAVORITES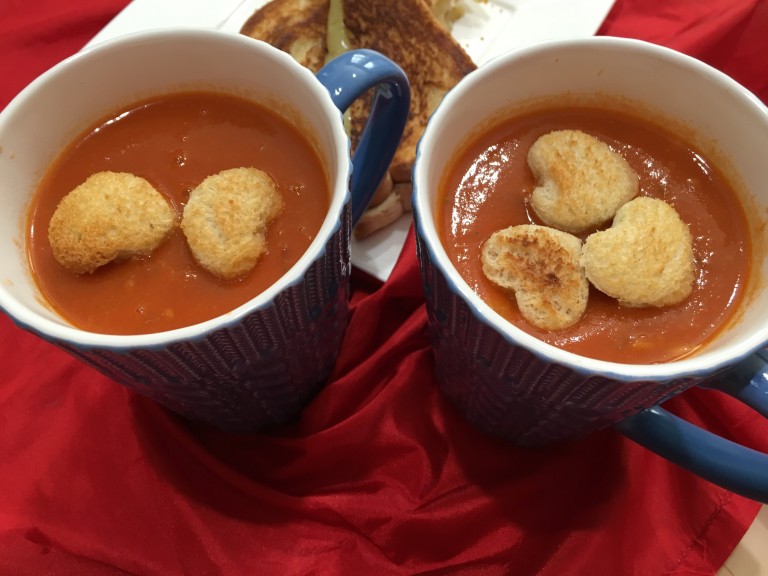 A nutritious, comforting warm to the heart soup made with fresh tomatoes. Creamy with no guilt of heavy cream. Make it special with hearty homemade croutons.
Ingredients
8 tomatoes, diced
1 onion, diced
2 cloves garlic, minced
2 chicken bouillon cubes
3 cups of water
2 Tablespoon olive oil
1 Tablespoon butter
1 16-ounce can tomato juice
1/4 cup fresh basil,chopped
1 teaspoon honey
4 slices white bread
2 bay leaves
1 teaspoon salt
1/2 teaspoon freshly ground pepper
Preparation
1. In a large pot, heat olive oil and sate onions and garlic. Cook until translucent.
2. Add tomatoes, chicken bouillon cubes, bay leaves with 3 cups of water at high heat, until  start boiling.
3. Add tomato sauce, chopped basil and mix all together. Add salt and pepper. Reduce heat to low and simmer for about 30 to 35 minutes; stirring occasionally. Meanwhile, trim bread crusts and  cut heart-shapes with  cookie cutter and place in a baking sheet at 350 grades Fahrenheit for about 5 to 7 minutes until golden brown.
4. Remove heart croutons from oven and set aside.
5. Remove bay leaves from soup. Add the residues of bread left, to the soup and add honey. Stir in butter.
6.  Place soup in batches in blender until smooth.
7. Serve hot and garnish with heart croutons. Delicious next to a grilled cheese sandwich. Enjoy!
DESSERTS, MY CHILDREN'S FAVORITES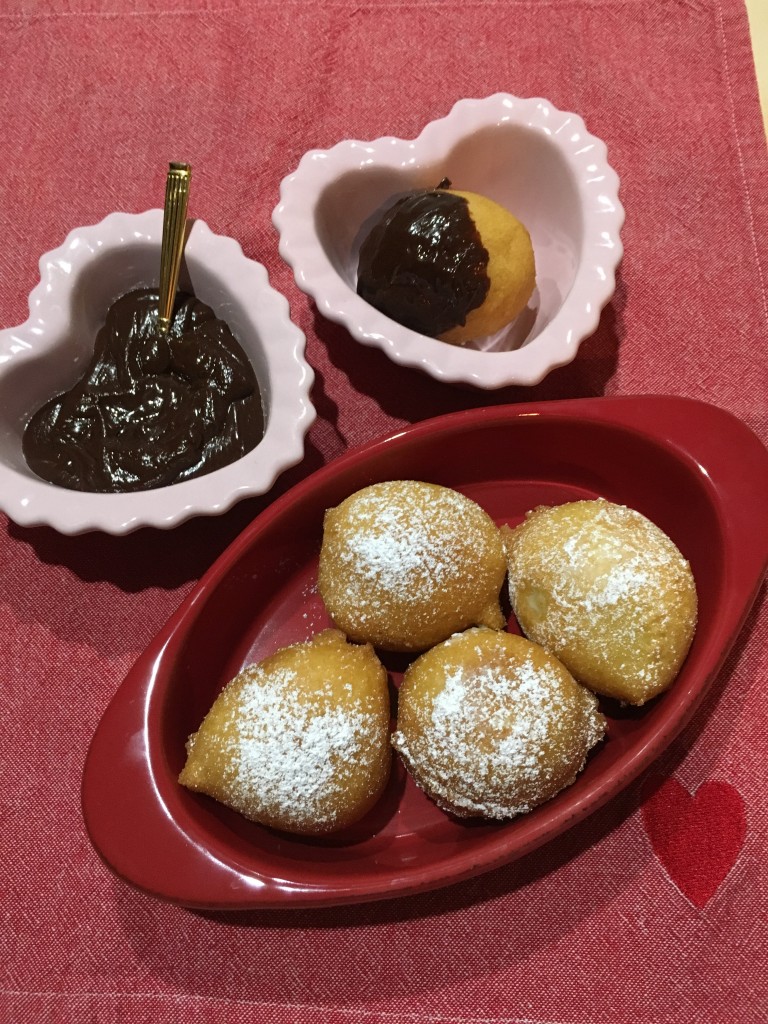 Melt their hearts with these delicious and easy to make homemade doughnuts, filled with rich pure vanilla pastry cream.
Ingredients for the doughnuts:
1 cup non-fat milk
1 extra-large egg
5 cups vegetable oil
3 Tablespoon sugar
4 teaspoon baking powder
1/3 teaspoon salt
1/4 cup, unsalted melted butter
2 cups all-purpose flour
Preparation
1. Add vegetable oil to a heavy-deep pan. Heat oil at medium till temperature reach to 350 grades Fahrenheit.
2. Prepare a sheet lined with paper towels.
3. Meanwhile, mix together egg and the milk. Set aside.
4. In a different bowl whisk together dry ingredients : flour, baking powder, sugar and salt.
5. Pour egg and milk mixture over all dry ingredients and stir. Add melted butter and combine until a soft dough forms.
6. Use a two Tablespoon ice cream scoop to drop  dough into the oil, 5 to 6 doughnuts at a time for about 2 minutes turning them until golden brown.
7. Place doughnuts over paper-towel tray and let them cool completely.
Pastry Cream Ingredients:
2 cups non-fat milk
3 egg yolk + 1 whole egg
3 Tablespoon cornstarch
3 1/2 Tablespoon unsalted softened butter
1 cup granulated sugar
1 vanilla bean, scraped
1 lemon zest
1/3 teaspoon salt
Preparation for Pastry cream
1. In a medium sauce-pan at medium-heat, combine milk, 1/2 cup sugar, salt, vanilla seeds and the whole pod.
2. Heat milk mixture until start boiling, meanwhile whisk together the other 1/2 of sugar and cornstarch. Set aside.
3. Beat egg yolks, whole egg together and add cornstarch. Mix well. Set aside.
4. Remove hot milk from stove, remove vanilla pod from milk and start pouring milk slowly in four additions over the egg yolks and whole egg, and cornstarch mixture. Keep whisking continuously as you pour hot milk over eggs for about two minute until it is all well combined, tempering your eggs.
4. Returned whole mix to the sauce-pan over low heat whisking at all times for about 1 1/2 to 2 minutes until thickened.
5. Remove from heat and add softened butter. Whisk together until creamy.
6. Place in a clean container and locate plastic wrap over touching top of pastry cream. Place in refrigerator for about one hour until ready to use.
7. Remove from refrigerator, mix until smooth and fill your homemade delicious donuts with this creamy vanilla filling by inserting the tip of a pastry piping bag into the doughnut. Do not over filled them with the cream, just until cream comes out a little from same spot of filling.
8. Sprinkle with powder sugar and may serve with chocolate cream.
A HEALTHY MEAL PLAN, ENTREES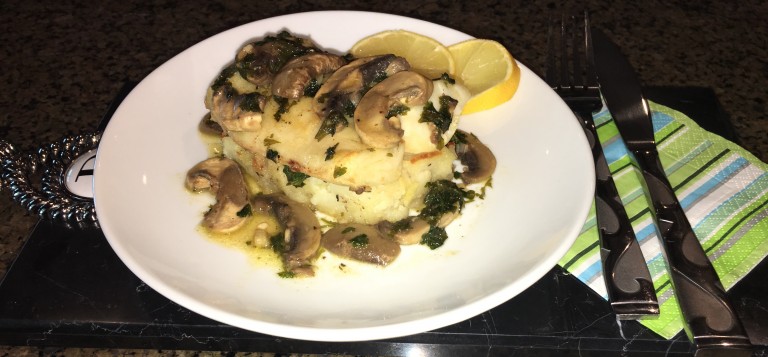 A staple for a light, healthy and delicious dinner with a clean tangy lemony flavor.
Ingredients
4 cods fillets (6 to 8 ounces)
4 Tablespoons lemon juice
2 Tablespoons butter, melted
1 Tablespoon olive oil, extra virgin
1 lemon zest
1 teaspoon ground thyme
1 teaspoon salt
1/2 teaspoon pepper
1 cup white mushroom, sliced
3 Tablespoons parsley, minced
1 garlic clove, mince
Preparation
1. Preheat oven to 400 degrees Fahrenheit. Place cods fillets in a baking dish. Massage your fish fillets with 1/2 Tablespoon of extra virgin olive oil. Add salt, pepper, and ground thyme. Bake for about 20 to 25 minutes till fish is tender and flaky.
2. Meanwhile, sate in a medium size pan over medium heat, the clove of garlic in the rest of 1/2 Tablespoon of olive oil and butter. Add sliced mushrooms and cook till tender.
3. Add minced parsley. Drizzle lemon juice and add lemon zest. Mix all.
4. Remove fish from oven and drizzle over with your delicious lemony, mushroom sauce. Serve fish over mashed potatoes. Enjoy!