March, 2016
A HEALTHY MEAL PLAN, LATIN DISHES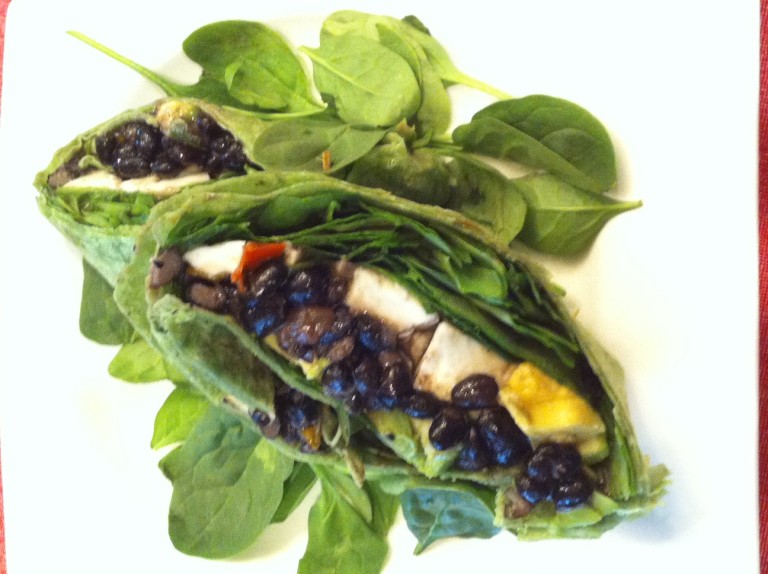 Ingredients
Black beans, homemade(see Venezuelan pabellon criollo for recipe)
1 avocado, small diced
1/2 cup fresh spinach
1/2 cup fresh pineapple
1 cup tomatoes, small diced
1/3 cup cilantro
1/3 cup mozzarella or Monterey jack cheese
2 large spinach tortilla
Preparation
Prepare black beans and set aside.
Place a bed of spinach over tortilla. Top with black beans , tomatoes, cheese, avocados, pineapple and cilantro.
Fold one end of the tortilla over the mound of ingredients. Cut in half. Enjoy!
A HEALTHY MEAL PLAN, DESSERTS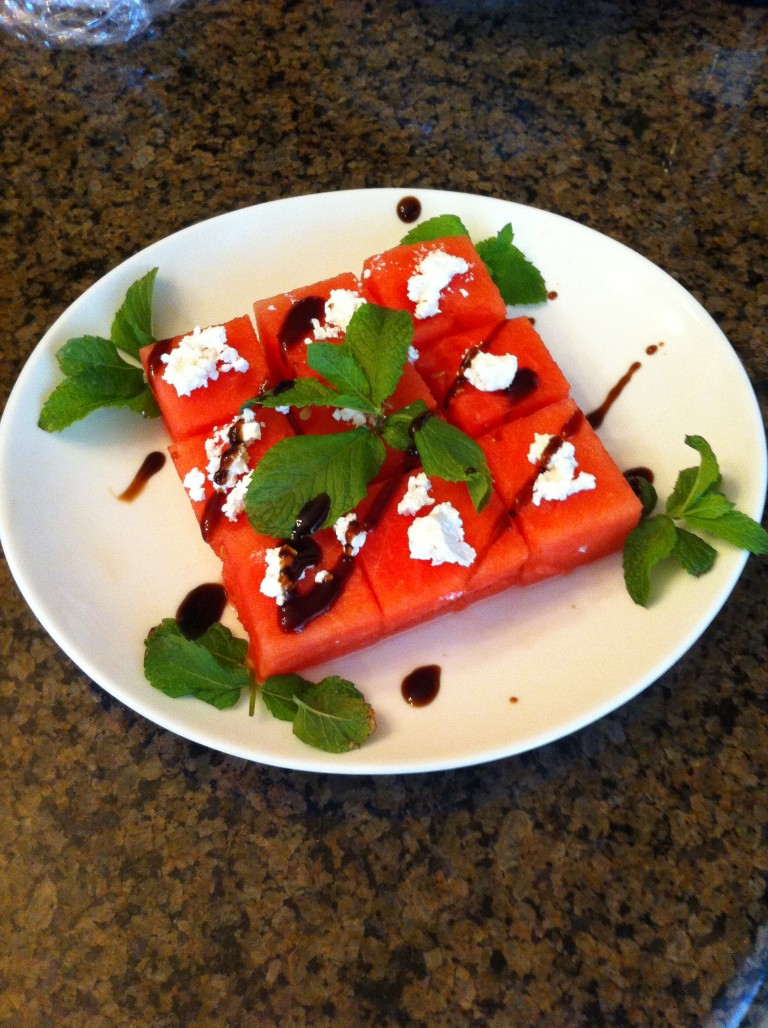 A great refreshing snack, salad or as a sweet and salty dessert.
Ingredients
Feta cheese, crumbled
Water melon cut in big cubes
Fresh mint
A drizzle of balsamic glaze (recipe on my site under caprese salad)
ORGANIC PIZZAS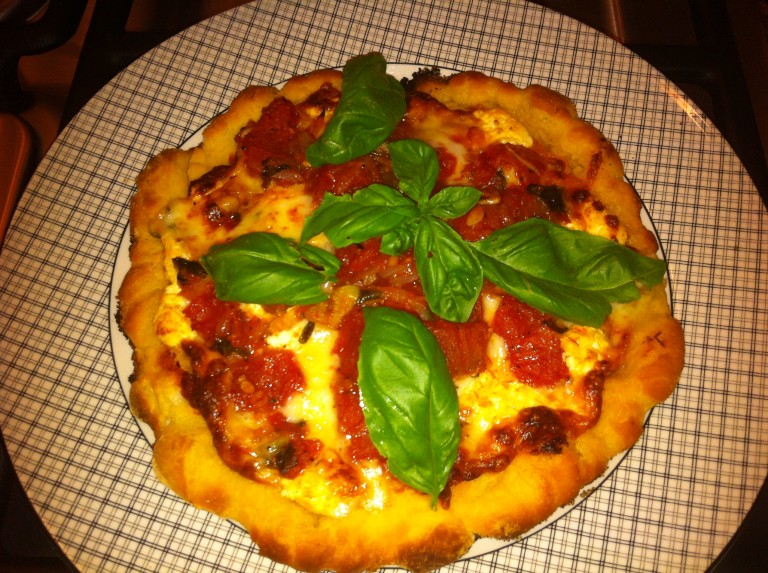 Pizza Dough Recipe using our Organic yeast is supplied under Zucchini pizza in this same page below.
Top this pizza with fresh mozzarella, fresh tomatoes, dried oregano and fresh basil. Delicious!
A HEALTHY MEAL PLAN, APPETIZERS, ASIAN DISHES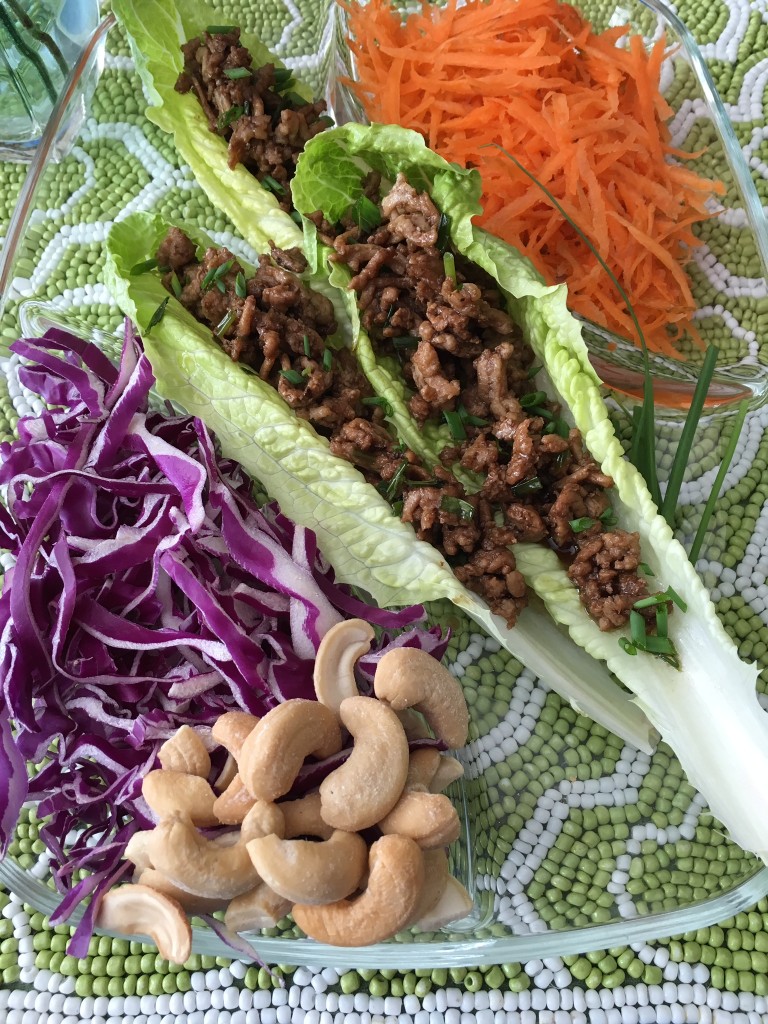 Delicious, light protein meal with Asian bursting flavors. Excellent dish to be shared with a crowd.
Ingredients
1 large Romaine or butter lettuce head
1 pound ground organic chicken
1 Tablespoon of sesame oil
2 cloves garlic, minced
1 Tablespoon rice wine vinegar
1 tablespoon fresh ginger, minced
1/2 cup green onions, chopped
2 Tablespoon soy sauce
Preparation
Clean and Rinse lettuce leaves.
In a medium skillet at medium-high heat, stir ground chicken in sesame oil until browned and completely cooked.
Add garlic, soy sauce, vinegar, and ginger. Stir all together and add green onions. Cook for about 5 to 8 minutes.
Arrange  lettuce and pile the chicken mixture along the lettuce.
Excellent toppings, red, white cabbage, shredded carrots and cashews. Enjoy!
A HEALTHY MEAL PLAN, ENTREES, MEDITERANIAN DISHES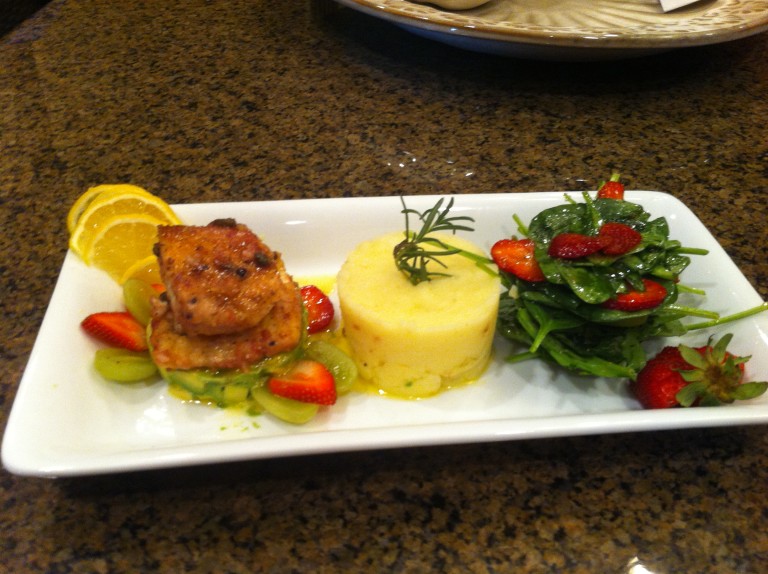 Ingredients
4 to 6 Tilapia fish fillets (5-7 ounces each)
1 Tablespoon paprika
1 teaspoon ground Turmeric
1/2 teaspoon cumin
1/2 teaspoon kosher salt
1/2 teaspoon freshly ground black pepper
2 teaspoon rice flour
2 Tablespoon coconut oil
Preparation for Fish
Set oven to broil.
Mix rice flour with turmeric, cumin, paprika, salt and pepper.
Deep fish fillet into the spiced flour.
Sate in coconut oil at medium-high heat for about 2 to 3 minutes on one side.
Turn fish to the other side and  place under broiler in the oven. Broil for about 3 to 5 minutes until fish is flaky.
Arrange spinach leaves with cut slices fresh strawberries and drizzle with a light dressing of lemon juice, balsamic vinegar and olive oil. Seasoned with salt and pepper. Enjoy next to mashed potatoes. A complete protein-carb meal, very satisfying.
ENTREES, MY CHILDREN'S FAVORITES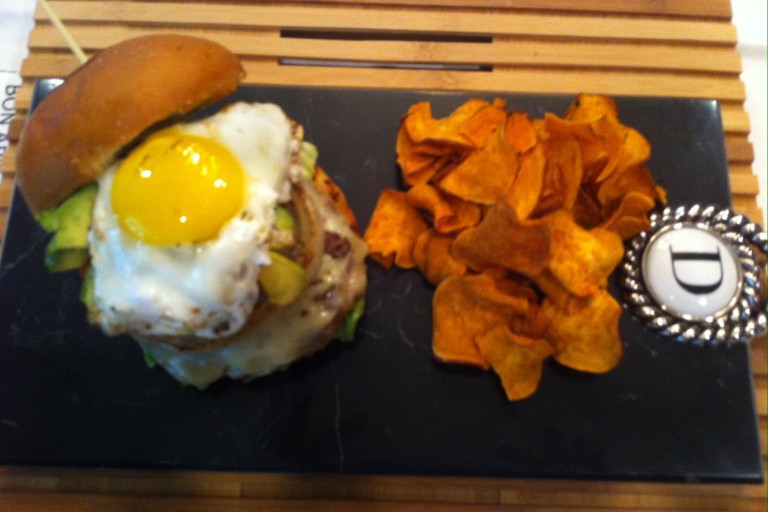 DESSERTS, MY CHILDREN'S FAVORITES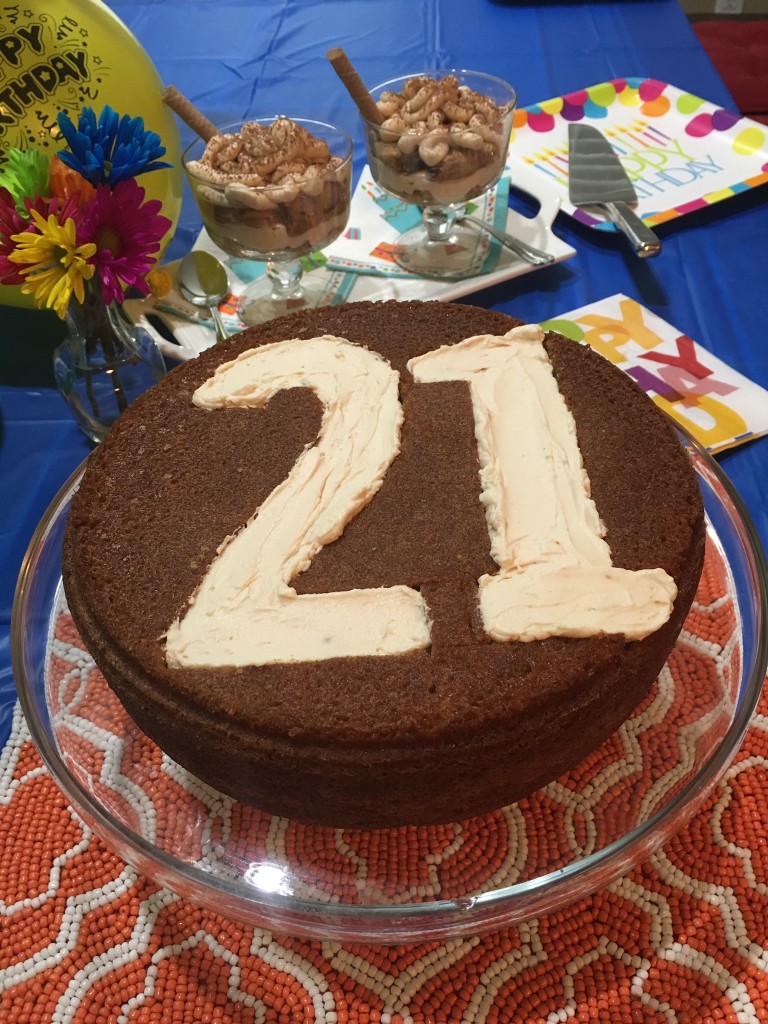 Ingredients
1 stick butter, softened
1 cup brown sugar
2 1/2 cups flour
2 teaspoon baking powder
1/2 teaspoon salt
1/2 cup sour cream
3 large eggs
1/2 cup coffee, cooled
Preparation
Preheat oven to 350 degrees Fahrenheit. Mix together flour, baking powder, an salt. Beat eggs and set aside.
Cream butter and sugar. Add dry ingredients alternating with coffee. Add sour cream to mixture  and fold in egg.
Place mixture in a greased baking pan.
Bake for 40 to 45 minutes. Let it cool completely.
Mascarpone Cream
1 cup of mascarpone cheese, room temperature
2 cups of powder sugar
1/3 cup of coffee
1 teaspoon vanilla extract
Beat all ingredients together until a soft and creamy consistency.
How to create the birthday numbers on the cake:
Cut number two template and place it on the cake and secure it with tooth pick. Cut number one template and place it next to the number two template and secure it again with tooth pick.
Cut all around with a sharp knife deep inside to be able to fill it with your preferable icing or cream.
Start by cutting through inside the cake and removing pieces of the cake, until you have an even layer of cake to filled in.
Place your mascarpone cream in a pastry bag and pipe in through the numbers. Even up the cream with a spatula. Happy 21st Birthday!!
ORGANIC BREAD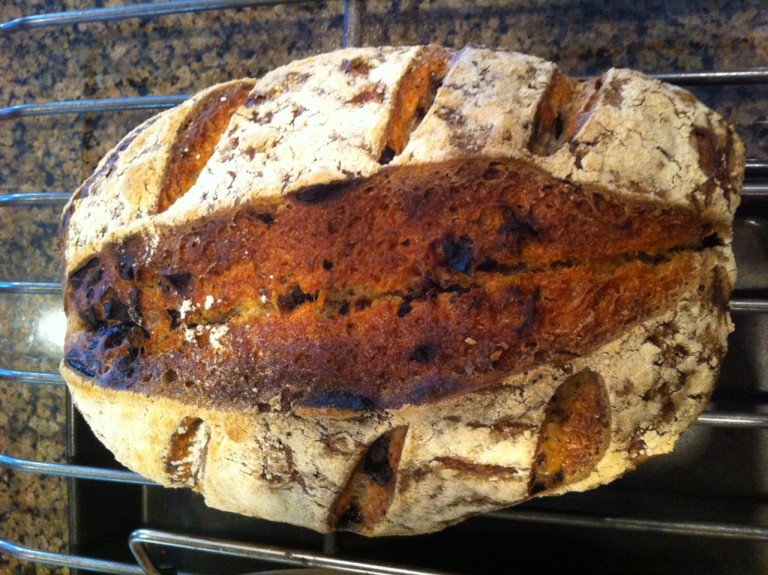 A slice of Heaven!