March, 2016
ENTREES, MY CHILDREN'S FAVORITES, Uncategorized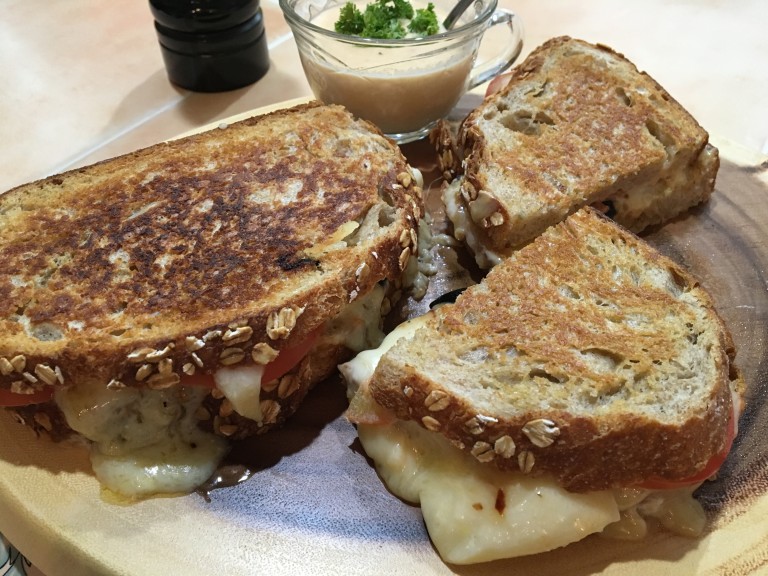 Ingredients
6 slices sourdough bread
3 Tablespoon butter
2 Tablespoon Dijon mustard
2 Tablespoon Mayonnaise
3 plum tomatoes, sliced
1/2 cup black olives
1 cup Gruyere cheese, thinly sliced
1/2 cup Havarti cheese, thinly sliced
Preparation
Heat a large skillet over low-medium heat.
Place 4 slices of bread and butter the top and bottom side. Place bread butter side down. Spread mustard and mayo all over inside.
Put 2 large slices of cheeses over both sides of bread. Lay the olives, and tomatoes on top of cheese.
Cook, without pressing and when cheese is starting to melt turn sandwiches with a spatula to brown and melt in the other side for about 3 to 4 minutes on each side.
Repeat process with rest of sandwiches.
Enjoy next to a lobster or a warm tomato soup.(see recipe on my page).
DESSERTS, MY CHILDREN'S FAVORITES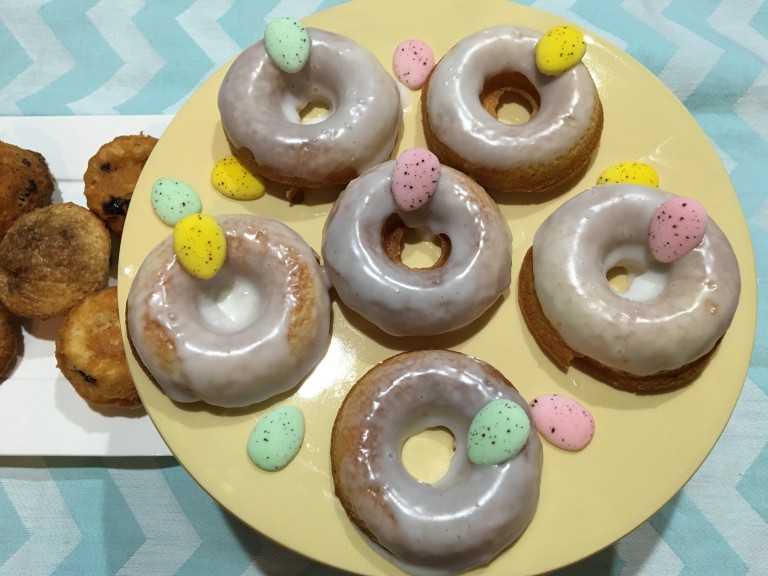 Ingredients
2 cups all-purpose flour
1 cup sugar
1 1/2 teaspoon baking powder
1 teaspoon cinnamon, ground
2 large eggs, beaten
2 Tablespoon melted butter
1 1/2 cup milk
1 teaspoon vanilla extract
1/4 teaspoon salt
For the Glaze
1 1/2 cup confectioners' sugar
3 to 4 Tablespoon milk
1 teaspoon vanilla extract
Preparation
Preheat oven to 325 degrees Fahrenheit.
Spray your doughnuts pans.
In a large bowl, mix together flour, sugar, baking powder, cinnamon, and salt.
In a different bowl, whisk together eggs, milk, melted butter and vanilla extract.
Incorporate wet mixture into the dry until well combined.
Pour mixture into a large measuring cup or a large container to easily fill mixture into the doughnuts' baking pan.
Bake at 325 degrees for 20 minutes.. Let them cool for 2 to 3 minutes before glazing.
Glaze Preparation
Place confectioners' sugar into a bowl.
Add little milk and vanilla at a time beating slowly until smooth glaze.
Deep doughnuts tops into the glaze. Enjoy! Happy Easter..
A HEALTHY MEAL PLAN, APPETIZERS, ASIAN DISHES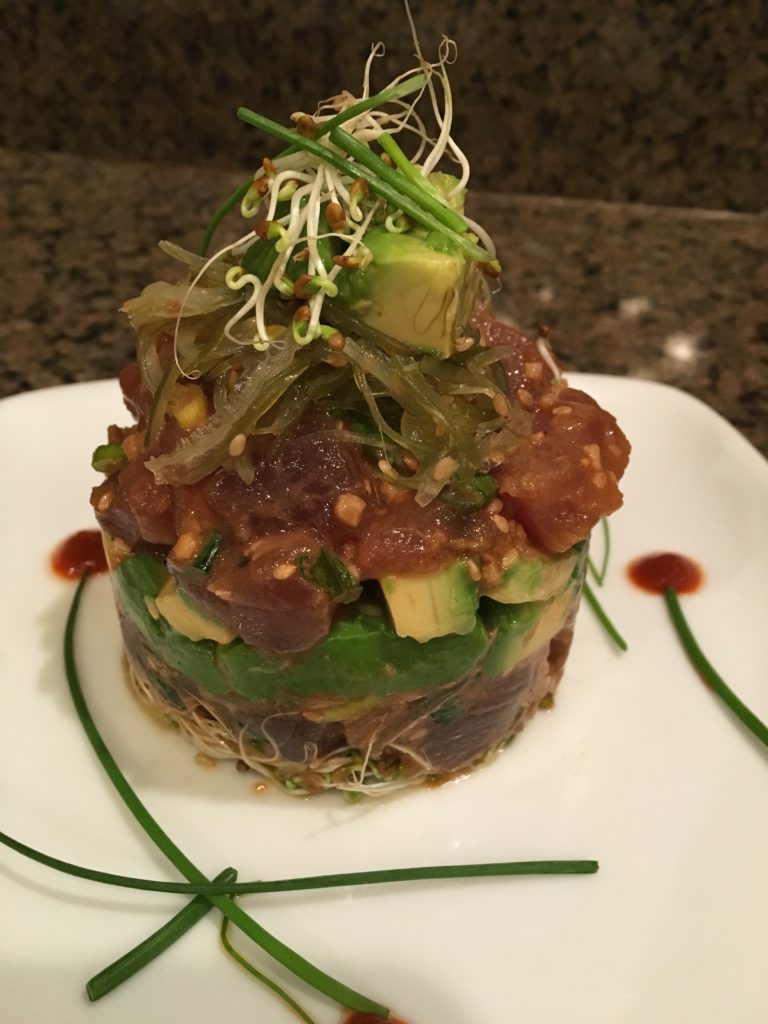 Ingredients
1 Pound sashimi grade tuna, diced
1 large unseeded cucumber, small diced
1 avocado, small diced
1/4 cup chives, chopped
3 teaspoon sesame oil
2 1/2 teaspoon soy sauce
1 large lemon juice
1 teaspoon hot sauce
toasted black sesame seeds
seaweed salad (optional)
sprouts to garnish (optional)
rice toasted crackers or wonton baked chips made at home
Preparation
In a large bowl, combine fresh tuna with chives. Add sesame oil, soy sauce, lemon juice and hot sauce. Mix well. Place this bowl over a larger bowl that has been filled with ice. Place to chill in refrigerator to marinate for 20 to 25 minutes.
Remove marinated tuna bowl from the ice.
Assemble using a large cookie ring cutter placing in the bottom diced avocados, follow with diced cucumbers and top with a layer of marinated tuna.
Sprinkle with black and white sesame seeds. Served with toasted rice or any of your favorite crackers. Delicious!
Note: Other form to assemble this dish.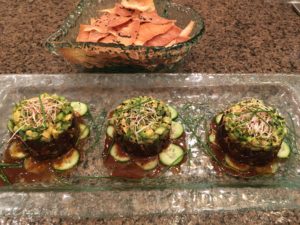 ENTREES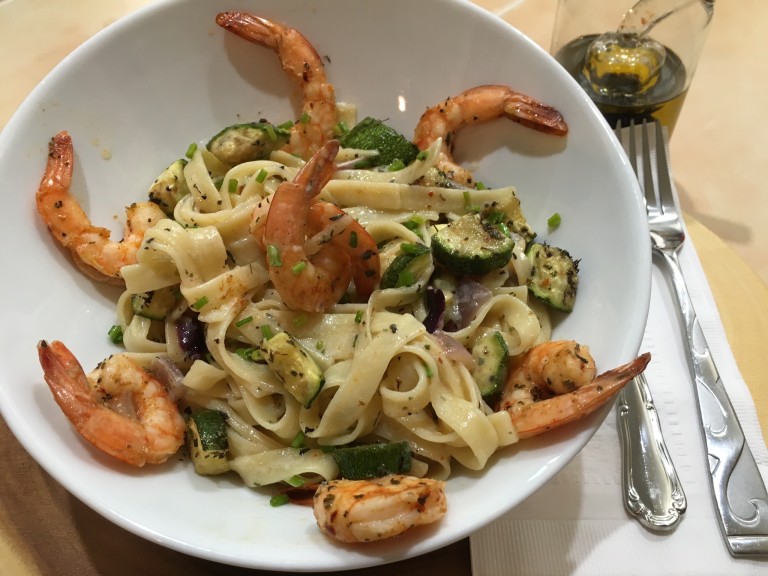 Ingredients
1 Pound Fettuccine pasta
2 garlic cloves, diced
3 Tablespoon Extra Virgin Olive Oil
2 zucchini, diced
1 lemon juice
1 red onion, diced
1 teaspoon crushed red pepper
1 teaspoon salt
1 teaspoon pepper
1 teaspoon dried basil
1 pound large shrimps, tails on
parsley to garnish
Alfredo Sauce
In a medium saucepan, warm  1/2 cup of heavy cream with half a cup of whole milk. Season with 1/2 teaspoon of salt, 1/2 teaspoon of pepper and a dash of nutmeg. Add 1/2 cup of grated Pecorino Romano cheese. Mix well and let it simmer until thickened and add 2 teaspoon of butter. If sauce is too thick, just add pasta water. Set aside.
Preparation
Peel and devein shrimps.
Cook pasta according to package directions.
Sate diced zucchini in olive oil for about 3 to 5 minutes until tender. Add onions and garlic. Cook for another 2 minutes.
Add shrimps, salt, pepper, crushed red pepper, and dried basil. Stir all ingredients and add lemon juice. Cook shrimps until they turn pink but not over cooked for about 2 to 3 minutes.
Add Alfredo Sauce, mix well. Add drained pasta to the mixture. Enjoy!
A HEALTHY MEAL PLAN, ASIAN DISHES, ENTREES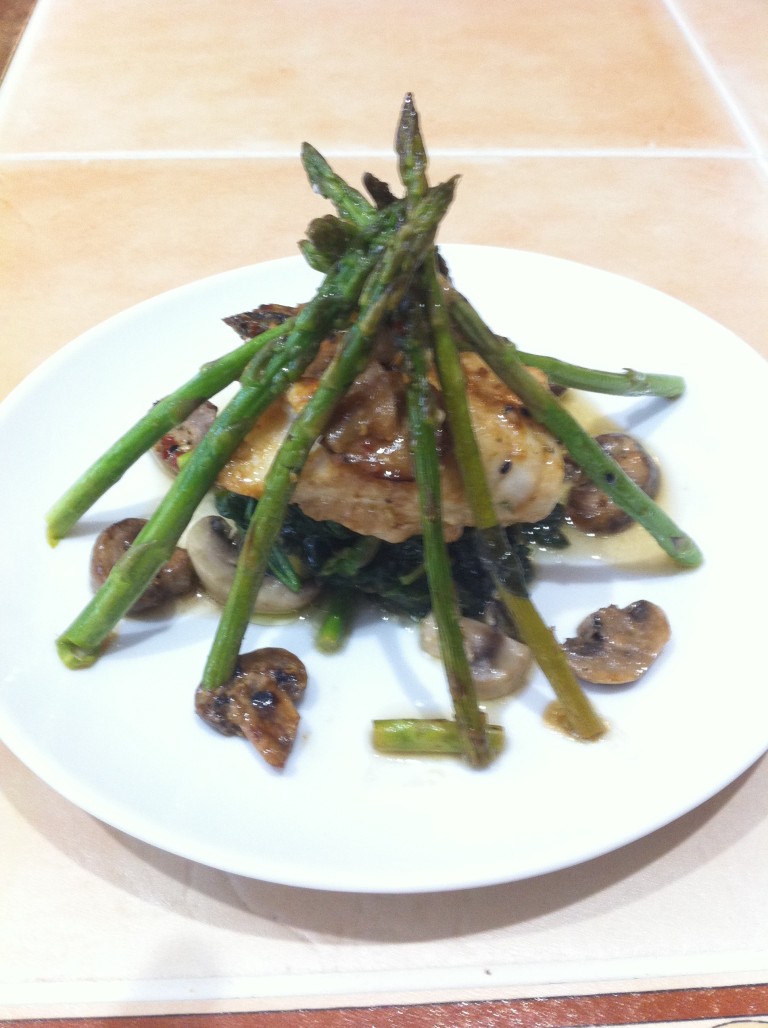 Ingredients
5-6  Cod fillets
1/4 cup low-sodium soy sauce
1/2 cup honey
2 Tablespoon rice vinegar
1 teaspoon ginger, freshly grated
1 garlic clove, minced
1 cup mushrooms, sliced
1 Tablespoon extra virgin olive oil
1/2 lemon juice
1 teaspoon sesame seeds
1 teaspoon sesame oil
Preparation
In a bowl combine honey, rice vinegar, ginger, garlic, sesame seed oil, lemon juice and soy sauce. Add cod fish fillets and marinade for 4 to 5 hours in a plastic bag.
Sate sliced mushrooms in olive oil until tender. Set aside.
Preheat oven to 425 degrees Fahrenheit and placed cod fillets over a baking dish with parchment paper. Bake on the center of the oven for 15 to 20 minutes until fish is flaky and tender.
Serve over sate spinach and pour over your sate mushrooms and sprinkle with toasted sesame seeds. Roasted  asparagus to decorate and also a good vegetable to accompany this dish with. Enjoy!
DESSERTS, MY CHILDREN'S FAVORITES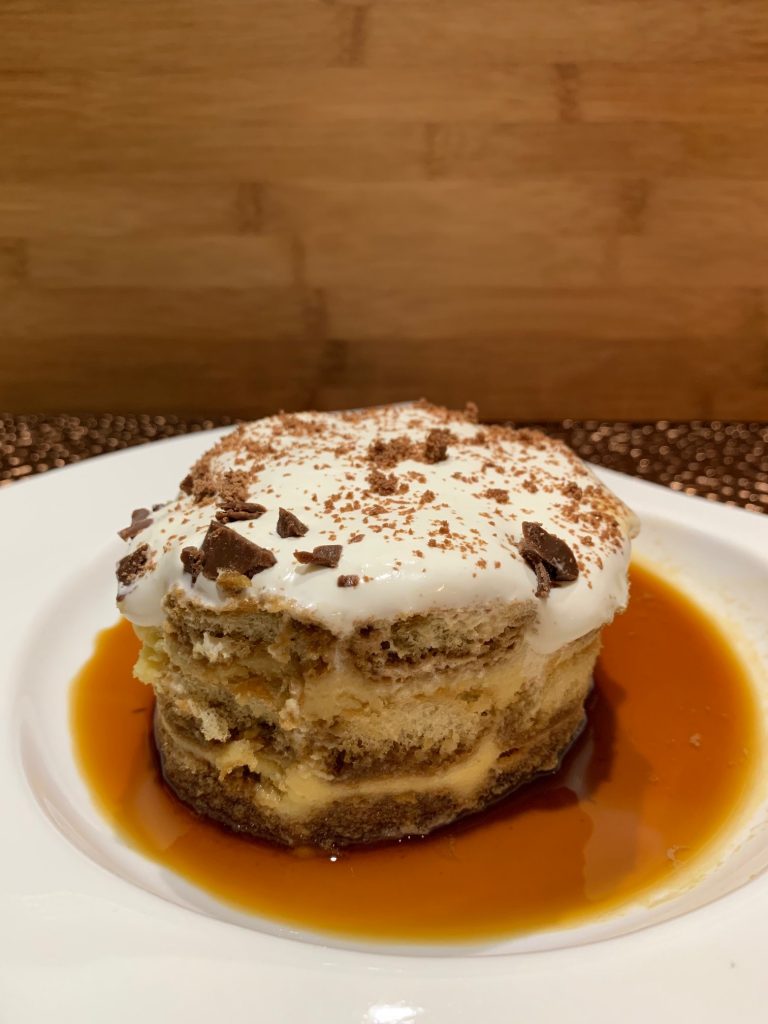 Ingredients
1 Pound mascarpone cheese
1/3 cup Heavy Whipping Cream
2 1/2 cups coffee, cooled
6 egg yolks
3 Tablespoon sugar
1 1/2 Tablespoon rum or Brandy
24 Ladyfingers cookies
Cocoa powder or semi-sweet chocolate shavings before serving.
Preparation
1. Beat egg yolks. Add sugar and mix until eggs are yellow pale and thickened for about 3 to 4 minutes.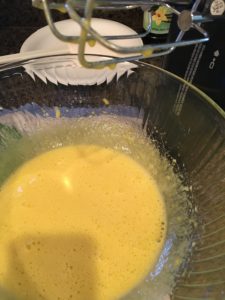 2. Add mascarpone cheese and continue to beat until mixture is smooth.
3. Mix in 2 Tablespoon of coffee and heavy cream to the mascarpone mixture until well incorporated .
4. Combine in a deep large bowl  remaining coffee and rum. Dip ladyfingers into coffee mixture one by one for about 4 to 5 seconds.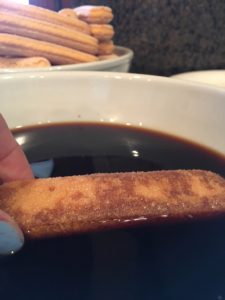 Place each deepen lady finger cookie on the bottom of a dish covering all or arrange on individual clear glass cups.
5. Spread  half of the mascarpone mixture over lady fingers.
6. Place another layer of soaked coffee ladyfingers over cream.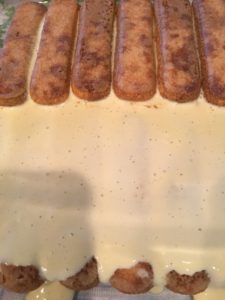 7. Cover ladyfingers cookies with another layer of mascarpone cream. You can repeat same procedure for another third layer.
8. Place a plastic wrap over your baking dish or cups and refrigerate for about 3 to 4 hours. The longer the better. Cookies will absorbed more coffee flavor.
9. Before serving dust it with some cocoa powder  or semi-sweet chocolate shavings on top. For an extra boost on caffeine, also served as an  "Affogato"( italian invention by pouring hot espresso over rock cold vanilla ice cream).Instead I decided to pour that delicious shot of Espresso over cold Tiramisu.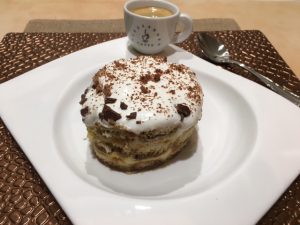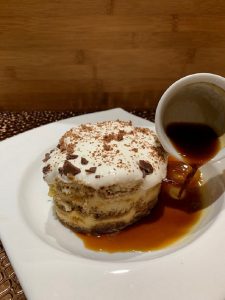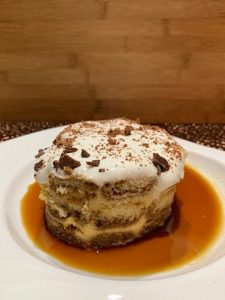 Note: You can also cover top layer of Tiramisu with whipping cream (this is optional).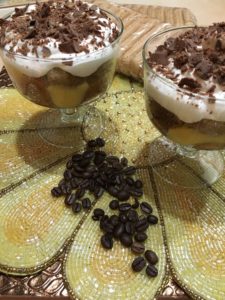 A HEALTHY MEAL PLAN, APPETIZERS, MY CHILDREN'S FAVORITES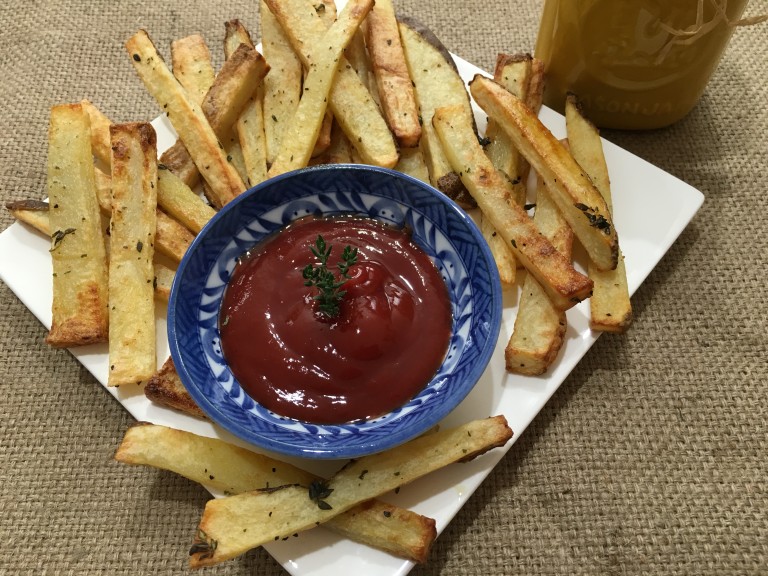 Ingredients
3 large potatoes
2 Tablespoon olive oil
1/2 teaspoon garlic powder
1/2 teaspoon fresh thyme, chopped
1/2 teaspoon cayenne pepper
1/4 teaspoon salt
1/4 teaspoon freshly ground pepper
Preparation
1. Preheat oven to 425 degrees Fahrenheit.
2. Cut potatoes with skin on into wedges.
3. Mix olive oil, garlic powder, fresh thyme chopped, cayenne pepper, salt and black pepper and place over potatoes wedges in a single layer on a baking sheet.
4. Roast for 20 minutes turning potatoes once. Enjoy!