August, 2019
A HEALTHY MEAL PLAN, APPETIZERS, ASIAN DISHES, MY CHILDREN'S FAVORITES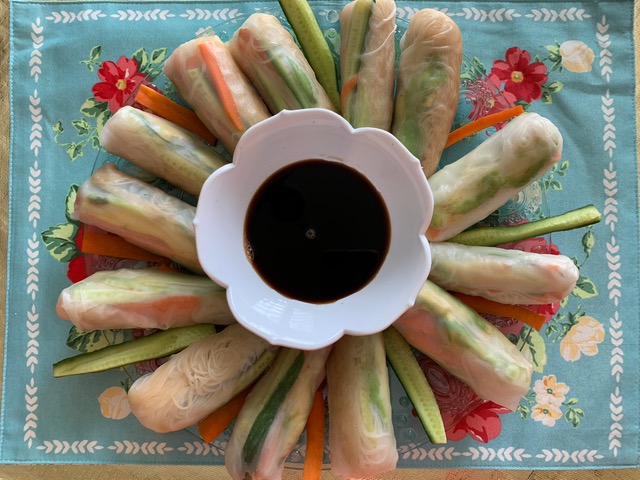 Ingredients
6-8 pieces of rice paper
4-5 Persian cucumbers, cut into sticks
3-4 carrots peeled, cut into sticks
5 ounces Chinese Vermicelli rice noodles, cooked
2 avocados, sliced
Dipping Sauce
2 Tablespoon sesame oil
2 Tablespoon soya sauce
1 Tablespoon lemon juice
1 Tablespoon brown sugar
1 teaspoon minced garlic
1 teaspoon minced ginger
1 teaspoon rice vinegar
Mix all ingredients. Set aside
Preparation
Cook rice noodles until they turn soft into boiling water for about 3 to 6 minutes. Drain well and rinse.
Simmer water in a large pot. Turn off heat. Dip one rice paper into the warm water for 6-8 seconds or till rice paper has slightly softened.
Over a cutting board or a flat clean surface, lay rice paper. Place first, cooked clear noodles over rice paper. Drizzle 1/2 teaspoon of dipping sauce over noodles. Pile sticks of cucumber, carrots and top with sliced avocados.
Roll tight the spring roll one time, and then continue by tucking in sides until is completely rolled and closed.
Serve this 4 ingredients refreshing Spring Rolls recipe with the Dipping Sauce. Enjoy!
COOK FOR A CROWD, ENTREES, MY CHILDREN'S FAVORITES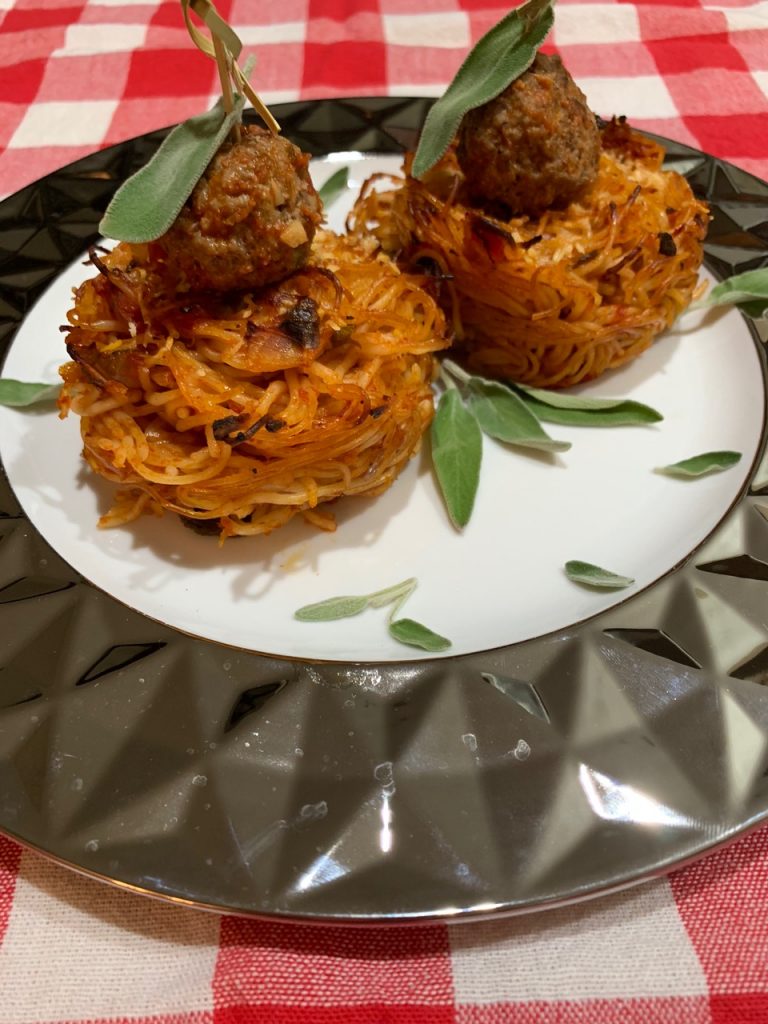 Ingredients for the Tomato-Sage Sauce
1 medium size onion, finely chopped
12-15  fresh sage leaves
4 cloves of garlic, minced
2 Tablespoon butter
1 tablespoon extra virgin olive oil
1 cup of tomato sauce
5 fresh tomatoes, diced
1 teaspoon Kosher salt
1 teaspoon freshly ground black pepper
1 cup of parmesan cheese, grated(set aside)
1-16 ounces package spaghetti pasta
Meatball (please see my site for this delicious recipe)
Preparation for sauce:
Heat the butter and olive oil over low heat in a large pan. Add the sage leaves to infuse the butter and oil. Sate for about 3 minutes. Remove sage leaves from butter and set aside over a plate with paper towel.  Add garlic and onions to the butter and oil. Cook for about 2 to 3 minutes.
Add fried chopped sage leaves over onions and garlic. Incorporate fresh diced tomatoes. Add tomato sauce, salt and pepper. Let it simmer at medium heat for about 15 minutes. Meanwhile cook pasta in Kosher salted water following package instructions. Rinse pasta and set aside.
Preheat oven to 375 grades Fahrenheit. Grease 12 muffin cups with cooking butter spray.
Toss tomato-sage sauce into the cooled spaghetti.
Divide spaghetti between the 12 greased muffin cups.
Top each nest with grated parmesan cheese.
Bake until cheese has melted and pasta is slightly crispy around edges for about 20 minutes.
Remove from oven. Assemble a party tall toothpick with cooked meatball and fried sage leaf in the center of the spaghetti nest. Ready to serve. Enjoy!
A HEALTHY MEAL PLAN, ENTREES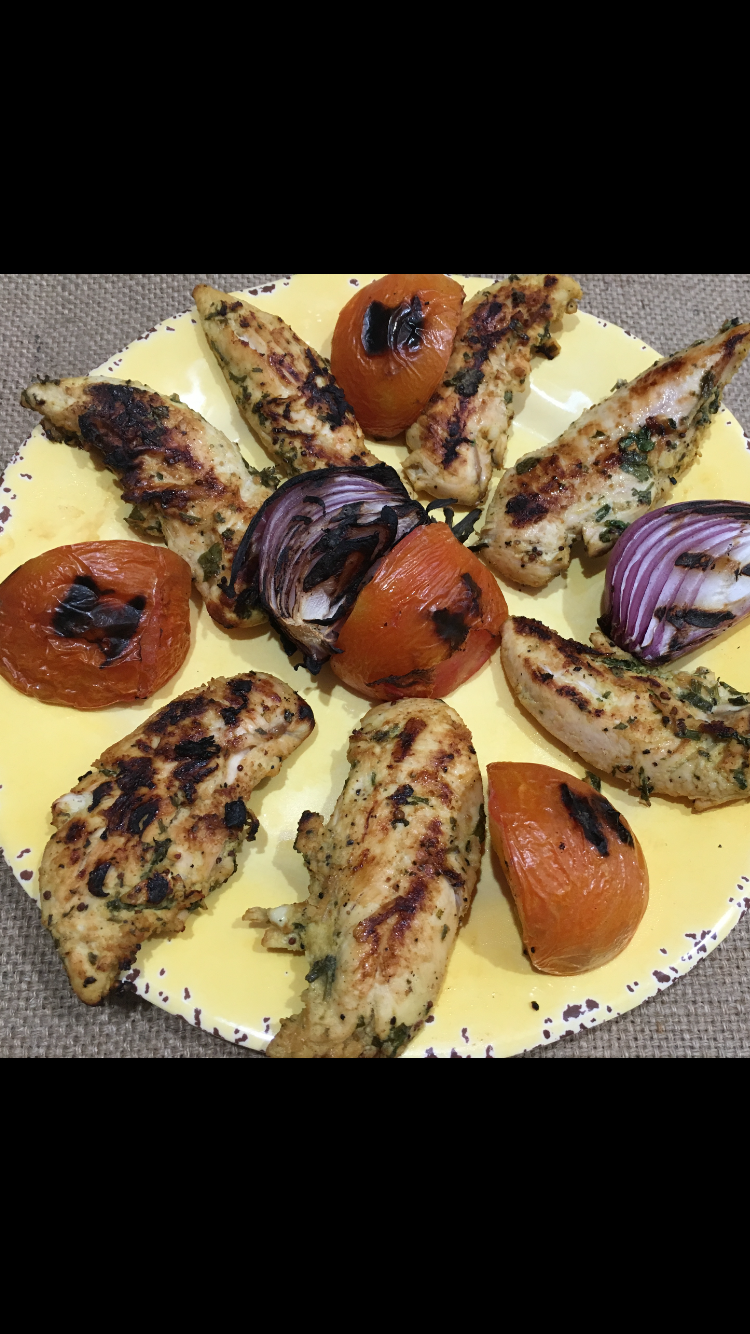 Ingredients
2 Pounds skinless chicken tender breasts
1 Tablespoon pomegranate molasses
3-4 garlic cloves, minced
1/2 cup fresh cilantro leaves, finely chopped
1 tablespoon Dijon mustard
1/2 cup fresh lemon juice
1 teaspoon ground adobe spices
1/2 teaspoon salt
1 teaspoon freshly ground black pepper
1 teaspoon extra virgin olive oil
Preparation:
Place chicken in a large bowl or Ziploc bag. Add lemon juice, olive oil, pomegranate molasses, mustard, lemon juice, adobe spices, minced garlic, chopped cilantro, salt and pepper. Mix all well. Place in the fridge and marinade for at least 2 hours. Meanwhile preheat the grill to medium-high.
Place marinated chicken into the grill and cook for about 2-3 minutes on each side or until chicken is completely cooked through.
Grill some tomatoes and onions, great accompany and best serve next to a salad. Enjoy!