April, 2020
MEDITERANIAN DISHES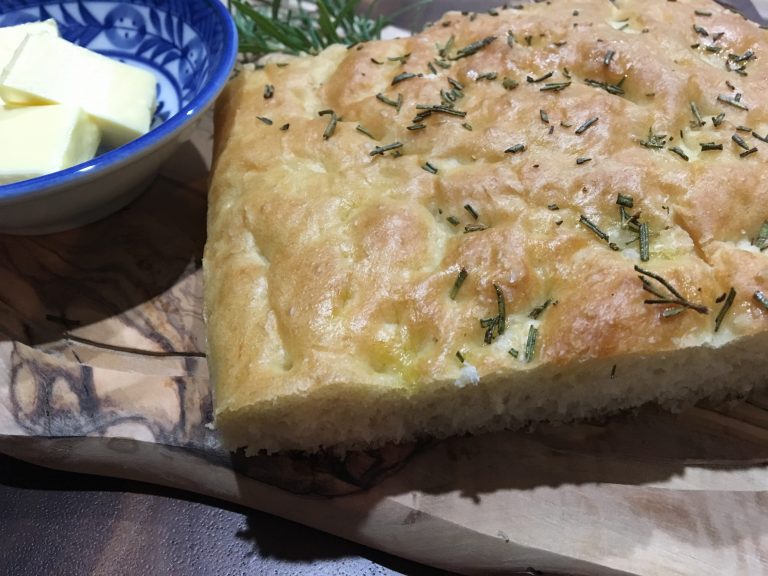 Ingredients
3 cups All-purpose flour
3/4 cup Extra-virgin olive oil
3 garlic cloves, minced
1 1/2 cup water, warm
2 Tablespoon fresh Rosemary, finely chopped
1/4 teaspoon honey
1/2 teaspoon fine sea salt
1 packet active dry yeast or 1/4 cup homemade starter (see my site for recipe)
Preparation
Place a pan over low heat. Add extra virgin olive oil, minced garlic and chopped rosemary. Sate for only 5 minutes to release the flavors. Set aside.
Using a large bowl, combine warm water, yeast and honey. Let it sit for 10 to 15 minutes to activate.
Incorporate 1 1/2 cup of the flour into the warm water, yeast and honey. Combine well with your hands and let it sit for 10 to 15  minutes.
Stir in the rest of the flour and salt. Mix until well combined. Knead over lightly floured surface until dough becomes very smooth.
Preheat oven to 450 grades Fahrenheit.
Transfer dough into a large well oiled bowl. Cover dough with damp towel. Place it in a warm place (next to preheated oven)is ideal. Let rise for about 1 to 1 1/2  hours.
Use a 9 x 13-inch baking pan size well greased with olive oil. Transfer dough to the pan. Drizzle garlic-olive oil mixture over.
Using your fingers, dimple the dough with the olive oil-garlic mixture.
Cover the pan with plastic wrap. Let the dough rise for 20-30 minutes or until  increased in size.
Bake for 20 to 25 minutes or until top is golden brown and bottom is cooked and sponge. Let Focaccia rest to cool over a rack "if you can wait".. Enjoy!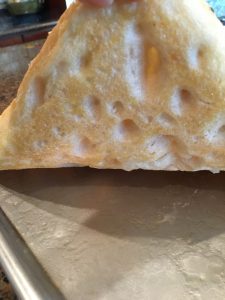 A HEALTHY MEAL PLAN, WARM TO THE HEART STEWS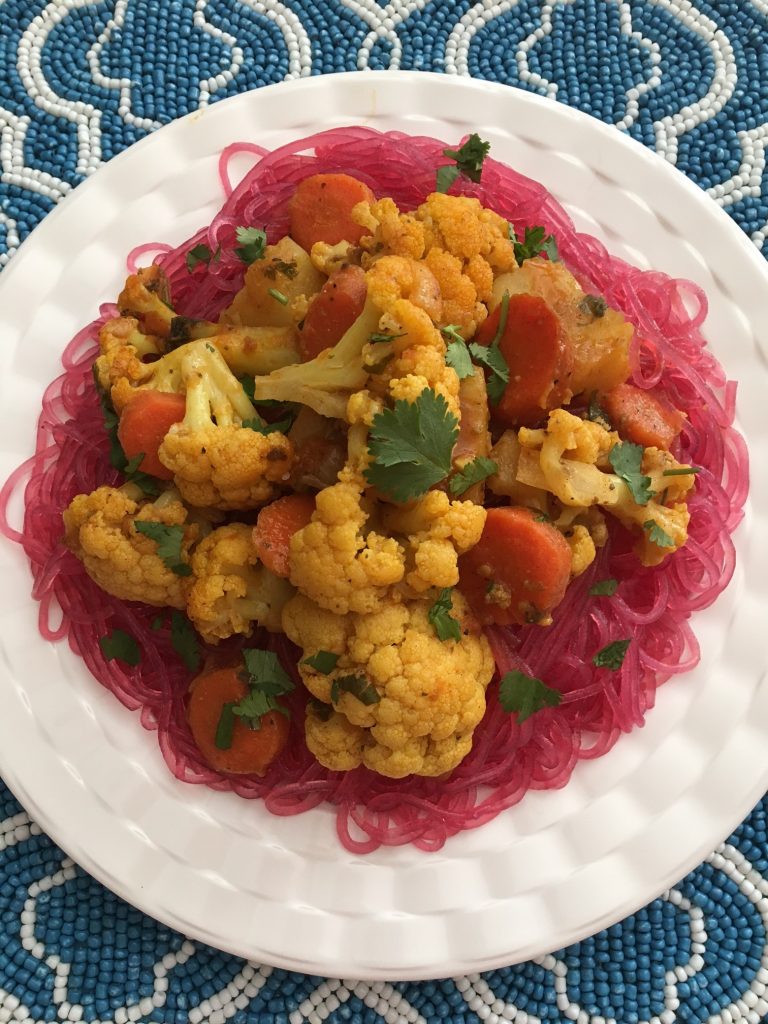 Ingredients
2 Tablespoon olive oil
1 teaspoon butter
1 large head cauliflower, cut into florets
2 large carrots, cut rounds
2 large potatoes, diced
3 tomatoes, large diced
3 garlic cloves, minced
1 onion, chopped
4 Tablespoon cilantro, chopped
1 teaspoon fresh ginger, grated
2 teaspoon curry powder or paste
1 teaspoon tomato paste
1 teaspoon cumin, ground
1 teaspoon coriander, ground
1/2 teaspoon fresh turmeric or ground
1 bay leaf
1 teaspoon salt
1/4 teaspoon white pepper
2 cups of chicken broth
Preparation
Heat the oil and butter in a large skillet on medium heat. Add onions, sauté until soft and add garlic.
Incorporate cauliflower potatoes and carrots. Cook for 5 minutes and add cauliflower florets and tomatoes. Add grated ginger, curry powder, turmeric, coriander, cumin, bay leaf, salt and pepper. Add tomato paste and chicken broth. Cover skillet slightly and bring it to a boil. Lower the heat and simmer for about 20 minutes or until carrots and cauliflower florets are tender. Set stew aside.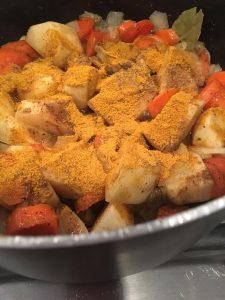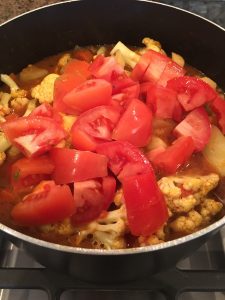 Note: If desired, instead of the chicken broth use coconut milk, but I wanted to leave the stew lighter by incorporating it into the crystal noodles.
Preparing Crystal Pink Noodles
Fill a saucepan with a cup of coconut milk and one cup of water. Add the juice or water released of 4 boiled cooked beets or juices from can beets. Bring this water and coconut milk to a boil for 2 to 3 minutes. Set aside.
Place clear crystal noodles into this water and let it sit for about 10 minutes. 2.1 Drain noodles after getting colored using a strainer.          
Use this delicious and colorful noodles on the bottom of your serving plate and top with delicious Curry Cauliflower Stew. Garnish with fresh cilantro leaves. Enjoy!
APPETIZERS, FAST AND EASY SIDE DISHES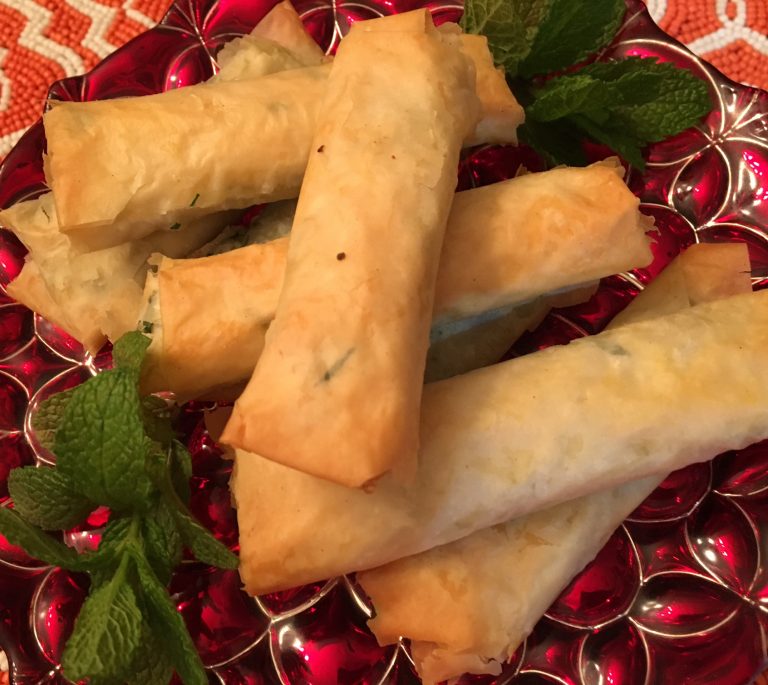 Ingredients
8 Sheets of filo dough sheets,thawed
2 Tablespoons of Extra  Virgin  Olive oil
Halloumi  Cheese  cut into  14 – 16 logs
Fresh mint and parsley, finely chopped
Preparation
Preheat oven to 375 grades Fahrenheit. Prepare your ingredients.
Unfold one Filo pastry sheet on the work board surface and cut into even rectangles size. Cover the rest of the filo sheets with a damp towel to prevent drying up.3. Sprinkle some of the fresh mint-parsley chopped leaves in the middle of triangle. Place Halloumi log cheese over herbs.4. Roll the sheet over the log of Halloumi cheese.5. Continue folding edges and roll till the top.6. Repeat with the rest of the filo sheets. Place on a baking tray lined with parchment paper. 7. Brush top of Halloumi filo rolls with Olive oil.  8. Bake for 15 to 20 minutes until light golden. You can sprinkle some Zaatar or Zumac on top too. Enjoy!