October, 2020
DESSERTS, MY CHILDREN'S FAVORITES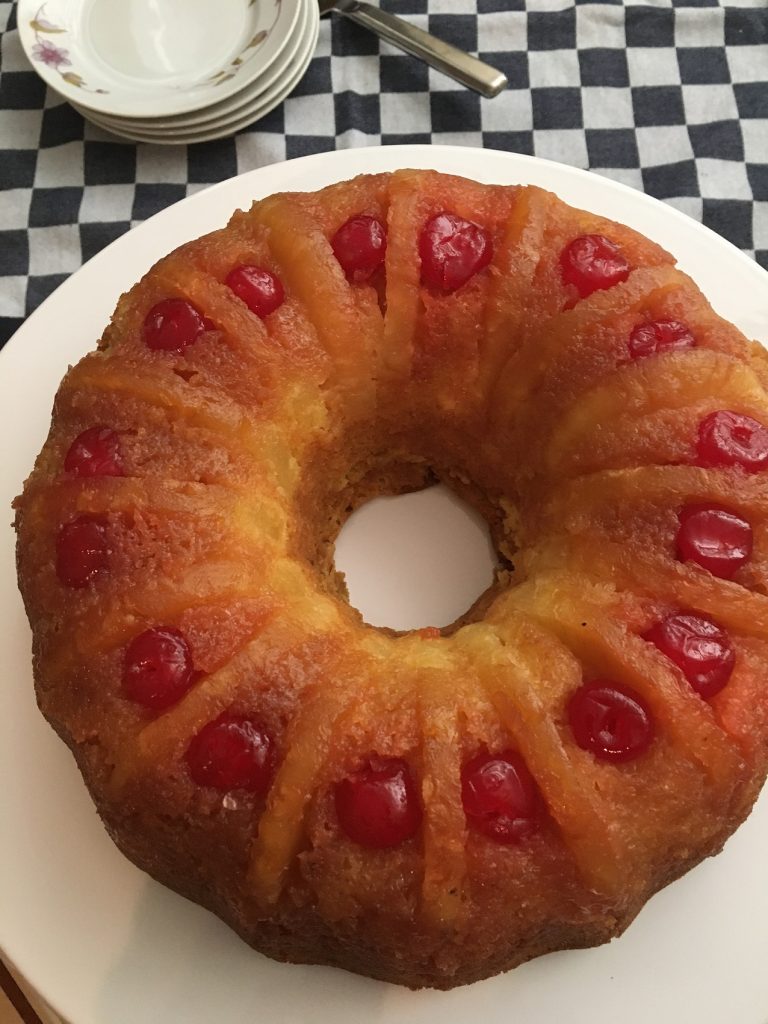 Ingredients
For the Caramel:
1 cup light brown sugar
1/2 cup unsalted butter, melted
1 (20 ounces can) pineapple slices cut in halves, drained
(do not discard juices)
Maraschino cherries, optional
For the Cake:
2 cups of cake flour
1 teaspoon baking powder
1 cup granulated sugar
2 Tablespoon brown sugar
1 teaspoon vanilla extract
1/2 cup unsalted butter, softened
1/2 cup of Heavy cream, room temperature
1/4 cup can pineapple juice syrup
4 large eggs, room temperature
Preparation
Preheat oven to 350 grades Fahrenheit. Grease a bund cake pan with baking butter spray.
Use a small saucepan and melt 1/2 a cup of butter over medium heat . Incorporate the cup of light brown sugar and keep whisking until mixture bubble up and caramel slightly thickens. Remove from heat and very carefully pour into prepared greased pan.
Cut slices of pineapple in half and locate them facing up over light caramel. Place the Maraschino cherries in between pineapples slices. (I found this personal way of placing the pineapples, better for the serving and cutting so each guest will get a complete slice of pineapple). Set aside.Preparation for the Cake Batter:
Whisk in a large bowl by hand or using an electric mixer, softened butter, granulated sugar and brown sugar until creamy.
Add eggs one at a time and beat until pale. Stir in vanilla.
Add dry ingredients: cake flour mixed with baking powder alternately with heavy cream and pineapple juice. Beat slowly until well combined.
Pour creamy batter over caramel-pineapple in Bundt cake pan.
Bake for about 50 to 55 minutes or until top of the cake is golden brown or toothpick inserted into the center of cake comes out clean.
Remove from oven. Let cake cool in pan for 20 to 25 minutes.
Turn the cake out into a platter.  Let it cool completely before serving. Enjoy!
DESSERTS, MY CHILDREN'S FAVORITES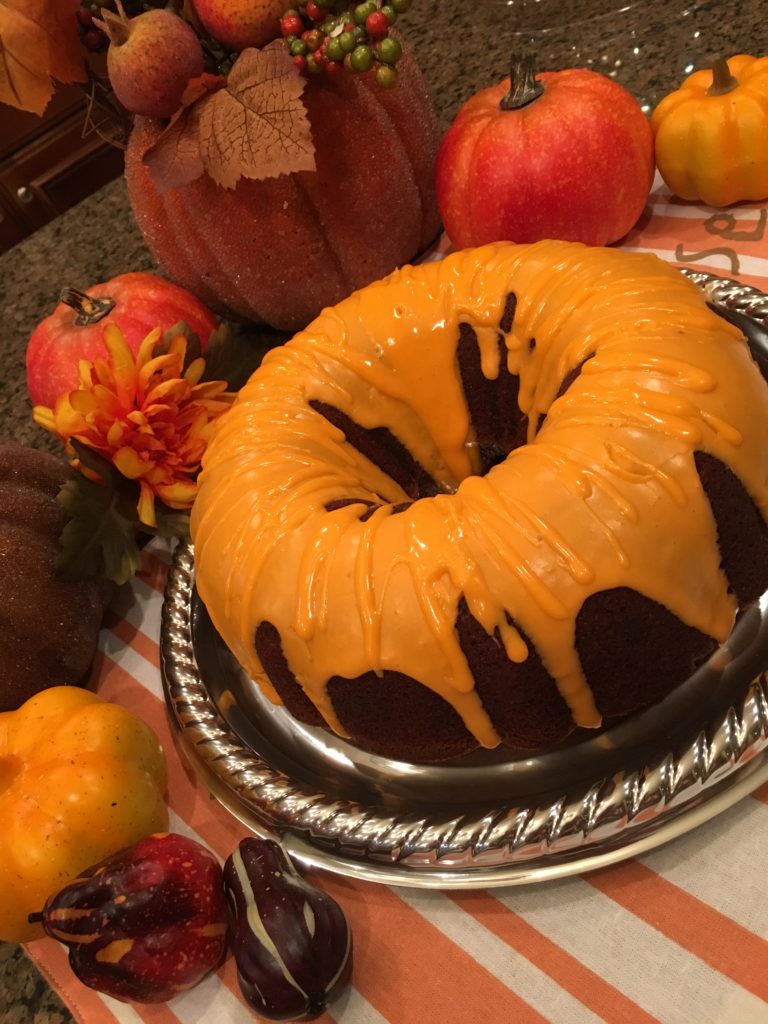 Ingredients
3 cups cake flour
2 teaspoon baking powder
1/2 teaspoon baking soda
1/2 cup Plain Yogurt, room temperature
1 cup Vegetable oil
2 Tablespoon unsalted butter
2 large apples peeled and diced
1/2 cup packed light brown sugar
1 Tablespoon brown sugar
1/2 cup granulated sugar
3 large eggs, room temperature
1 teaspoon cinnamon, ground
1/4 teaspoon turmeric, ground
1/2 teaspoon allspice, ground
1/2 teaspoon salt
Preparation
Preheat oven at 350 grades Fahrenheit. Prepare and grease with nonstick spray or butter and flour a 9 to 10 inch Bundt cake pan. Set aside.
Use a skillet and at medium heat melt a tablespoon of butter. Add diced apples. When apples release their juices, add 1 Tablespoon of brown sugar. Cook until apples are slightly tender. Remove from heat and set aside.
Whisk together in a large bowl, cake flour, cinnamon, allspice, baking powder, baking soda, turmeric, and salt. Set aside.
4. Use another bowl and whisk together eggs, light brown sugar, granulated sugar till yellow pale. Add vegetable oil, plain yogurt, and combine all ingredients well. Incorporate this mixture                  into the flour mix ingredients and whisk well until batter is creamy and smooth.
5. Fold in the cooked apples drained from juices. Pour batter into greased Bundt cake pan. Bake cake for about 55 to 60 minutes or until a toothpick inserted in middle of cake comes out clean. Remove from oven and let it cool completely before applying glaze. Meanwhile prepare The Maple Glaze: Use a sauce pan over medium heat and add 1/2 cup of Organic Maple Syrup with two tablespoon of salted butter. Add 1/4 cup of heavy cream. Stirring consistently and bring it to a boil. Remove from heat and whisk in 1/2 teaspoon of rum extract. Mix and incorporate slowly 1 to 2 cups of powder sugar. Whisk well until smooth and add 5 to 6 drops of Orange color food coloring. Mix to incorporate color very well. When cake is completely cool drizzle maple glaze on top and let it set for 10 minutes, and apply over a second coat of icing if you like. Enjoy!
MY CHILDREN'S FAVORITES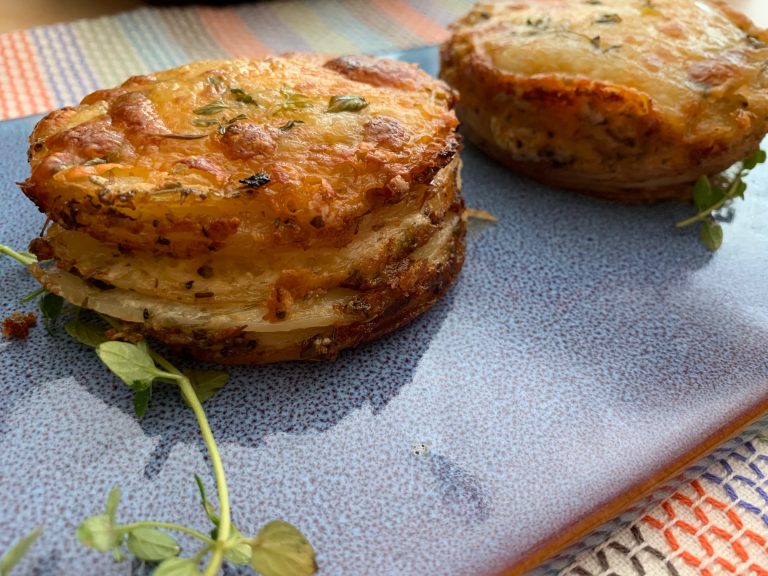 Ingredients
6 Baby Red Potatos half peeled, cut into 1/8 inch thick slices
2 Tablespoon melted butter
1 Tablespoon dried oregano
1 Tablespoon dried basil
1/2 teaspoon Kosher salt
1/3 teaspoon black pepper
3 Tablespoons fresh thyme leaves
1 cup mixed cheeses grated(Sharp Cheddar, Mozzarella and Asiago)
1 cup of whole milk
Preparation
Preheat the oven at 375 grades Fahrenheit.
Lightly grease a 6 large cup muffin tin pan.
Use a mandoline slicer. Cut very thin round see through slices of potato.    4. Place in a medium bowl or a glass pitcher, milk, melted butter, dried oregano, dried basil, salt and pepper. Whisk to combine. Set aside.5. Layer evenly the potato slices among the prepared muffin tin pan. Stacking half way up with potato slices. Drizzle one Tablespoon of milk mixture over the top.   6. Continue stacking the layers of potato all the way to the top. Drizzle each one cup with 1 Tablespoon of the milk mixture again and sprinkle with some fresh thyme leaves.  7. Cover the muffin tin with foil and place into the preheated oven for about 30 minutes or until potatoes are tender. Remove from oven and take the foil off. Add cheese over each cup and place again in the oven under the broiler for about 3 minutes or until potato stacks are golden and crispy.  8. Remove from oven. Let it cool in pan for about 10 minutes. Run a spatula around the edges of each potato stack to easily release them from pan.9. Serve warm and enjoy!    
DESSERTS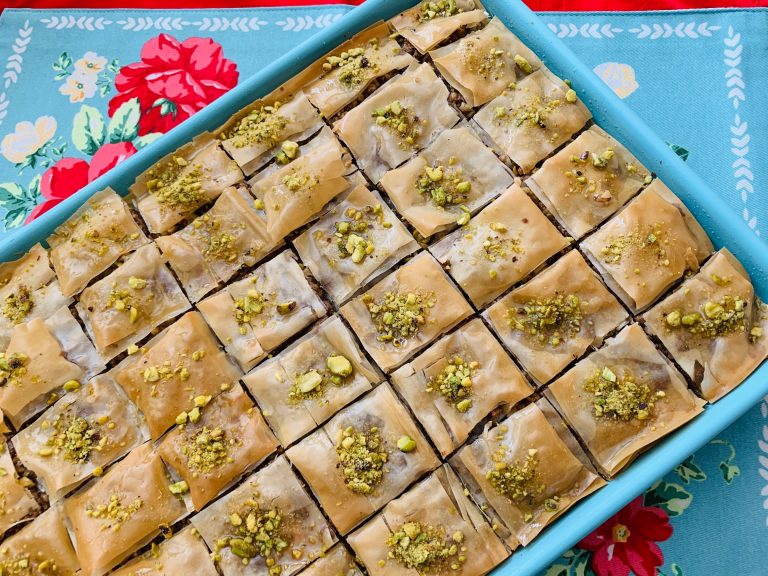 Baklava Filling:
16 ounces pack Phyllo Dough, thawed
1 1/2 cup walnuts, grinded coarse
1 1/2 cup pistachios, finely grinded
1 1/2 teaspoon cinnamon, ground
Hint of cloves, ground (optional)
1 cup melted butter, unsalted
2 Tablespoon granulated sugar
1 teaspoon of Rose Water (recipe on my site or store bought)
1 teaspoon of Orange Blossom Water
Preparation:
Preheat oven to 375 grades Fahrenheit.
Using a food processor pulse and grind all nuts, separately.
Incorporate cinnamon, sugar, rose water and orange blossom into the combined nuts. Mix and place aside into a bowl.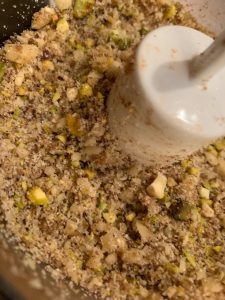 Assembling Baklava:
1. Place one sheet of thawed Phyllo Dough on the bottom of a greased 9×13 baking pan, and brush it lightly with the melted butter. You can trim the dough a little bit to fit in your baking pan.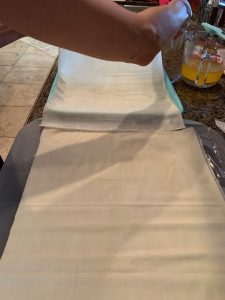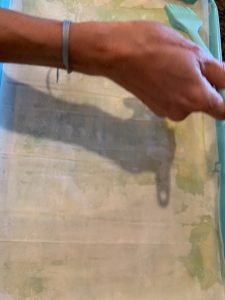 2. Repeat the process by placing 5 more Phyllo dough sheets on top of another brushing lightly each one with melted butter.
3. Spread 1 cup of the nuts mix over in a single layer.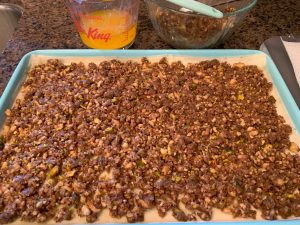 4. Add another 4 layers of Phyllo dough brushing each one with melted butter .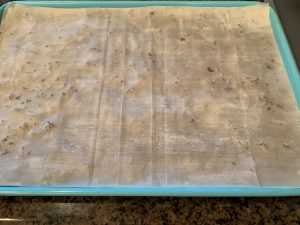 5. Spread another one cup of nuts mix over the top. Repeat process with another 4 layers of phyllo dough brushed with melted butter, last cup of nut mix over the  top. Another 6 layers of phyllo dough. So you will have approximate in total used 20 sheets of phyllo dough with 3 layers of nuts filling in between. (You can add more layers if you want). I prefer a Baklava piece not too thick.
6. Using a very sharp knife, cut baklava before baking into equal size squares.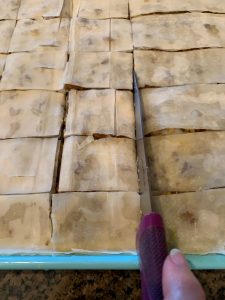 7. Brush top with the remaining of the melted butter.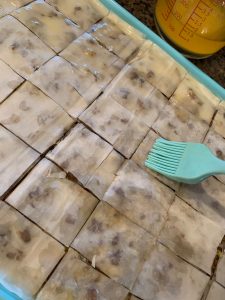 8. Bake Baklava for about 35 to 40 minutes, until slightly golden brown. Meanwhile prepare The Syrup: Use a saucepan and incorporate 2 cups of sugar dissolved into 1 cup of water. At medium heat stirring occasionally let it simmer and add the juice of 1/2 a lemon. Lower the heat and keep stirring for about 10 minutes until syrup thickened. Add 1 Tablespoon of Orange Blossom water. Remove from heat.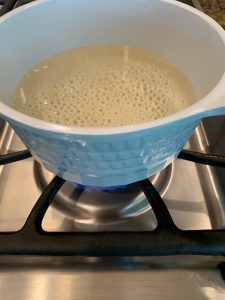 9. Remove Baklava from oven and while is hot pour warm syrup(Atur) over the top.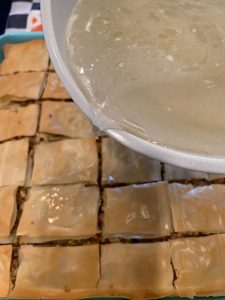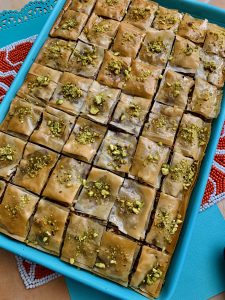 Garnish top of your delicious Baklava with some coarsely grind pistachios.
Enjoy!
Note: Let the Baklava absorbed the syrup and will be ready to serve when completely cool after 2 to 3 hours. Baklava can be stored at room temperature in an air-tight container for 2 to 3 weeks.
RECIPE HELPERS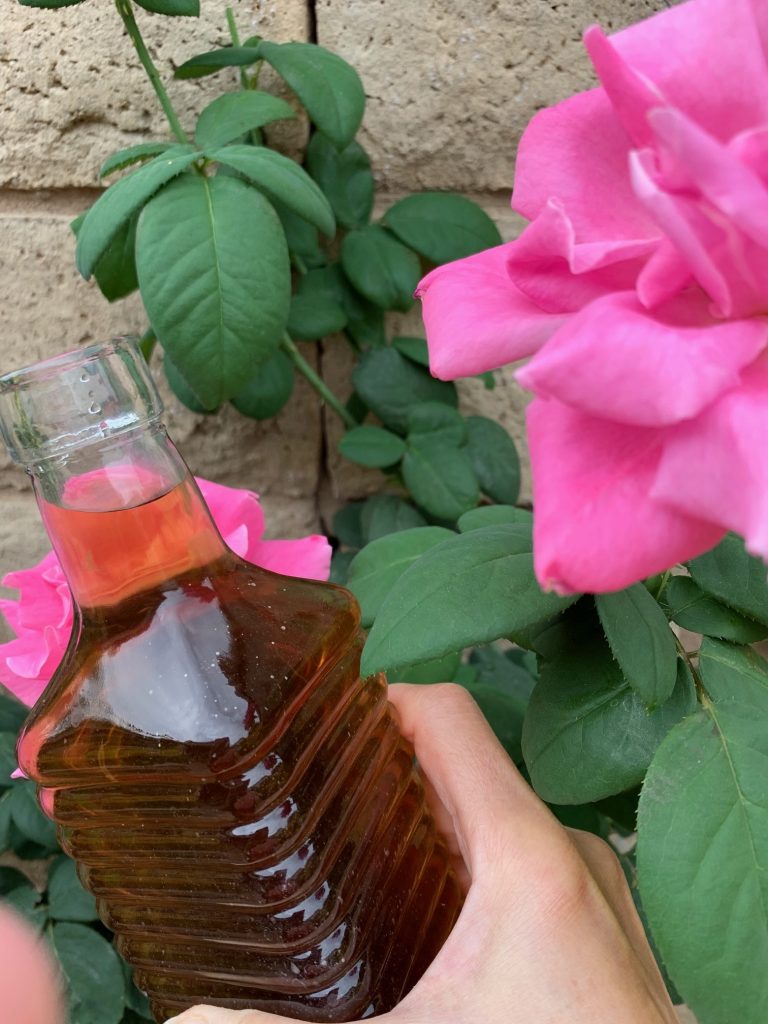 Ingredient
Fresh Rose Petals from 8 or more Roses
Water
Preparation:
Remove rose petals and stem over a large pot.
Wash petals under lukewarm water.
Fill the pot with just enough water to cover the petals.4. Simmer on low heat covered with lid on for about 25 minutes or until color of rose petals has shaded and pale.5. Remove from heat and let it sit over the counter for about 15 minutes to infuse most of the flavor in the water. 6. Strain to separate petals from the water and when is cool place your aromatic organic Rose water into a bottle. Enjoy as an essence in desserts or pour into an ice tray to use later as a wonderful and very refreshing tonic for your face. Enjoy!
A HEALTHY MEAL PLAN, FAST AND EASY SIDE DISHES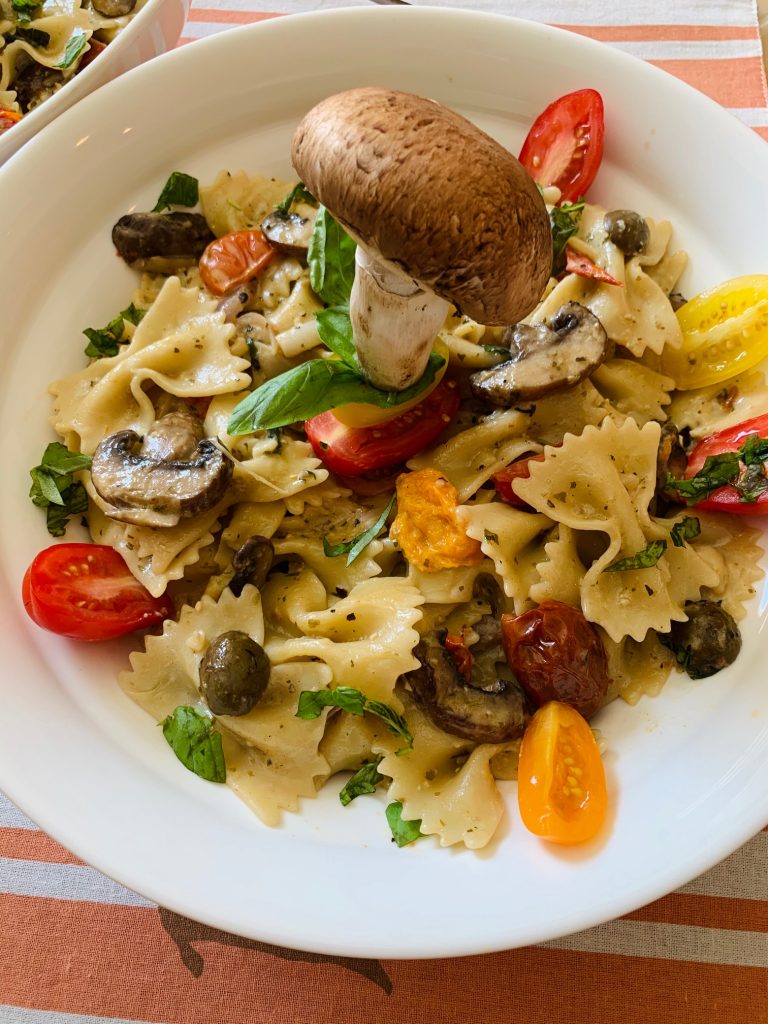 Ingredients
1 pound Bowtie pasta, boiled according to package
2 cups of baby Portabella mushrooms, sliced
1 pint of multi-colored cherry tomato, cut in half
3 Tablespoon of extra Virgin Olive Oil
1 Tablespoon of butter
1/4 cup of Pecorino Romano Cheese, grated
1/3 cup stuffed pimento green olives, pitted and cut in half
1/2 cup Homemade Basil Pesto (see recipe on my site)
1 red onion, thinly sliced
Preparation
Use a large pot with boiling salted water and cook pasta al dente. 2. Rinse pasta and set aside.
3. Use a large skillet and at medium-high heat with olive oil and butter  sate sliced onions till tender.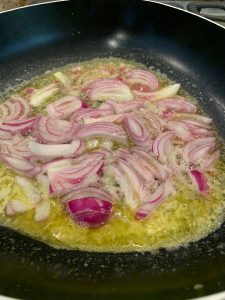 4. Incorporate mushrooms. Cook till softened.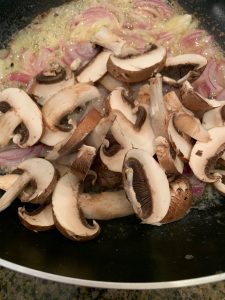 5. Add cherry tomatoes and stuffed green olives. Stir to combine.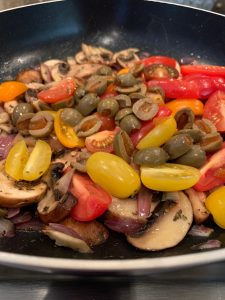 6. Incorporate Homemade Basil Pesto.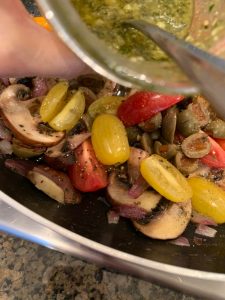 7. Mix all ingredients and cook sauce for about 10 minutes.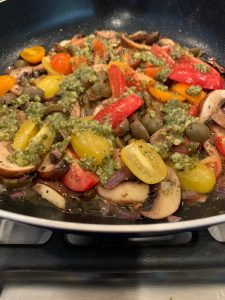 8. Grate 1/4 cup of Pecorino Romano cheese on top of warm pasta in
the pot.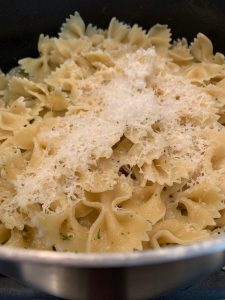 9. Pour sauce over pasta and mix to incorporate all ingredients. Garnish with some fresh basil leaves and cherry tomatoes. Serve warm or at room temperature. Enjoy!