June, 2022
MEDITERANIAN DISHES, WARM TO THE HEART STEWS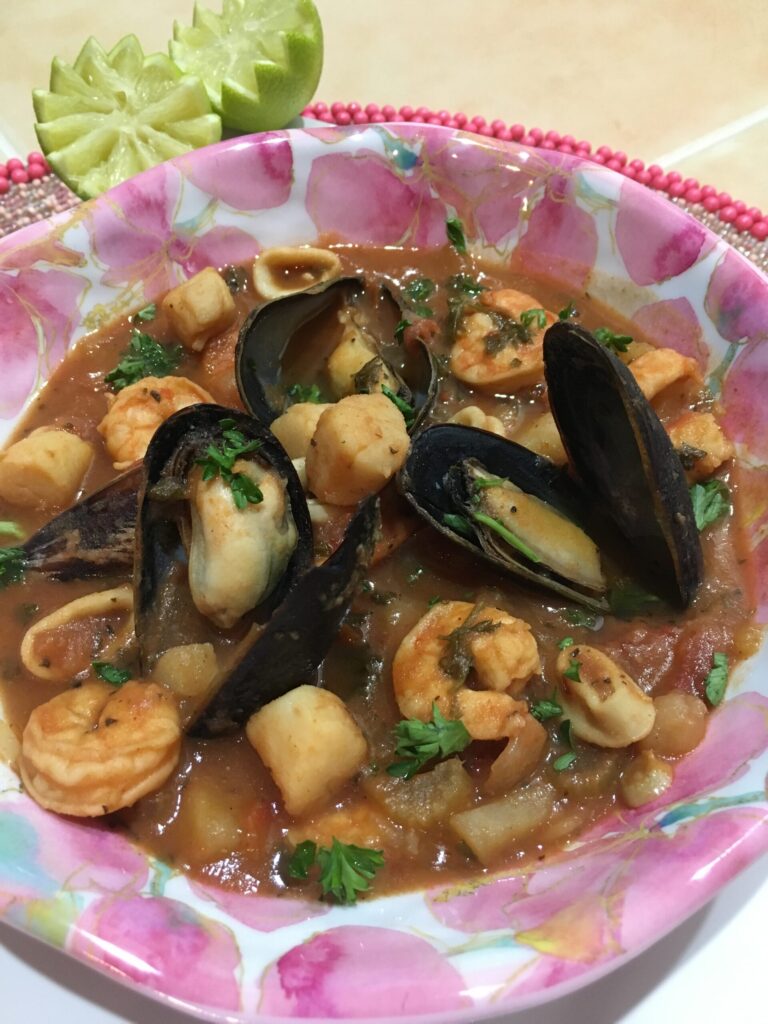 Ingredients
1-pound mussels, scrubbed
1/2-pound small scallops
1-pound shrimp, peeled and deveined
1/4 cup extra-virgin olive oil
1 yellow onion, diced
2 cloves garlic, minced
1 potato, diced
1 cup dry white wine
3 cups crushed tomato
1 cup clam juice
2 1/2 cup vegetable or fish broth
1/3 cup fresh lime juice or lemon juice
1/3 cup fresh parsley, chopped
1 teaspoon oregano, dried
1 teaspoon paprika
1 teaspoon kosher salt
1 teaspoon freshly ground black pepper
1/2 teaspoon red pepper flakes
wedges of lime or lemon for serving
Preparation
Use a large skillet and heat oil over medium heat. Add onions, garlic and potato, until soft and tender.
Add crushed tomatoes. Seasoned with salt, pepper, red pepper flakes, oregano, and paprika.
Add clams and stir. Add clam juice. Cook for 3 minutes. Add shrimps and scallops. Cover with fish or vegetable broth, and let it simmer for about 5 to 8 minutes.
Lower heat and drizzle with wine. Simmer again stirring occasionally for 15 minutes, until clams open and rest of seafood is cooked. Discard any un-opened clams.
Turn off heat and add in lime juice. Top with chopped fresh parsley leaves. Ooops, I missed the toasted piece of bread. Enjoy with extra wedges of lime :)!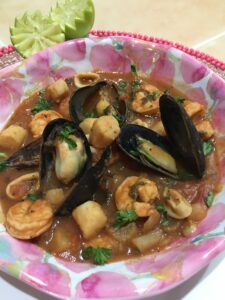 COOK FOR A CROWD, MEDITERANIAN DISHES, MY CHILDREN'S FAVORITES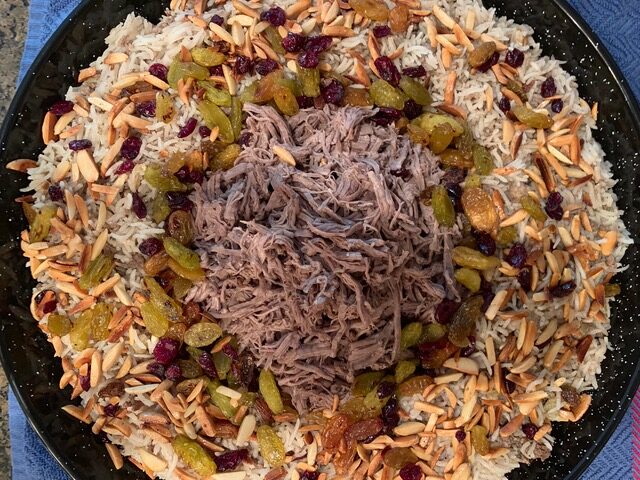 Authentic Lebanese Rice and meat dish perfumed with original warm spices. Perfect for any celebration!
Ingredients for Pulled Beef or Lamb with Rice
4 lb. chuck roast (boneless), cut in thick pieces
3 Tablespoons red wine vinegar
2 Tablespoon olive oil
2 teaspoons garlic, minced
1 teaspoon cumin, ground
1 teaspoon cinnamon, ground
2 bay leaves
8 cups of water, for meat
1 teaspoon salt
1 teaspoon black pepper
2 cardamon pods
2 Tablespoons butter
1/4 cup blanched toasted almond halves
1/2 cup green raisins
1/3 cup dried cranberries
1/2 teaspoon seven spice
1/2 teaspoon nutmeg, ground
2 1/2 cups basmati rice
Preparation for the Pulled Beef or Lamb
Clean your meat under cold water. Pat dry with towel paper. Transfer meat to a large pot when they can lay flat. Cover pot with 8 cups of water.
Cook over medium-high heat. Remove the scum out when it starts boiling. Add 1 teaspoon cinnamon, cumin, cardamon pods, minced garlic, red wine vinegar, and bay leaves.
Cover pot and reduce heat to low. Simmer for about 3 to 4 hours until meat is completely tender.
Remove meat from broth. Put broth aside.  Use two forks to shred meat. Set aside.
Preparation for the Rice
Heat the butter and olive oil on low and add slivered almonds till golden brown. Remove and set aside. Add 2 1/2 cups of rice to the same pot and toast for 2 minutes.
Add 4 1/2 cups of leftover meat broth. and raise heat to high. Add salt, pepper, nutmeg and seven spice. Stir.
Once it starts to boil, lower the heat. Cover the pot. Simmer for 25-30 minutes.
Transfer the cooked pulled meat to a center of a platter.
Fluff the rice while warm and place it around the pulled meat.
Sprinkle toasted almonds, dried cranberries, and raisins around meat over rice.
Enjoy!
FAST AND EASY SIDE DISHES, MY CHILDREN'S FAVORITES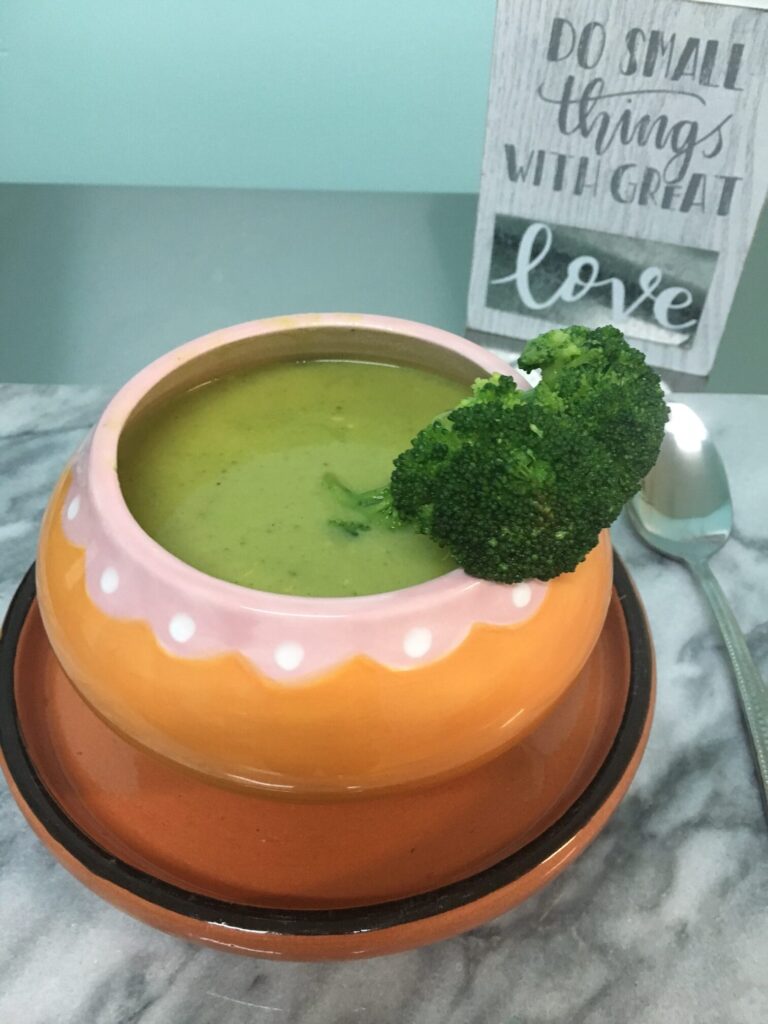 Smooth and creamy without the heavy cream!
Ingredients
5 cups of broccoli florets
2 garlic cloves, minced
1 onion, diced
2 cups vegetable broth or chicken broth
2 potatoes, diced
1 cup sharp cheddar cheese, shredded
1 cup whole milk
2 Tablespoon butter
1/2 teaspoon nutmeg, ground
1/2 teaspoon salt
1/4 teaspoon black pepper
Preparation
Use a large pot and heat over medium high heat and melt butter. Sauté the onions until softened. Incorporate minced garlic. 
Add potatoes and broccoli. 
Seasoned with salt, pepper and nutmeg.
Cook for 5 to 10 minutes. Add broth. 
Bring it to a simmer uncovered, then place lid on pot. Lower heat and cook for about 30 minutes until broccoli and potatoes are tender.
Add milk and simmer for additional 5 minutes.
Turn stove off. Use a hand blender and puree until smooth.       
Add cheese while hot and mix.  Ready to serve and warm your soul up. Enjoy!