September, 2022
A HEALTHY MEAL PLAN, SALADS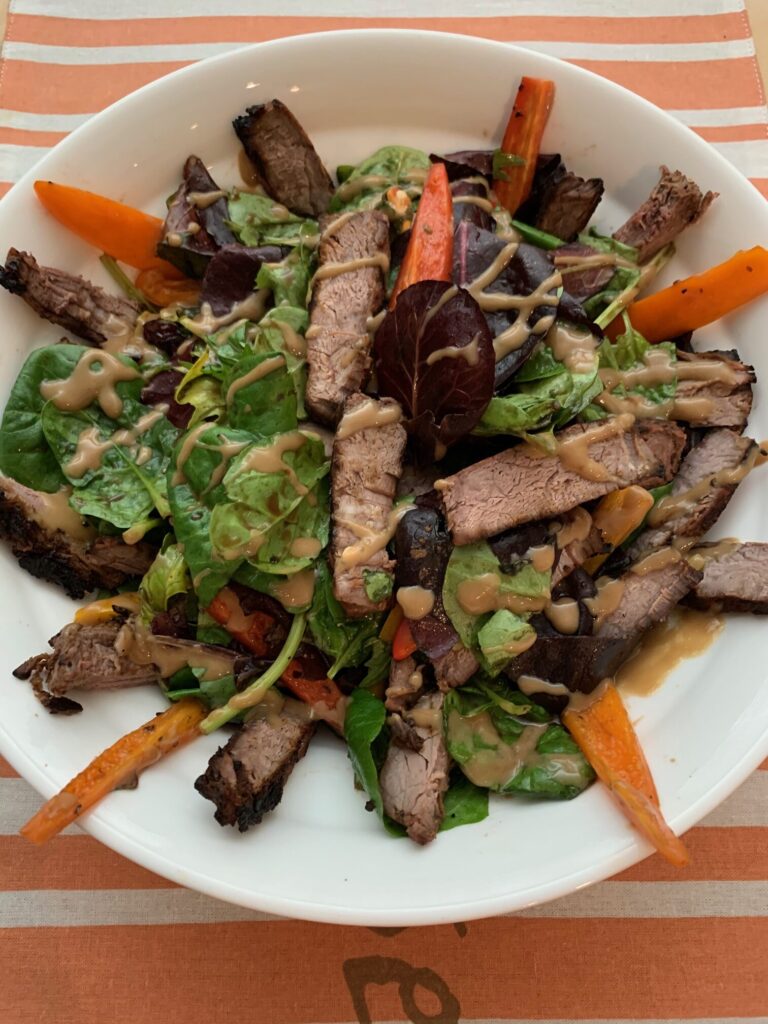 Ingredients
FOR THE SALAD:
2-3 cups Baby Spinach Fresh Leaves
2 carrots, sliced and grilled
1/3 teaspoon grated fresh ginger
1 clove of garlic, minced
1 teaspoon Dijon mustard
1/2 teaspoon soya sauce
1 Tablespoon mayonnaise
1 teaspoon honey
FOR THE STEAK:
1 pound Flank steak or skirt steak
Salt and Pepper to seasoned
1 teaspoon Pomegranate Molasses
2 Tablespoon Extra Virgin Olive Oil
Preparation
Dry Steak with paper towels. Place steak in a large bowl to marinate for about 35 to 40 minutes with salt, freshly ground black pepper, pomegranate molasses, and olive oil.
Meanwhile, heat the grill over medium-high heat. Grill steak for about 3 to 5 minutes on each side. Place steak on a cutting board, cover with foil and let it rest for at least 5 minutes. Cut into strips. Set aside.
Place spinach leaves in a large salad bowl. Arrange grilled carrots all around.
In a medium bowl, combine fresh ginger, minced garlic, Dijon mustard, soya sauce, mayonnaise, and honey.
Drizzle enough dressing over salad. Enjoy!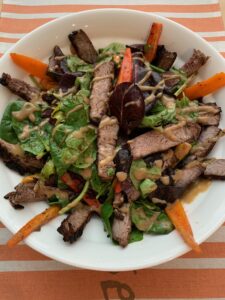 A HEALTHY MEAL PLAN, APPETIZERS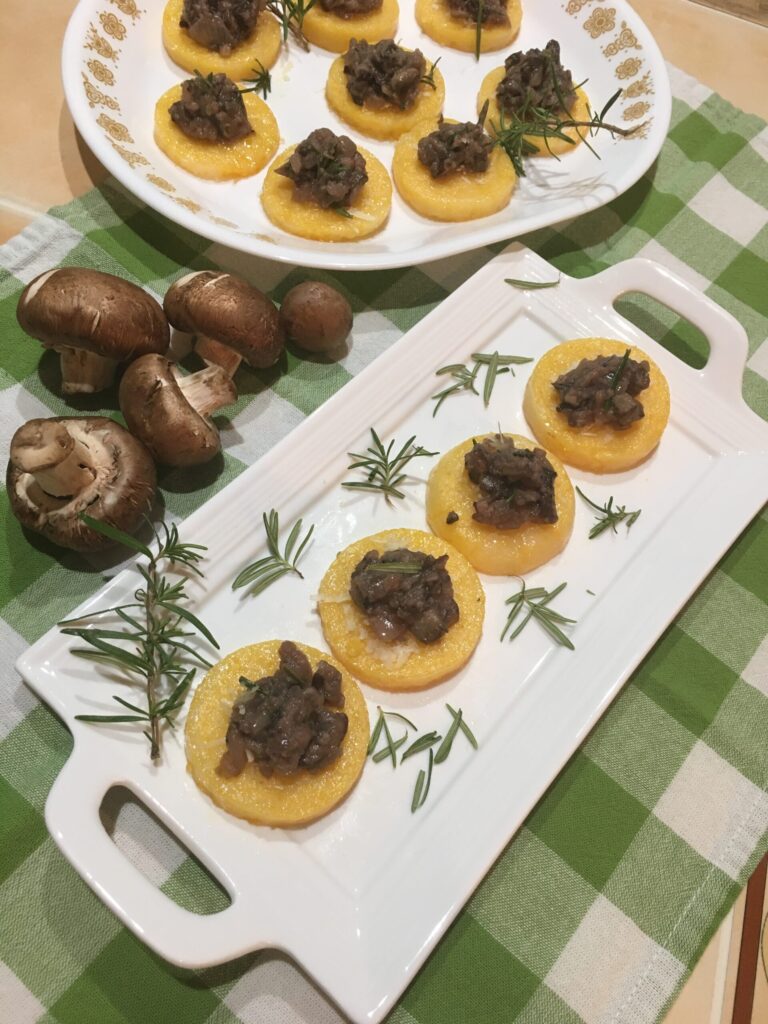 The Ultimate appetizer! Super easy to make with store-bought tubes of polenta. Slice, bake and top with a creamy irresistible delicious mushroom sauce. 
Ingredients
1 pound store bought-tube pre-cooked polenta, sliced in 1/2-inch rounds
1/2-pound White button mushroom(cremini), chopped
1/3 cup Mozzarella cheese, grated
1 onion, small diced
1/3 cup heavy cream
2 cloves garlic, minced
1/3 cup dry white wine
1/3 teaspoon salt
1/8 teaspoon black pepper
A dash of Worcestershire sauce
1 Tablespoon fresh Rosemary, finely chopped
1 Tablespoon butter
3 Tablespoons Extra Virgin olive oil, spray
Preparation
Preheat oven to 425 grades Fahrenheit.
Line a baking tray with foil paper. Spray with olive oil. Lay polenta rounds in a single layer over the baking tray and spray top with olive oil.
While baking for 20 minutes or until top of polenta are slightly golden and crispy, start making Mushroom Ragu: Heat a skillet at medium heat and add butter. Add garlic and onions. Cook for 5 to 7 minutes. Incorporate mushroom and chopped fresh rosemary. Seasoned with salt, and pepper. Cook for 10 minutes and add wine, stir and cook for about 2 minutes. Add Worcestershire sauce and cream. Cook over low heat stirring frequently until sauce has thickened. Set aside.
Remove polenta rounds from oven. Transfer into a platter. Sprinkle each with some mozzarella cheese. Top with warm Mushroom Ragu. Sprinkle the top with some fresh Rosemay leaves. Enjoy!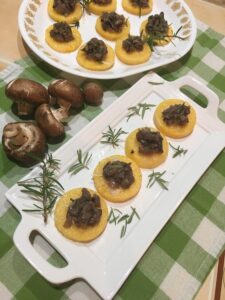 A HEALTHY MEAL PLAN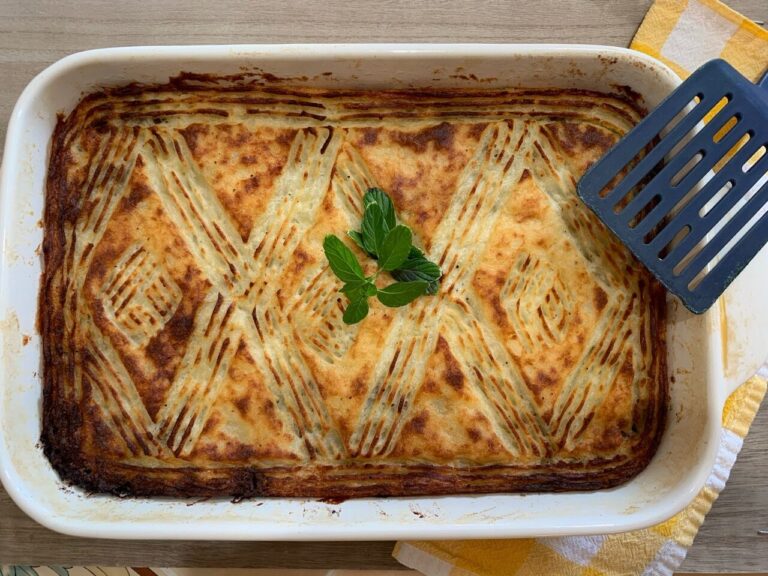 A hearty, warm side dish for your Thanksgiving table or to enjoy on its own as a vegetarian main dish.
Ingredients
4 large potatoes, Yukon gold peeled and cut in large pieces
1 pound of fresh cremini, morel or white mushrooms, pat dry with paper towel and sliced
1 onion, small diced
2 cloves garlic, minced
3 Tablespoons butter
1 Tablespoon Olive Oil
1/4 cup whole milk, warm
1/2 cup bread crumbs
1 extra Tablespoon butter, melted
1/2 cup of Pecorino Romano or Parmesan cheese, grated
1 teaspoon thyme, ground
1/4 teaspoon nutmeg, ground
1/2 teaspoon salt
1/4 teaspoon freshly ground black pepper
Preparation
Cook cut potatoes in a large pot in boiling salted water for 25 to 30 minutes or until fork tender. Drain and cover pot with lid to stay warm. Set aside.
Meanwhile, in a large skillet cook in 1 Tablespoon of butter and 1 Tablespoon of olive oil, onions and garlic. Add slice mushrooms, stirring often till tender or liquid is almost dry.
Prepare a buttered 9-by-13-inch baking dish. Preheat oven to 375 grades Fahrenheit.
Seasoned mushrooms with salt, pepper, thyme and nutmeg. Stir well. Set aside.
Transfer warm potatoes to a large bowl. Add warm milk and 2 Tablespoon of butter and mash until smooth.
To assemble, spread half of the mashed potatoes evenly into the prepared buttered baking dish. Sprinkle the mushroom mixture filling over potatoes. Spread the remaining mashed potatoes over the mushrooms layer. Decorate top with back of a fork.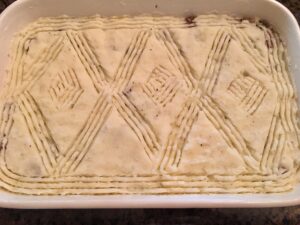 Mix bread crumbs in a little bowl with grated cheese and melted butter.
Top with bread crumbs mixture.
Bake for 35 to 40 minutes or until top is all golden brown and little crispy around the edges. Enjoy!