DESSERTS, MY CHILDREN'S FAVORITES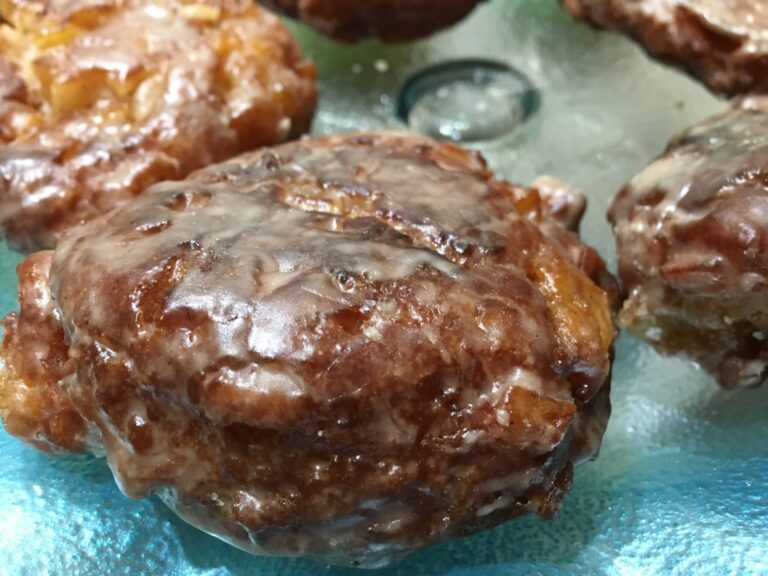 These Apple Fritters are tender on the inside, crisp on the outside, filled and bursting with delicious, caramelized apples.
Ingredients for the Apple Fritters:
3 cups All-Purpose Flour
1 packet of active dry yeast
2 cups sparkling apple cider (reserve 1/4 cup for glaze)
1/3 cup milk, room temperature
2 large egg yolk
2 Tablespoon butter, melted
2 Tablespoon shortening, melted
3 Tablespoon brown sugar
1/3 teaspoon salt
1/3 teaspoon nutmeg, grated
1 1/2 teaspoon cinnamon
4-5 cups vegetable oil, for frying
Preparation for the Dough:
Place apple cyder to warm up for 8-10 seconds in the microwave. Pour over the dry active yeast. Gently stir it and let it sit for about 10 minutes or until bubbly. Set aside.
Use a mixer with paddle attachment. Place half of flour into a bowl. Incorporate yeast, milk, butter, sugar, beaten yolks, shortening, salt, cinnamon and nutmeg. Add rest of the flour and cooked apples (Recipe down below)
Mix for 15 minutes, until dough is smooth and forming a soft ball to the touch. Mix until well incorporated. No worries if dough still feels little sticky.
Turn the dough into an oiled large bowl. Cover with a cloth. Place it over your kitchen counter in a warm place. Let it rise for about 1- 1 1/2 hour or until dough double in size.
Ingredients for the Apple Filling:
5 Granny Smith apples, peeled, core and chopped in small 1/2 inches cubes
1/2 cup butter
1/2 cup brown sugar
1 Tablespoon of lemon juice
1 teaspoon cinnamon, ground
1/3 teaspoon nutmeg, ground
1/3 teaspoon turmeric, ground
Preparation for the Apple filling:
Place a large pan over medium heat. Melt the butter and add the apples. Let them cook for about 15 minutes.
Add in sugar, turmeric, cinnamon and nutmeg. Stir all together.
Cook apples for another 10-15 minutes until apples are golden and tender. Add lemon juice. Cook for one extra minute until no liquid is left. Remove from heat and place apples into a bowl.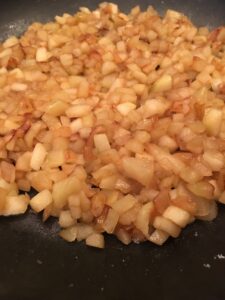 Assembling and Frying:
After an hour, your dough had risen, press the dough out into a thin rectangle over a floured surface to keep it from sticking.
Use a bench scraper or sharp knife and cut dough into 1 1/2 to 2 inches squares. Flour the top of them slightly.
Cover the fritters again with a loose cloth and let them rise again for about 20-30 minutes.
In a large pan, heat vegetable oil at medium heat, gently place 3 to 4 fritters at a time into the oil. Fry them for about 1 1/2 to 2 minutes per side, until golden brown and puffed.
Continue same process and use a slotted spoon to remove them from pan. Place apple fritters over a paper towel lined wire rack to cool.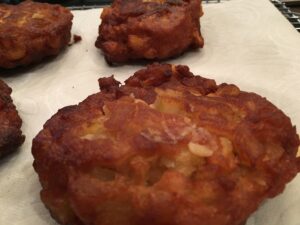 Making the Glaze:
In a deep large bowl whisk together the reserved 1/4 cup of sparking apple cider with 2 1/2-3 cups of powder sugar. Deep in each apple fritter into the glaze to evenly coat it. You can brush top only, if you prefer. Let the glaze set into each apple fritter for about 15-20 minutes. Serve and enjoy!