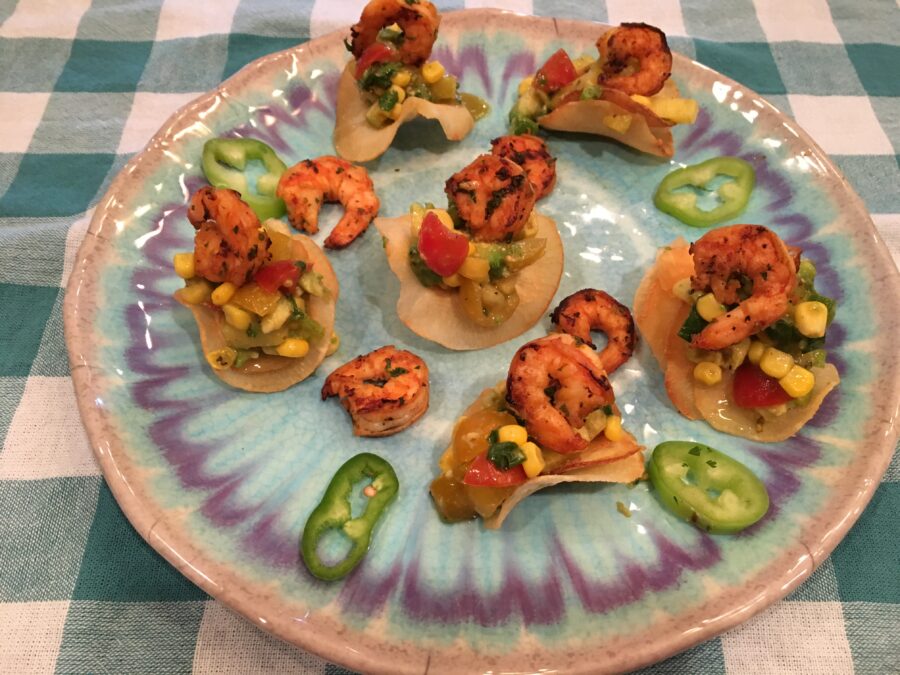 Ingredients for Grilled Garlic Shrimps
1 pound large cooked shrimps, peeled and deveined
2 Tablespoon garlic, minced
4 Tablespoons fresh lemon juice
1 teaspoon hot sauce
1 Tablespoon jalapeno pepper, finely chopped
1/4 cup fresh cilantro, finely chopped
1/4 cup extra virgin olive oil
1 teaspoon smoke paprika
1 teaspoon salt
1 teaspoon freshly ground black pepper
Preparation
Place all ingredients into a plastic bag. Place to marinade in the refrigerator for 25 to 30 minutes.
Remove from refrigerator and let them sit for about 15 minutes at room temperature.
Prepare the grill to high heat and cook shrimps for about 3 to 5 minutes to char in both sides. Set aside.
Ingredients for Fresh Corn Salsa
2 cups fresh Kernels corn
1 cup cherry tomatoes red and yellow, halves
1 jalapeno pepper, chopped finely
1/2 cup green onions, chopped finely
1/2 yellow onion, chopped finely
1 avocado, diced
1/4 cup fresh cilantro, chopped finely
3 Tablespoon fresh lemon juice
1 teaspoon cumin, ground
1 teaspoon salt
1 teaspoon freshly ground black pepper
Preparation
Mix the corn with all ingredients. Let them marinade for 30 minutes in the refrigerator or until ready to serve.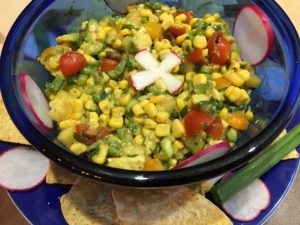 Ingredients for Homemade Baked Yucca (Cassava) Chips
1 large yucca root, peeled and thinly sliced (paper thin)
2 Tablespoon vegetable oil
1 teaspoon salt
Preparation
Preheat oven to 425 grades Fahrenheit.
 Toss all ingredients together.
Lay yucca chips flat into a large lined baking tray with parchment paper.
Bake for about 20 to 25 minutes until golden brown.
Assembling your delicious Shrimp 5 de Mayo Best Appetizer
On top of your homemade baked yucca chips, place your fresh corn salsa topped with a grilled shrimp. It's a Fiesta in your mouth!
Note: You can enjoy each of these three main delicious components on its own like the Yucca chips, which are very addictive, but they're gluten-free root vegetable that boost your energy mood. Enjoy them with my guacamole.(see recipe on my site) Yummy!