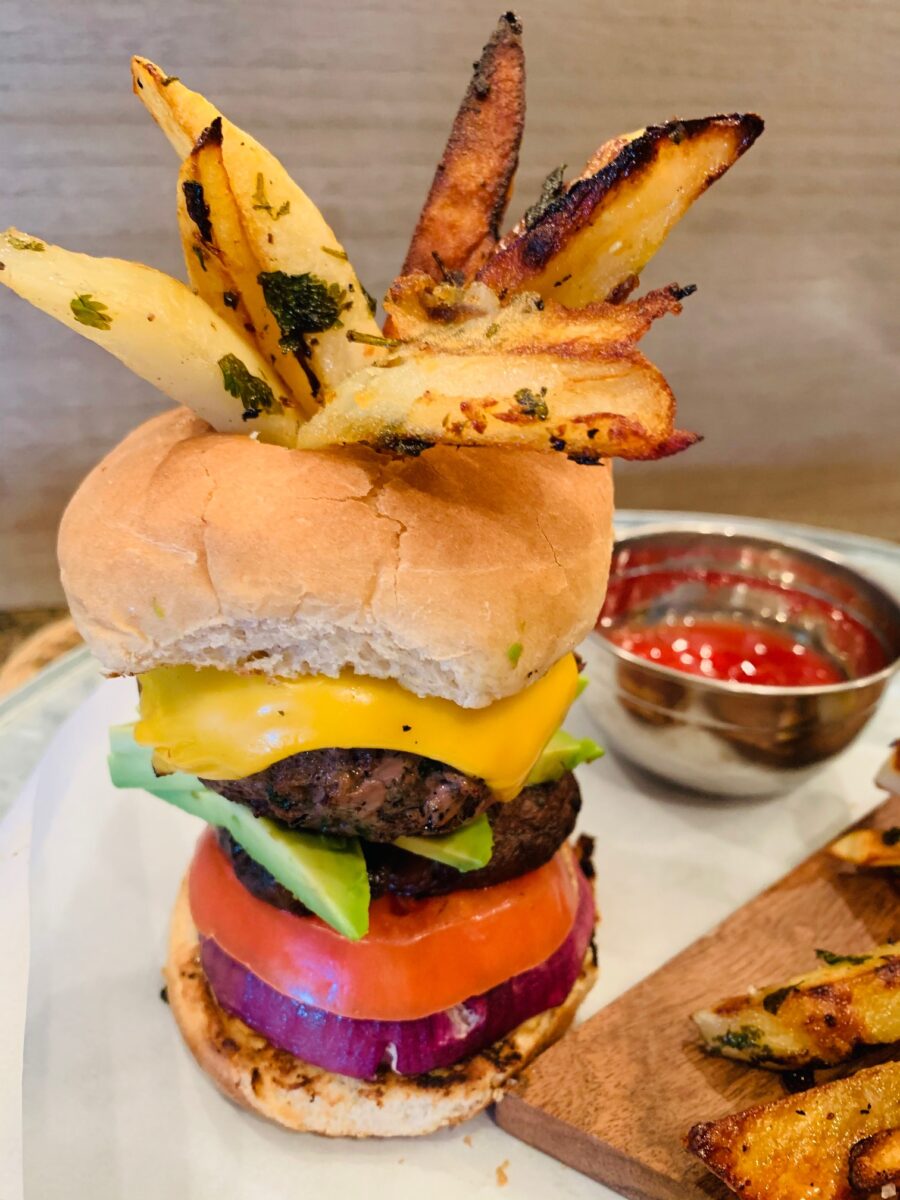 This Delicious low-calorie burger part beef, part mushrooms bring the best of both (Vegetarian and Non-Vegetarian) world flavors, topped with crispy and healthy baked fries.
Ingredients
1/2-pound ground beef (85 percent lean)
3 large Portobello mushrooms, stems removed; chopped
1 small yellow onion, grated
1 large red onion, sliced
1 large tomato, sliced
4 green leaf lettuce
2 avocado, sliced
1/2 teaspoon garlic powder
1/2 teaspoon salt
1/2 teaspoon freshly ground black pepper
1 tablespoon Worchester sauce
2 Tablespoon vegetable oil
4 hamburger buns
4 slices American Cheese or sharp cheddar
Toppings: Baked fries(see recipe on my site)
Sauce:Mayo, ketchup, Dijon mustard
Preparation
Heat grill to high. Char chopped mushrooms, sliced red onion and cook until soft. Set aside.
Combine ground beef, grated yellow onion, Worchester sauce. Season with salt, pepper, garlic powder and stir in 1/2 of char mushrooms. Mix until combined.
Form 4 thick patties about 3 1/2-inch.
Brush preheated grill with vegetable oil.
Grill buns, sides down. Set aside.
Grill 50-50 meat-mushrooms patties for about 8-9 minutes if you like them medium.
Meanwhile spread sauce in both sides of grilled buns.
Top with red grilled onion, tomato, lettuce, avocado, rest of char mushrooms, beef-mushroom patty and cheddar cheese. Top with remaining bun and delicious roasted fries.
Crispy Delicious baked Fries (see my site for recipe)