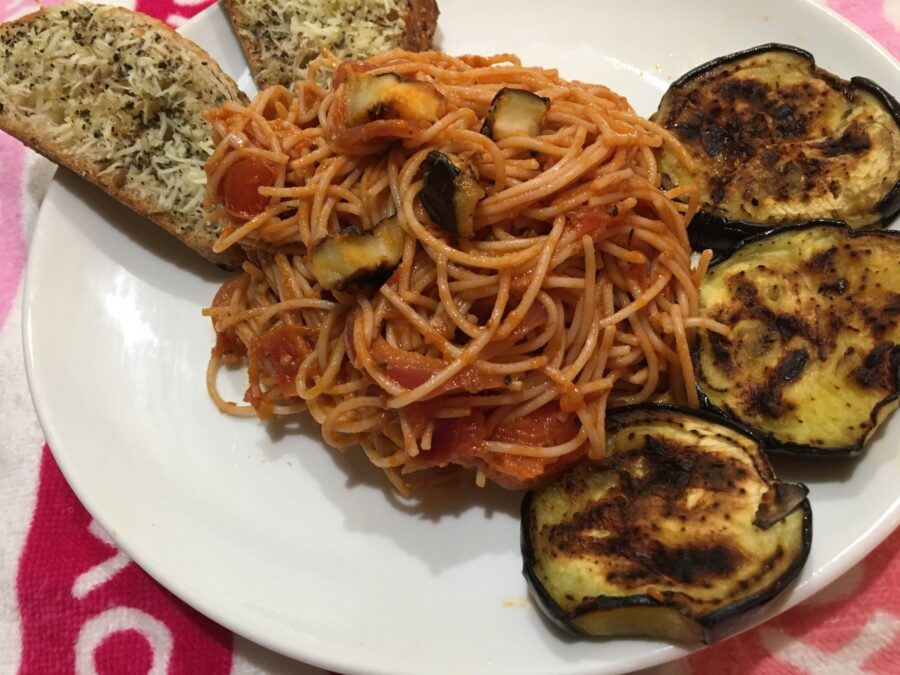 Ingredients
3 large Eggplants, cubed
4 Roma tomatoes, diced
2 Tablespoon extra virgin olive oil
1 Tablespoon butter
3 garlic cloves, minced
1 onion, diced
1 teaspoon basil, dried
1 teaspoon oregano, dried
1 teaspoon herb di Provence
1/2 cup Pecorino Romano Cheese, grated
1-4 ounce can tomato sauce
12 ounce angel hair pasta package
2 teaspoon salt
1 teaspoon freshly ground black pepper
Preparation
Preheat oven to 400 grades Fahrenheit. Meanwhile, dice eggplant leaving some skin on it. Place diced eggplant in an even layer over a foiled lined baking sheet and drizzle a generous amount of extra virgin olive oil and sprinkle with salt. Roast for 25 to 30 minutes or until eggplant are tender and golden brown.
Remove from oven and set eggplant aside.
In a medium size sauce pan at medium-high heat add olive oil with butter till melted and add diced onions. Sate until soft and tender. Add tomatoes, dried basil, oregano, herb di Provence, and garlic. Stir occasionally. Simmer sauce for 25 to 30 minutes.
Lower heat and add can of tomato sauce. Seasoned with salt and pepper to taste. Cook  for another 15 minutes.
Meanwhile, bring a large pot with salted water to a boil and cook pasta following package instructions or until pasta is al dente.
Remove pasta from water and incorporate over tomato sauce. Add roasted eggplant and toss all together.
Sprinkle with Pecorino Romano Cheese, a drizzle of extra virgin oil and serve. Delicious!