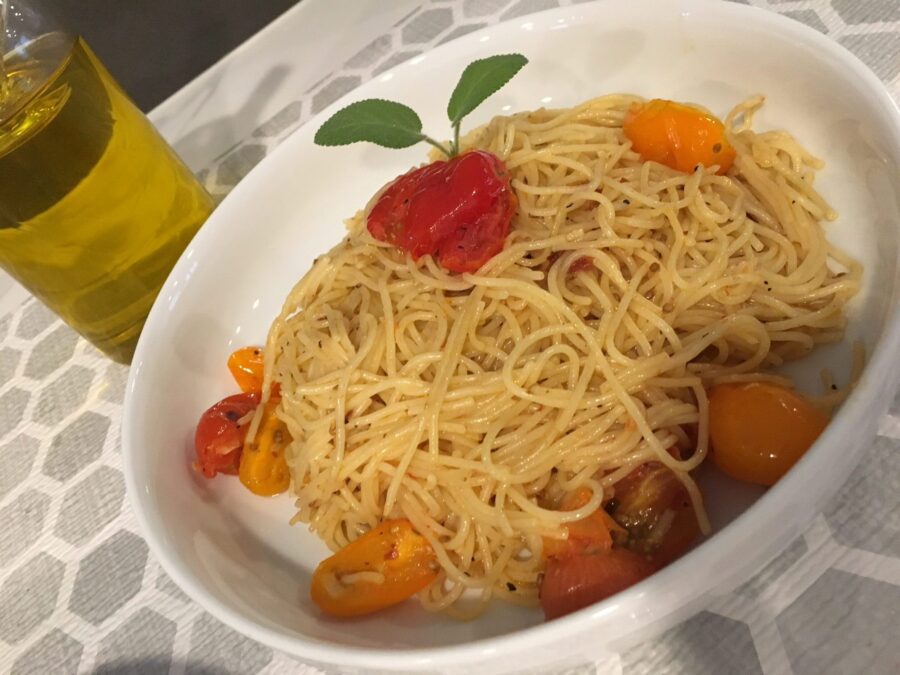 A very satisfying and delicious family dinner cooked in no time!
Ingredients
1 Pound angel hair pasta, cooked to package directions till al dente
2 cups cherry tomatoes, cut in half
1 Tablespoon extra-virgin olive oil
8 fresh leaves of Sage, minced
4 cloves of garlic, minced
1/4 teaspoon red pepper flakes
zest of lemon
1 teaspoon salt
1 Tablespoon salt for pasta water
1/2 teaspoon black pepper
1/4 cup butter
Pecorino Romano cheese, grated
Preparation
Cook pasta as directed on package with a Tablespoon of salt in the water. Drain, drizzle with olive oil and set aside.
Add butter to a large skillet and sauté minced sage for about 2 minutes at low heat until butter gets foamy with golden brown color. Add garlic and cook for an extra two minutes.
Incorporate cherry tomatoes. Seasoned with crash pepper, salt and black pepper.
Add cooked pasta to the skillet and toss all ingredients together. Sprinkle with Pecorino Romano and zest of a lemon. Serve and enjoy!