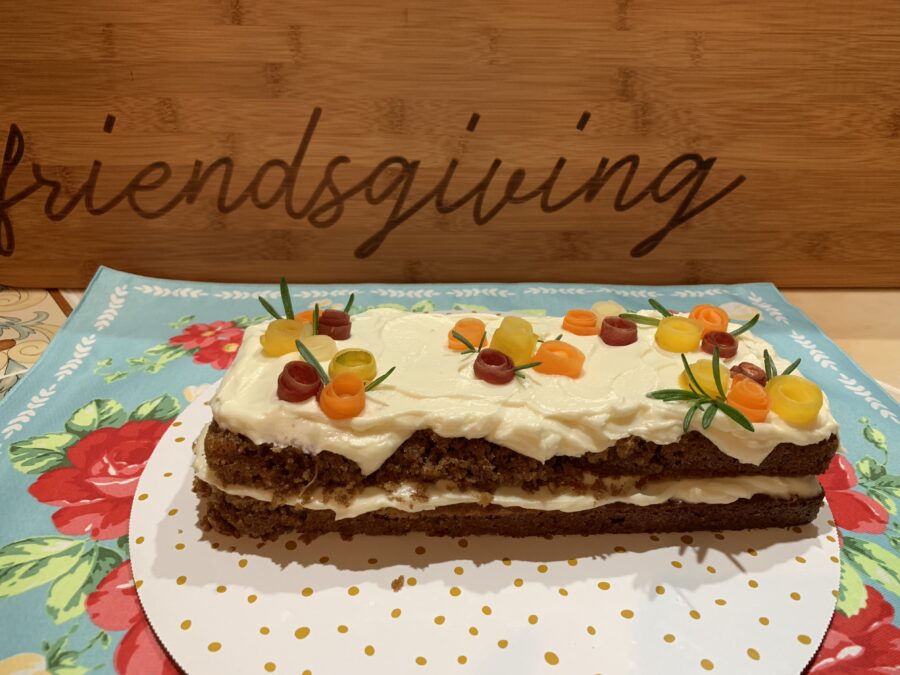 Ingredients
2 cups all-purpose flour
1 1/2 teaspoon baking powder
1/2 teaspoon salt
1 teaspoon nutmeg, ground
2 teaspoon cinnamon, ground
1/2 teaspoon allspice, ground
1/2 teaspoon ginger, ground
3/4 cup grape seed or vegetable oil
4 eggs, room temperature
1/2 cup pineapple juice
1 cup unsweetened shredded coconut
1/3 cup walnuts, chopped
1-2 cup of carrots, shredded
1 1/2 cups brown sugar
4 eggs
1 1/2 teaspoon vanilla extract
Cream Cheese Frosting
8 ounces cream cheese, soften at room temperature
1 cup unsalted butter, softened at room temperature
2-3 cups of powdered sugar
1 1/2 teaspoon vanilla extract
 Preparation of the Carrot cake
Preheat oven at 350 grades Fahrenheit. Spray 4-pc-Layer cake pans of 12″ x 4 1/2″ or two 9-inch round cake pans with nonstick cooking spray and set aside.
Using a large mixing bowl, sift together all-purpose flour, baking powder, salt, ground cinnamon, nutmeg, ginger and all spice. Mix all well using a hand mixer or by hand. Set aside.
In another bowl combine grapes seed oil, eggs, pineapple juice, vanilla and brown sugar. Whisk by hand all ingredients well.
Incorporate all wet ingredients into the flour mixture and mix until well combined.
Add shredded carrots, coconut and chopped walnuts folding in all ingredients into the batter using a whisker.
Evenly distribute batter between 4 greased cake pans or if you are using two of 9-inch round pan.
Bake for 25-30 minutes until top of cake are set and golden brown or inserted toothpick in the center of each cake comes out clean.
Remove cake pans from oven. Let cakes cool in pan for about 15 minutes. Meanwhile, start making your delicious frosting.
Preparation for Cream Cheese frosting
Using a hand mixer beat together in a large bowl, softened butter and cream cheese until creamy-fluffy consistency. Incorporate at low-speed powder sugar cup by cup until well combined. Add vanilla extract and mix well.
Assembling Cake
Use a serrated knife to level tops of each cake. (Use this top as crumbles over frosting or for snacking on later :). Place some parchment paper pieces on bottom of your cake stand so you can frost your cake easily and then remove them when you are done frosting. Place your first cake layer over a stand and frost a generous amount of the cream spreading it evenly.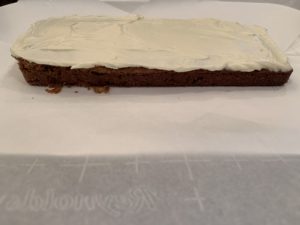 Top with another cake layer and frost again. Note: I made two different cakes of two layers each, thinking of sharing one with my neighbors. If you use the 4-pc-layer cake pans set I used, you can have different options. Decorate with edible Easter nests, marshmallow peeps Easter Chicks, Easter candies, fresh rosemary leaves, different color carrots, peeled thin and roll, as shown in cake below.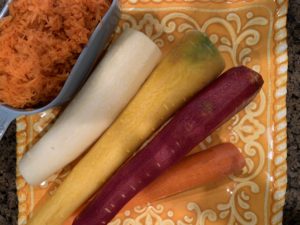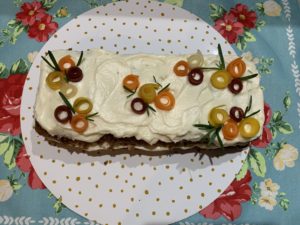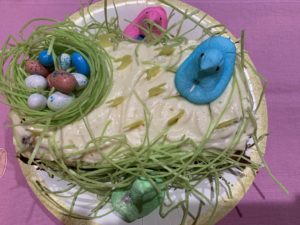 Decorate the top for HAPPY EASTER!!!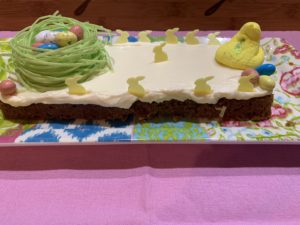 Enjoy!