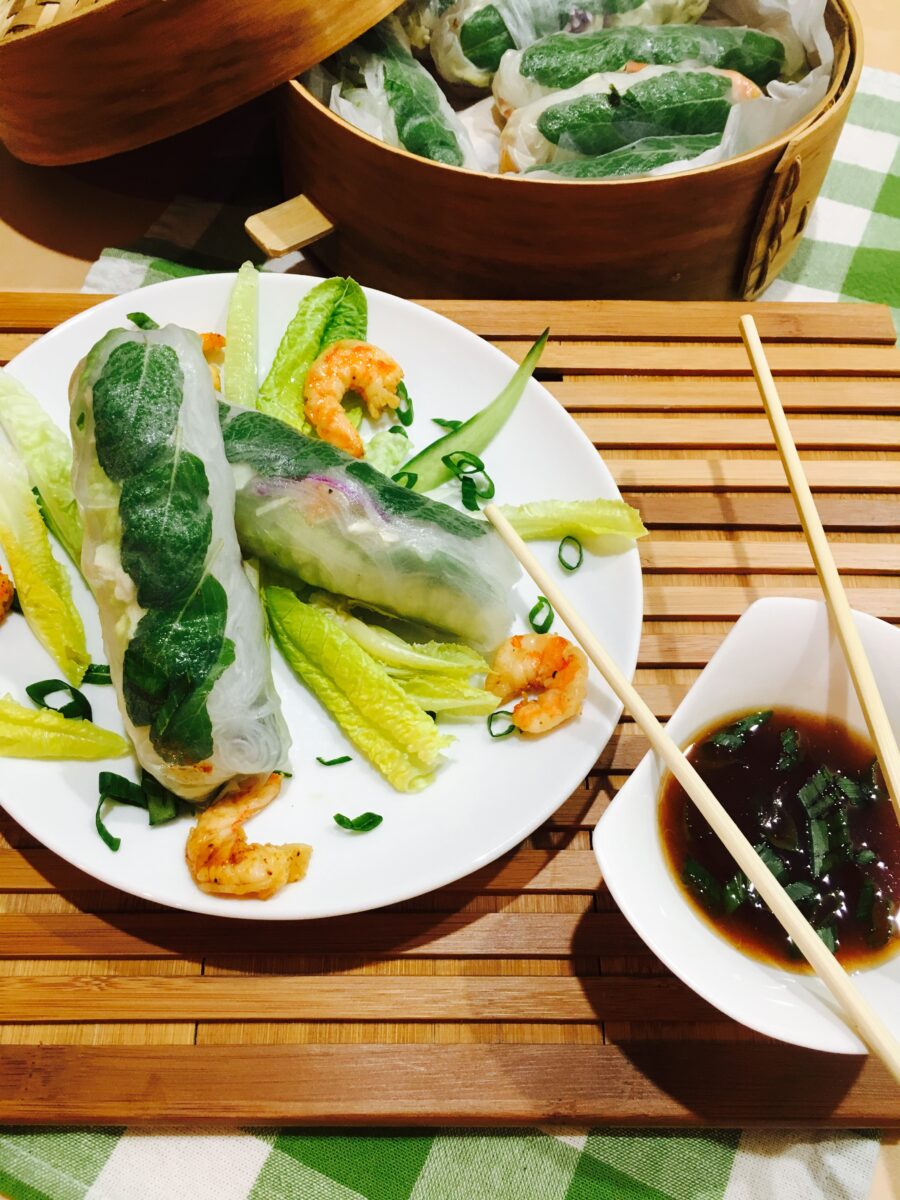 Ingredients
8 Rice Paper Rounds Wrappers
1/2 Pound Roasted Cooked Shrimps
1/2  cup fresh mint leaves
4 lettuce leaves cut in thirds, spines removed
4 ounces cooked clear rice noodles
4 scallions, thinly sliced
1 teaspoon freshly ground black pepper
1/2 teaspoon smoked paprika
1/2 teaspoon garlic powder
2 Tablespoons extra virgin olive oil
1 cup coleslaw mix
3 seedless Persian cucumbers, strips
Ingredients for Sweet-Sour Sauce
 3 Tablespoon of orange juice
1 Tablespoon Soy Sauce
1/3 teaspoon fish sauce
1/3 cup rice vinegar
1 1/2 teaspoon hot sauce
1 Tablespoon Rice Vinegar
1 teaspoon honey
1 scallion, sliced
Toss all ingredients together. Set aside.
Preparation
Preheat oven to 425 grades Fahrenheit. Line up a baking pan with foil and place shrimps in a single layer. Drizzle with olive oil, toss in scallions, and seasoned with garlic powder, paprika and ground black pepper. Roast only for 15 minutes  because shrimps are already cooked. Remove from oven and set aside.2. Bring water to a boil. Turn off the heat. Place rice noodles to cook for 5 to 6 minutes. Drain and set aside.3. Line up all your ingredients:4. Clear off  a cutting board. Place a rice paper round in a big flat container with warm water. Soak it for 30 seconds or until rice paper is soft. Cover rest of round rice paper with a damp paper kitchen towel.
5. Place 2 or 3 leaves of fresh mint on the center of the rice round paper, 1 1/2 to 2 inches away from each edge side. Top with shredded      coleslaw. Place lettuce leaves with 2 or 3 roasted shrimps on top. Pile up with cucumber slices.
6. Bring the edge of rice round paper over filling and tuck underneath. Continue to roll and fold in the sides like when making a burrito.
7. Repeat same procedure with rest of rolls. Serve with dipping sauce. Fresh, healthy, simple and delicious. Enjoy!
Note: Keep fresh and soft with a wet kitchen towel on top.