A HEALTHY MEAL PLAN, APPETIZERS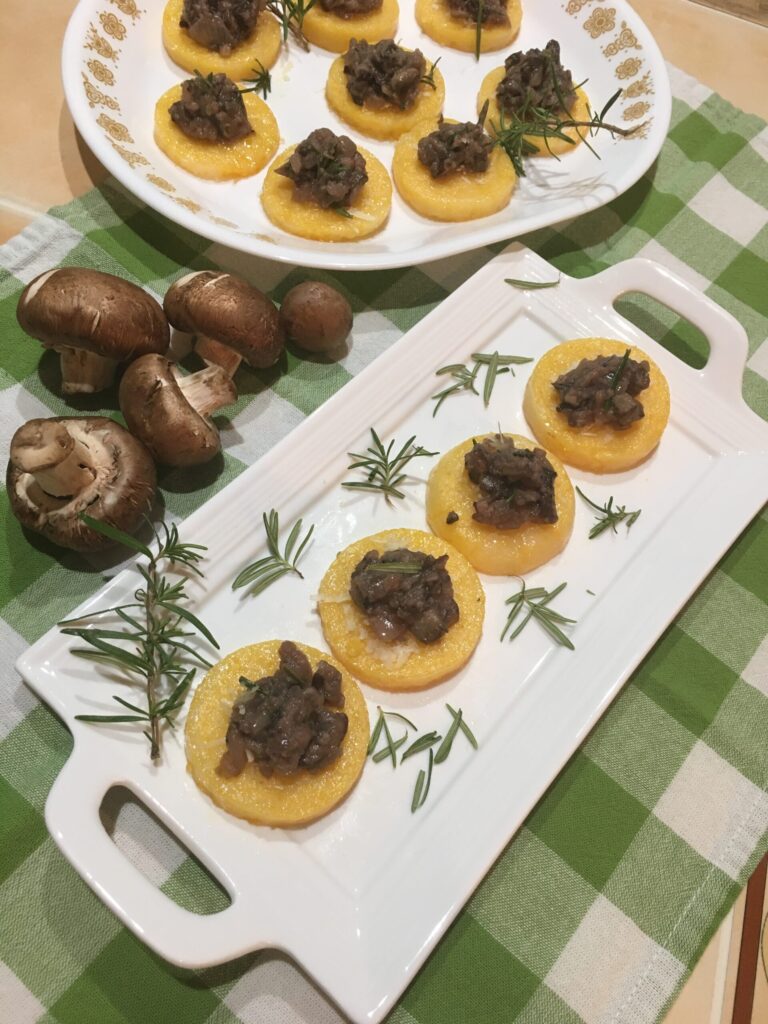 The Ultimate appetizer! Super easy to make with store-bought tubes of polenta. Slice, bake and top with a creamy irresistible delicious mushroom sauce. 
Ingredients
1 pound store bought-tube pre-cooked polenta, sliced in 1/2-inch rounds
1/2-pound White button mushroom(cremini), chopped
1/3 cup Mozzarella cheese, grated
1 onion, small diced
1/3 cup heavy cream
2 cloves garlic, minced
1/3 cup dry white wine
1/3 teaspoon salt
1/8 teaspoon black pepper
A dash of Worcestershire sauce
1 Tablespoon fresh Rosemary, finely chopped
1 Tablespoon butter
3 Tablespoons Extra Virgin olive oil, spray
Preparation
Preheat oven to 425 grades Fahrenheit.
Line a baking tray with foil paper. Spray with olive oil. Lay polenta rounds in a single layer over the baking tray and spray top with olive oil.
While baking for 20 minutes or until top of polenta are slightly golden and crispy, start making Mushroom Ragu: Heat a skillet at medium heat and add butter. Add garlic and onions. Cook for 5 to 7 minutes. Incorporate mushroom and chopped fresh rosemary. Seasoned with salt, and pepper. Cook for 10 minutes and add wine, stir and cook for about 2 minutes. Add Worcestershire sauce and cream. Cook over low heat stirring frequently until sauce has thickened. Set aside.
Remove polenta rounds from oven. Transfer into a platter. Sprinkle each with some mozzarella cheese. Top with warm Mushroom Ragu. Sprinkle the top with some fresh Rosemay leaves. Enjoy!