DESSERTS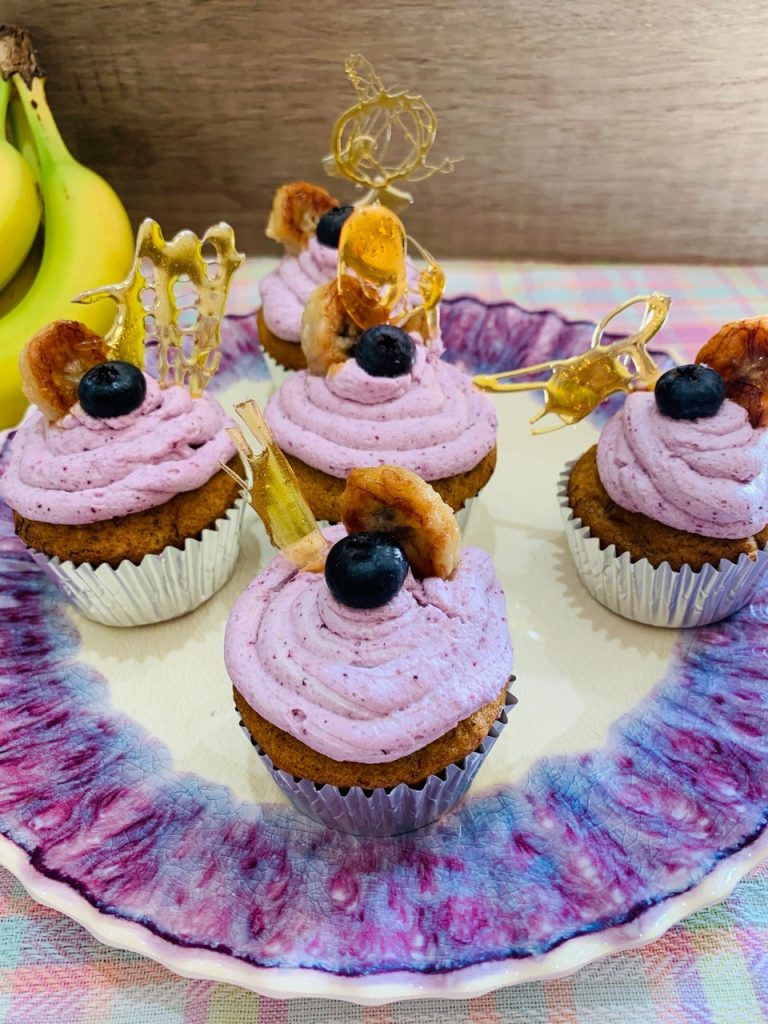 Ingredients for Blueberry-Banana Cupcakes Batter (12-14 cupcakes)
1/2 cup coconut flour
1 cup cake flour
1/2 cup whole wheat flour
2 eggs
1 teaspoon baking powder
1/2 teaspoon baking soda
1/2 teaspoon coconut extract
4 ripe bananas, 2 of them caramelized and mashed for batter
1/2 cup coconut milk
1/2 cup brown sugar
2 cups fresh blueberry, puree
1/4 cup coconut oil
Preparation for Caramelized Bananas
Use a large skillet and cook at medium heat 2 Tablespoon of butter. Add 2 Tablespoons of brown sugar. Heat until dissolve and add ripe sliced bananas until caramelized. Remove from heat and mash half of them for the batter. 2.  Rest of caramelized sliced bananas leave for garnish.
Preparation for Blueberry Puree
Cook blueberry with 2 Tablespoons of white sugar until soft and add the juice of 1/2 of a lemon. Smash and strain. Keep puree on the side. Half for icing and the rest to incorporate into the batter.
Preparation for Cupcakes Batter:
Preheat oven to 350 grades Fahrenheit. Sift whole wheat flour, coconut flour, baking powder and baking soda. Incorporate cake flour and brown sugar. Set aside.
Using a stand mixer beat coconut oil and eggs, one at a time, until smooth. Add 2/4 mashed bananas, 1/2 of the blueberry puree into the mix. Stir well till combined. Incorporate coconut extract.
Gradually add sifted flours. Add coconut milk. Mix well.
Fill cupcake liners with batter around 3/4 way up. Bake for about 20-25 minutes until lightly brown. Check the inside with a toothpick for doneness.
Place in cooling rack. Meanwhile, prepare Blueberry Cream Cheese Frosting: Use 1 cup of heavy cream. Beat using a hand mixer on high until fluffy and add 1/2 cup of softened room temperature cream cheese. Add 2-3 cups of powder sugar. Fold in blueberry puree until well combined. Swirl around frosting using a pastry bag.
Top each cupcake with a fresh blueberry and left caramelized bananas. Also, could decorate them with sugar candy swirls. (See my recipe on my site New Year Caramel Candy Cake)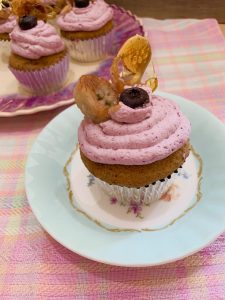 Enjoy this full of flavor Best Ever Blueberry-Banana Cupcake!