ORGANIC BREAD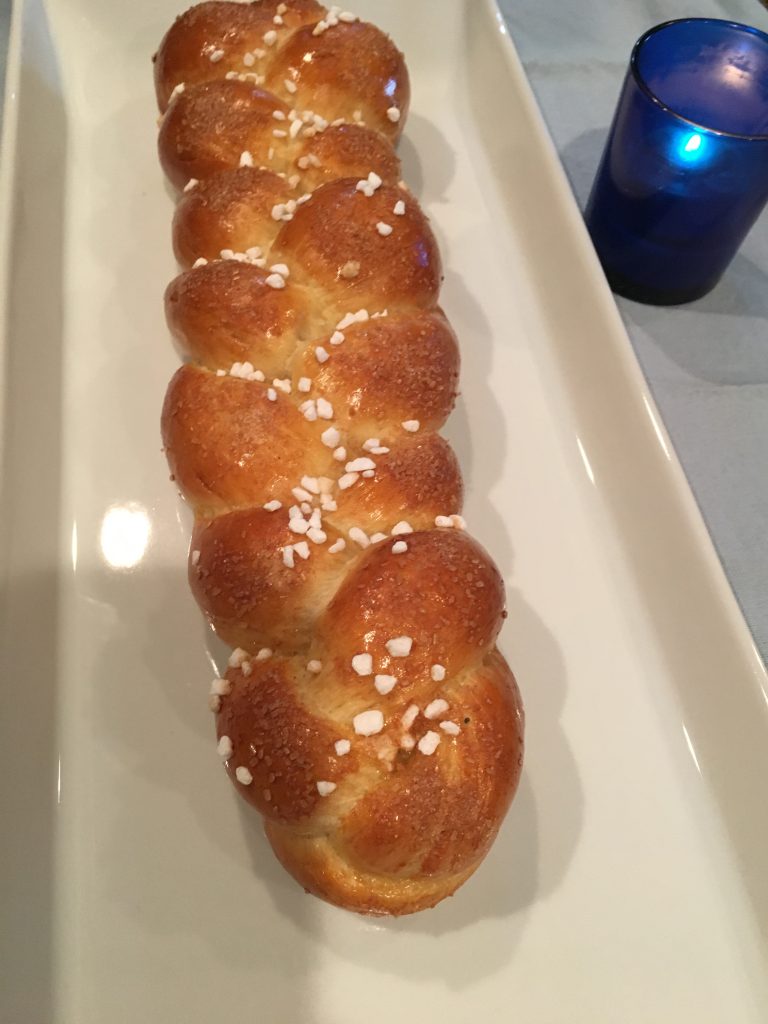 Ingredients
3 1/2 – 4 cups Organic Bread Flour
2 1/2 teaspoon active dry yeast
3/4 cup hot water (90 grades Fahrenheit)
2 tablespoon Honey
1/2 cup Unsalted butter, melted
1/2 cup warm water
4 Eggs
1/2 teaspoon salt
Topping
1 egg beaten with 1 tablespoon milk
Poppy, Sesame seeds or Flaked sea salt
Preparation
Dissolve yeast in the hot water and stir in honey. Let it sit until yeast is foamy.
Use a mixer fitted with a dough hook and incorporate into the bowl warm water, melted butter, eggs, salt and 1 cup of the flour. Add in the dissolved yeast and mix until smooth.
Incorporate rest of the flour. Continue mixing for about 4 to 5 minutes until dough becomes elastic.
Place dough in a lightly greased bowl, cover with plastic wrap until doubled in size fro about 2 hours.
Line a baking sheet with parchment paper. Punch down dough and divide into three long logs braided, pinching them first at one end and then the other end, or divide dough into 6 equal portions approximately 6 ounces each. A turban-shaped loaf is shown also below.
Transfer the braided loaf into the sheet pan and let it rise for about 30 to 45 minutes. Meanwhile, preheat oven to 350 grades Fahrenheit.
Brush the loaves with egg wash and sprinkle with flaky sea salt. Proof again for about 30 to 45 minutes until double in size.
Bake at 350 until golden brown for about 35 to 40 minutes. Enjoy!