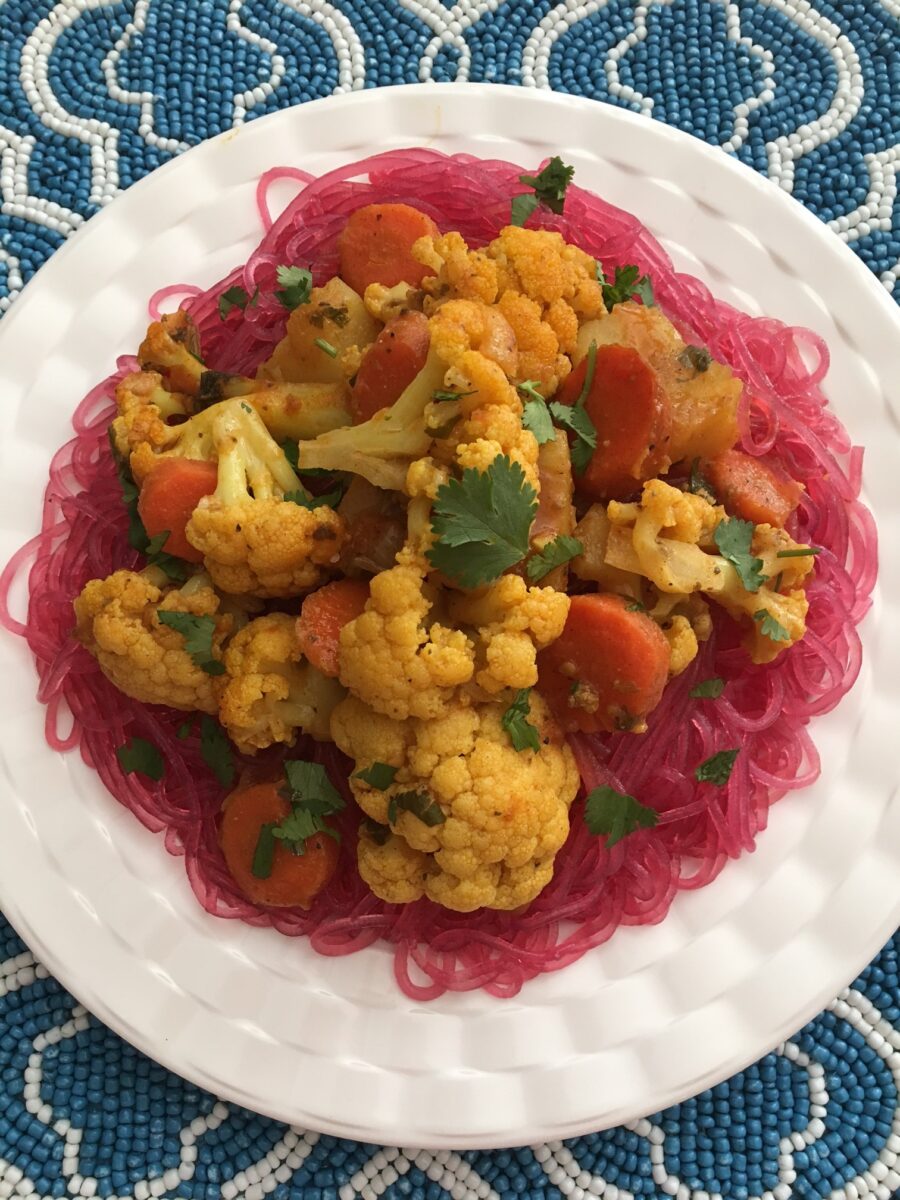 Ingredients
2 Tablespoon olive oil
1 teaspoon butter
1 large head cauliflower, cut into florets
2 large carrots, cut rounds
2 large potatoes, diced
3 tomatoes, large diced
3 garlic cloves, minced
1 onion, chopped
4 Tablespoon cilantro, chopped
1 teaspoon fresh ginger, grated
2 teaspoon curry powder or paste
1 teaspoon tomato paste
1 teaspoon cumin, ground
1 teaspoon coriander, ground
1/2 teaspoon fresh turmeric or ground
1 bay leaf
1 teaspoon salt
1/4 teaspoon white pepper
2 cups of chicken broth
Preparation
Heat the oil and butter in a large skillet on medium heat. Add onions, sauté until soft and add garlic.
Incorporate cauliflower potatoes and carrots. Cook for 5 minutes and add cauliflower florets and tomatoes. Add grated ginger, curry powder, turmeric, coriander, cumin, bay leaf, salt and pepper. Add tomato paste and chicken broth. Cover skillet slightly and bring it to a boil. Lower the heat and simmer for about 20 minutes or until carrots and cauliflower florets are tender. Set stew aside.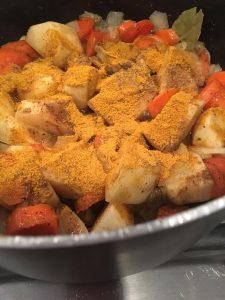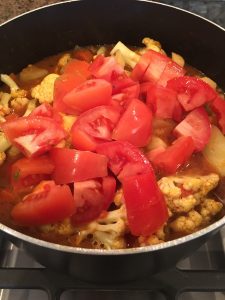 Note: If desired, instead of the chicken broth use coconut milk, but I wanted to leave the stew lighter by incorporating it into the crystal noodles.
Preparing Crystal Pink Noodles
Fill a saucepan with a cup of coconut milk and one cup of water. Add the juice or water released of 4 boiled cooked beets or juices from can beets. Bring this water and coconut milk to a boil for 2 to 3 minutes. Set aside.
Place clear crystal noodles into this water and let it sit for about 10 minutes. 2.1 Drain noodles after getting colored using a strainer.          
Use this delicious and colorful noodles on the bottom of your serving plate and top with delicious Curry Cauliflower Stew. Garnish with fresh cilantro leaves. Enjoy!