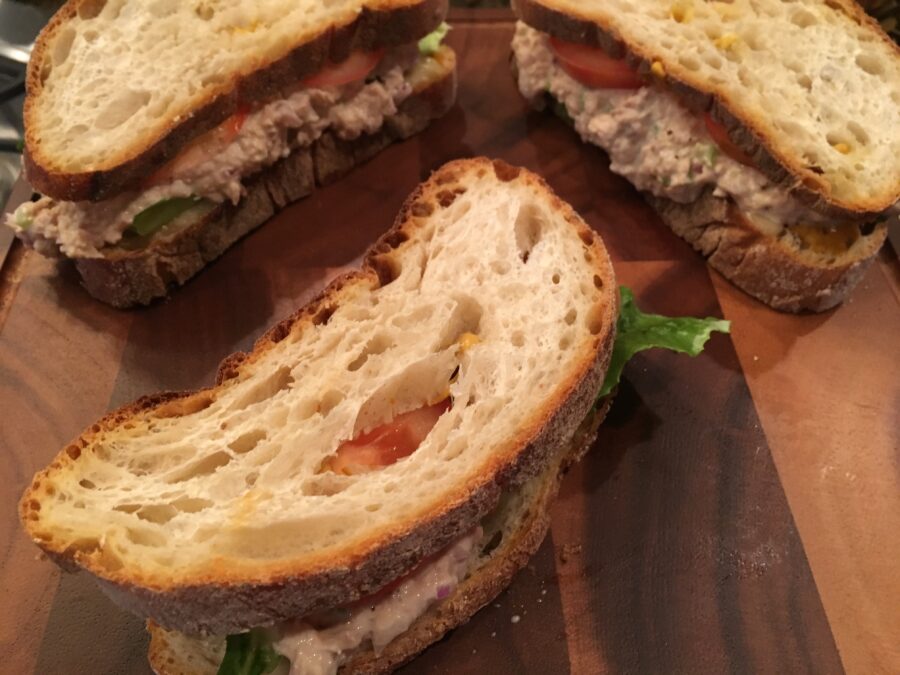 Ingredients
4 (6 ounces) cans water-packed tuna fish
2 Tablespoon mayonnaise
2 Tablespoon plain Yogurt
2 celery stalk, finely chopped
1 small red onion, finely chopped
2 Tablespoon fresh lemon juice
2 Tablespoon of Dijon mustard
6 slices of toasted homemade bread(see recipe on my site)
1/4 teaspoon salt
1/4 teaspoon freshly ground black pepper
3 slices of Swiss cheese
6 slices of Roma tomatoes
Preparation
Open and drain the tuna cans completely. Empty tuna fish into a bowl.
Add mayo, yogurt, chopped celery, onion, lemon juice, salt and pepper. Mix all ingredients and break any tuna chunks with a fork until is all smooth.
Toast bread slices, spread Dijon mustard over both sides of bread and  place a slice of Swiss cheese on one side, and a piece of lettuce leaves on the other side.
 Place a generous amount of tuna salad on top of lettuce leaves.
Place 2 tomato slices on top of tuna. Position other cheese and mustard bread slice on top. Enjoy!  Note: You can also enjoy this Tuna Salad recipe with some crackers as a fast and easy to make snack.