APPETIZERS, MEDITERANIAN DISHES, MY CHILDREN'S FAVORITES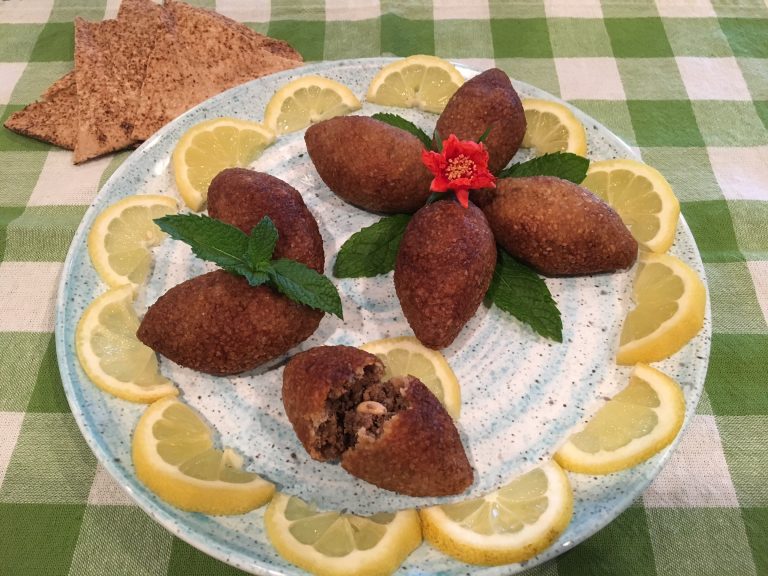 Ingredients for the Kibbeh Shells
1 1/2 cup fine wheat Bulgur
1 onion, grated
1 pound beef, finely ground
1 1/2 teaspoon allspice, ground
1 teaspoon coriander, ground
1/4  teaspoon cloves, ground
1/2 teaspoon dried mint
1 teaspoon salt
1/2 teaspoon freshly ground black pepper
Vegetable oil for frying
Water to help form the shells and for soaking bulgur
Ingredients for the Kibbeh Filling
1 onion, finely chopped
1/2 pound of beef, ground
1/2 cup pine nuts, slightly toasted
1/2 teaspoon coriander, ground
1/3 teaspoon nutmeg, ground
1/2 teaspoon cinnamon, ground
Salt and Pepper TT, to taste
1/2 teaspoon sumac
2-3 Tablespoon of Olive Oil
Preparation for Kibbeh Shell:
1.Using a mesh strainer or a bowl, add the bulgur wheat in, soak it into a container with water and rinse to clean. Soak Bulgur again into a bowl filled with filtered water for about 15 to 20 minutes to softened grain. Set Bulgur wheat aside.
2.Starting on making the Kibbeh dough for the shells, place the ground beef in a large bowl. Add grated onion, allspice, ground cloves, coriander, dried mint, salt and pepper. Placing your hands in a bowl with cold water start mixing your spices into the ground beef and add wet rinsed bulgur wheat in. Incorporate all spices, grated onion and bulgur wheat very well into the meat until a smooth Kibbeh dough has formed.
3.Cover Kibbeh dough with plastic wrap and place into the refrigerator, meanwhile proceed to prepare Kibbeh filling.
Preparation for Kibbeh Filling:
Heat olive oil in a large pan at medium heat. Add diced onions and sauté till softened for about 1-2 minutes.
Incorporating ground beef, mix and add ground coriander, ground cinnamon, ground nutmeg, sumac, salt and pepper.
Add toasted pine nuts and sauté for another 10 minutes till all flavors are well incorporated. Set aside.
Shaping Kibbeh Shells :
Take out Kibbeh dough from the refrigerator. Wet your hands by dipping them in water and begin by taking like 3 Tablespoon  of your kibbeh dough, forming an oval shaped ball, and by using your index finger from your other hand, create the hole in the center for the filling.
Fill the inside of your oval shaped kibbeh shell with 3/4 part up or 1 Tablespoon of the meat filling, and with your hand moist from the water seal the top of your oval-shaped ball, and set aside over a plate. Proceed with same process until all kibbeh dough is gone.
In a large deep pan, heat vegetable oil and fry kibbeh shells for 3-4 minutes until dark golden brown. Turned Kibbeh to all sides to fry evenly.
Remove Kibbeh shells carefully with a slotted spoon and place them over paper towel to drain from oil.
Eat by squeezing a piece of  lemon in the center of the hot or room temperature Kibbeh. Serve next to plain Yogurt, salad with some pita bread or just on its own. Enjoy a refreshing clean lemon-pomegranate mint juice next to your kibbeh shells. A perfect pairing!