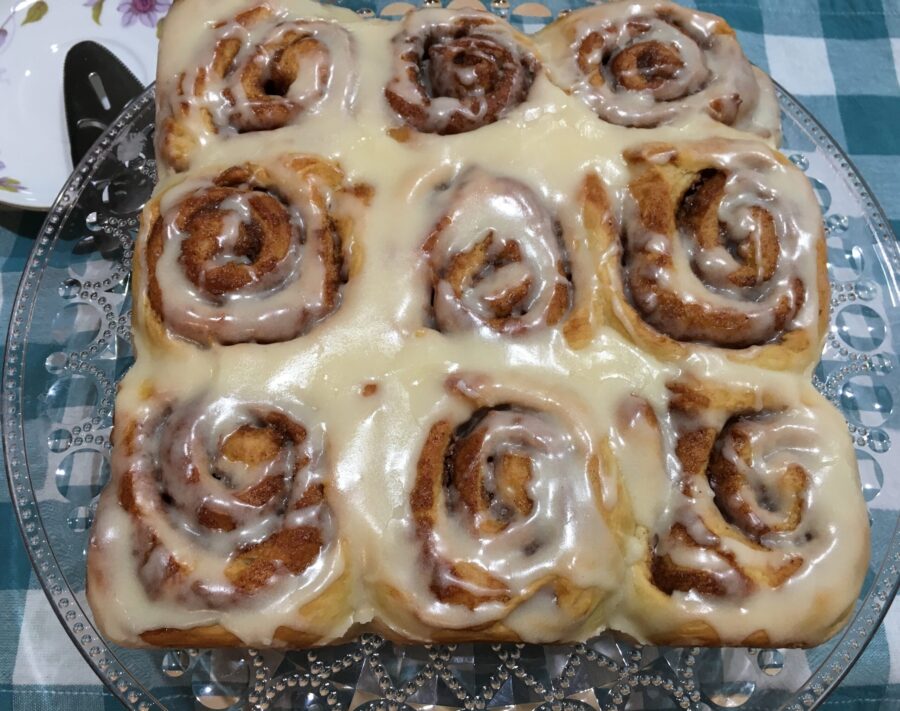 Delicious Homemade Cinnamon Rolls that will become one of your favorite morning treat or dessert at any time! Super fluffy, gooey topped with a smooth cream cheese frosting.
Ingredients for the Dough:
1 pkg. of Active dry yeast
1 1/2 cup warm milk in microwave, 40-50 seconds
3/4 cup granulated sugar
4 cups bread flour
2 eggs beaten, room temperature
6 Tablespoons salted butter, melted
1 teaspoon vanilla paste or extract
Preparation
Place warm milk with package of active dry yeast into a standing mixer with dough hook attachment. Add in 1 Tablespoon of sugar. Stir to dissolve and wait for 5 to 7 minutes to become foamy.
Add beaten eggs, butter, vanilla and rest of sugar. Stir until well combined.
In low, add flour slowly. Increase speed after flour is all well incorporated and knead until forms into a ball. Transfer dough into a butter greased bowl. Cover with a damp towel and place it into a warm place in your kitchen. (Next to a warm oven will be ideal).
Let dough rise for about 1-2 hours until double in size.
Meanwhile, make The Filling: Use a small bowl and combine 1 cup of brown sugar with 2 1/2 Tablespoon of ground cinnamon. Melt 6 Tablespoons of butter and set aside.
Place a parchment paper over your work area and transfer dough into it. Roll dough into a rectangle about 1/4 inch thick.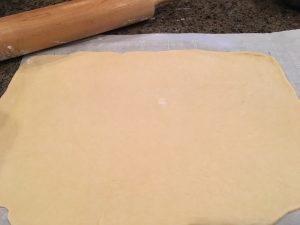 7. Brush dough with melted butter.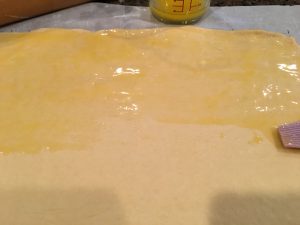 8. Sprinkle with cinnamon-brown sugar mixture evenly.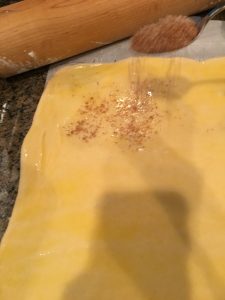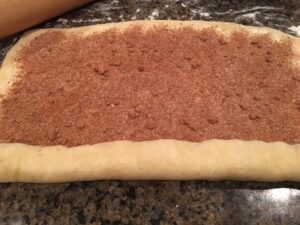 9. Roll up dough, cut in center first for equal sized rolls. Cut into 9(large) – 12 pieces.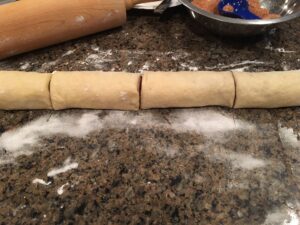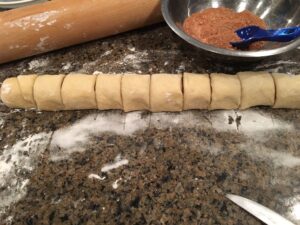 10. Preheat oven to 350 degrees Farenheit.
11. Place cinnamon rolls in 3 or 4 rows on a 8 inches greased square cake pan depending on how big you want them to be. Cover with damp towel , and let them rise again for about 30 to 45 minutes.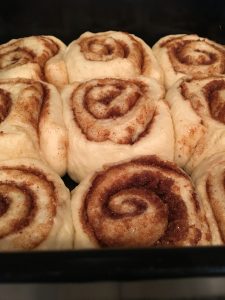 12. Bake Cinnamon Rolls until golden brown for about 25 to 30 minutes.
13. Meanwhile prepare Cream Cheese Frosting: Beat together softened 8 ounces package of cream cheese, 2 Tablespoons softened butter, 1/4 teaspoon vanilla with 2 1/2 cup of powder sugar. Beat until creamy. Set aside. Do not refrigerate.
14. Remove Cinnamon Rolls from oven. Let them cool down for 5 to 8 minutes. Spread the Cream Cheese Frosting on them while they are still warm in pan.
15. Let cool or maybe not, and transfer into a platter. Serve and enjoy!