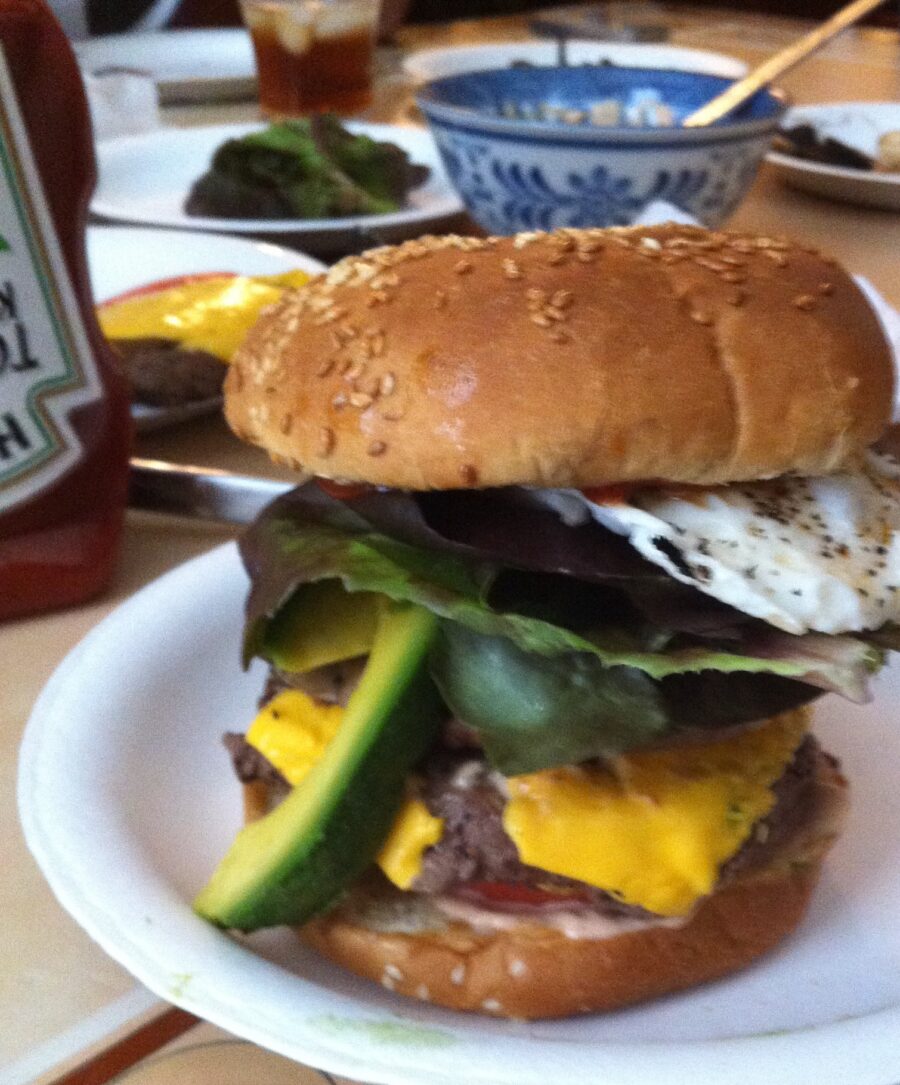 Ingredients
Sauce:
1/2 cup mayonnaise
1 teaspoon yellow mustard
1/2 teaspoon stone ground mustard
1 teaspoon ketchup
1 teaspoon cucumber pickle juice
Cheeseburger:
1 1/2 pounds (85% lean) ground beef
1 teaspoon salt
1/2 teaspoon black pepper
2 Tablespoon onions, grated
1/2 teaspoon dried parsley
1 garlic clove, grated
1 Tablespoon steak sauce (of your choice)
8 slices of sharp yellow Cheddar Cheese or American cheese
8 sesame seeds large buns
8 fried eggs in 2 Tablespoons of butter seasoned with salt & pepper
1 teaspoon vegetable oil
Toppings:
Fresh Spinach leaves
Sliced Avocados
Sliced tomatoes
Preparation
Mix lightly ground beef, grated onion, dried parsley, steak sauce, salt, pepper, and grated garlic.
Heat grill to medium-high.
Grill buns, cut sides down. Remove from grill. Cover with foil and set aside.
Shape mixed ground beef into 8 patties.
Brush both side of beef patties with vegetable oil. Grill them covered about 4 minutes per side for medium.
Meanwhile fried eggs one at a time over butter on one side of the grill or over stove top until yolks thicken slightly and egg edges are crispy. Remove and set aside.
Top burgers with cheese, cover grill for cheese to be melted for about 1 to 2 minutes.
Spread sauce onto each bun half. Place cheese burgers over bottom bun.
Add  avocados, tomatoes, fresh spinach leaves. Top with a fried egg. Cover with top bun half. Enjoy a Happy Memorial Day with a super juicy and delicious Burger!