DESSERTS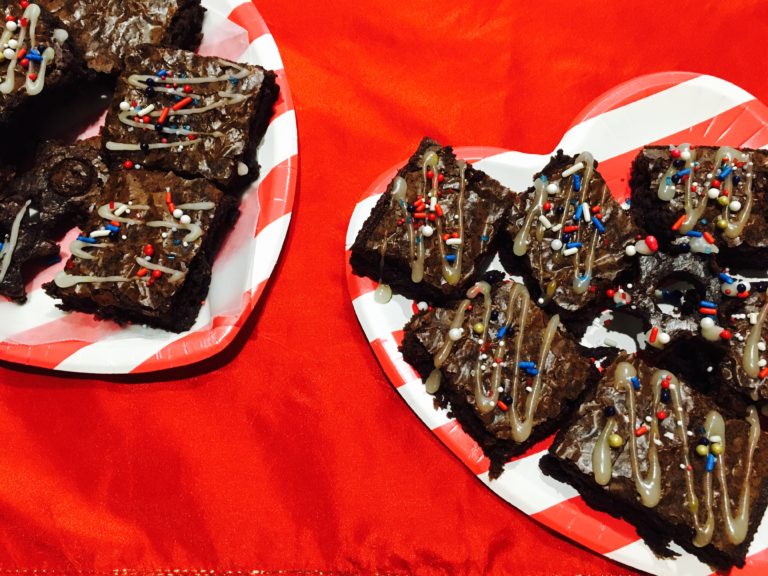 Eat your hearts out with these fudge, moist and super delicious brownies.. Happy 4th of July!!
Ingredients
1 cup All-purpose flour, sifted
1/3 cup cocoa powder, sifted
2 Tablespoon milk
1 cup granulated sugar
2 large eggs
1/3 cup vegetable oil
1/4 cup semisweet chocolate chips
1/2 teaspoon vanilla
1/2 teaspoon salt
2 + 1 Tablespoon brew espresso or drip coffee
1 cup powder sugar
Nonstick vegetable oil spray
Preparation
Spray with nonstick baking spray a 9 x 13- inch pan.
In a large bowl combine sugar, sifted flour, cocoa powder, salt and semisweet chocolate chips. Set aside.
In a medium bowl whisk together eggs, vegetable oil, 2 Tablespoon of espresso and milk until well combined. Incorporate dry ingredients into this mix.
Stir all ingredients until well blended.
Preheat oven to 325 grades Fahrenheit and transfer batter into the prepared baking pan. Smooth the top using a spatula.
Bake for 35 to 40 minutes or until toothpick inserted into the center comes out clean. Cool in pan for about 15 minutes before cutting.
Meanwhile prepare a simple Glaze: Use rest of coffee (1 Tbsp) and whisk in vanilla and powder sugar till smooth. Pour this glaze using a spoon over the brownies. Use some blue, white and red sprinkles over the top. Enjoy!