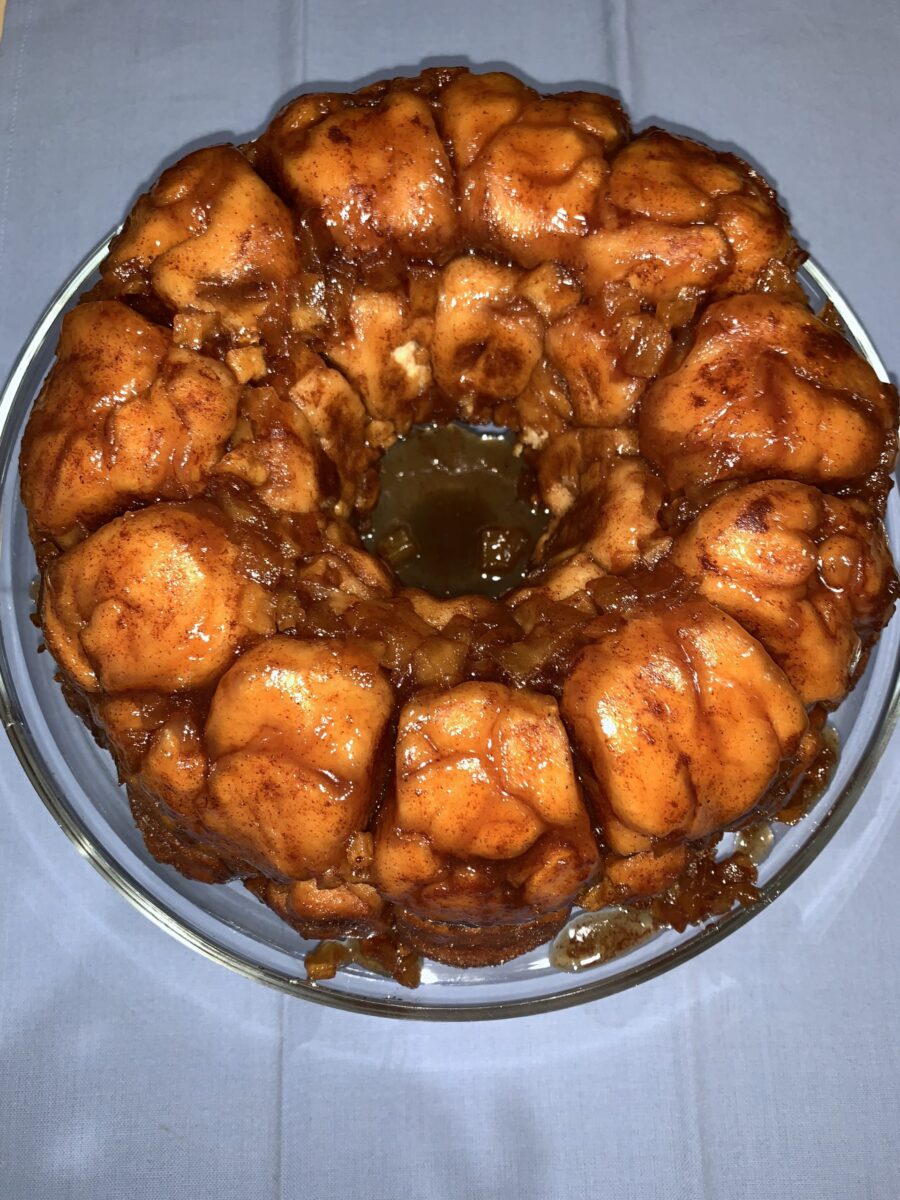 Ingredients for the Monkey Pull-Apart Bread
2 1/2 teaspoon active dry yeast
1/4 cup warm water
1/4 cup granulated sugar
2 Tablespoon whole milk, warm
1/2 teaspoon vanilla paste
3 eggs
3 cups All-purpose flour
1/3 teaspoon salt
5 Tablespoons melted butter
Preparation for the dough
Use a stand-mixer fitted with the dough hook attachment. Add to the bowl warm water, and yeast. Incorporate heated milk with melted butter. Combine in low speed and add flour gradually, add sugar, and salt. Mix all ingredients.
Incorporate eggs one by one, and vanilla. Beat in low until dough pulls away from sides of the bowl and become a soft joined ball.
Remove bowl from stand-mixer. Cover with a towel and let dough rise in a warm place over the counter for 1 to 2 hours.
Ingredients for the Filling
2 cups Granny Smith or any tart apple, diced
1/2 cup light brown sugar
1/2 cup butter, melted
2 teaspoon cinnamon, ground
Preparation for Filling
Meanwhile, over medium-high heat, sate apples in melted butter, brown sugar with cinnamon until slightly tender. Apples will continue to cook in the oven. Remove from heat and set aside.
Preparing and Assembling Pull-Apart bread dough after rises:
First combine in a medium bowl 3 Tablespoon of brown sugar with 1 teaspoon of ground cinnamon. Set aside.
Pre-heat oven to 350 grades Fahrenheit. Grease a bund cake pan with butter.
Make same size dough balls using your hands. Place 1/2 teaspoon of apple filling inside dough balls.
Coat each ball with cinnamon-sugar mix and place them into the grease Bundt pan sprinkling some from the apple fillings in between layers till top of the Bundt pan.
Also, some dusty extra cinnamon-sugar all over the top will create that caramelized color and taste we all love.
Bake monkey bread in the middle rack for 30 to 35 minutes or until dough is golden brown and cooked in the center.
Remove from oven. Let it rest for few minutes. Invert into a dish while still warm.
Enjoy now or at room temperature!