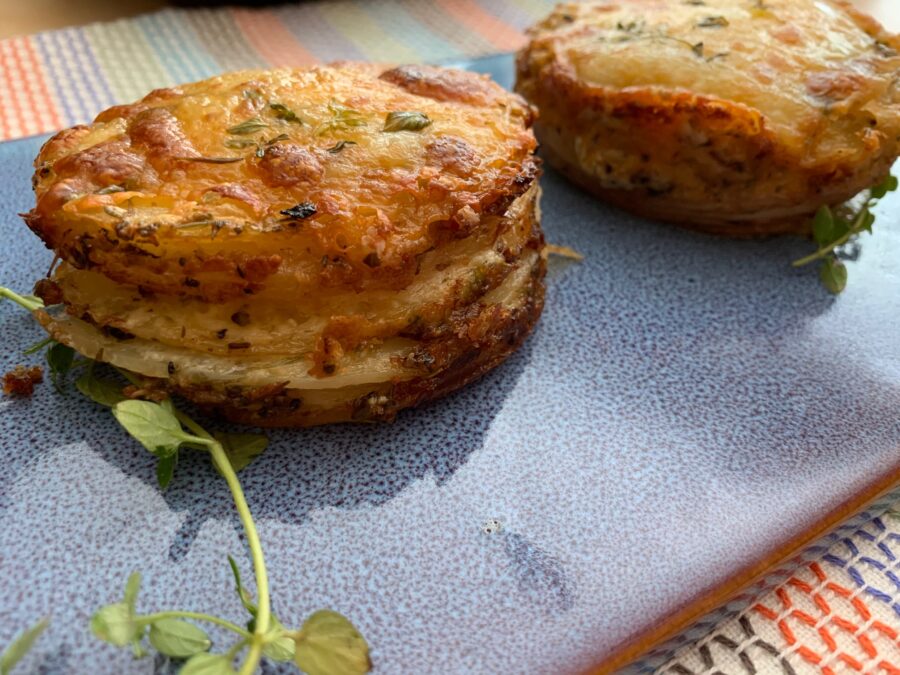 Ingredients
6 Baby Red Potatos half peeled, cut into 1/8 inch thick slices
2 Tablespoon melted butter
1 Tablespoon dried oregano
1 Tablespoon dried basil
1/2 teaspoon Kosher salt
1/3 teaspoon black pepper
3 Tablespoons fresh thyme leaves
1 cup mixed cheeses grated(Sharp Cheddar, Mozzarella and Asiago)
1 cup of whole milk
Preparation
Preheat the oven at 375 grades Fahrenheit.
Lightly grease a 6 large cup muffin tin pan.
Use a mandoline slicer. Cut very thin round see through slices of potato.    4. Place in a medium bowl or a glass pitcher, milk, melted butter, dried oregano, dried basil, salt and pepper. Whisk to combine. Set aside.5. Layer evenly the potato slices among the prepared muffin tin pan. Stacking half way up with potato slices. Drizzle one Tablespoon of milk mixture over the top.   6. Continue stacking the layers of potato all the way to the top. Drizzle each one cup with 1 Tablespoon of the milk mixture again and sprinkle with some fresh thyme leaves.  7. Cover the muffin tin with foil and place into the preheated oven for about 30 minutes or until potatoes are tender. Remove from oven and take the foil off. Add cheese over each cup and place again in the oven under the broiler for about 3 minutes or until potato stacks are golden and crispy.  8. Remove from oven. Let it cool in pan for about 10 minutes. Run a spatula around the edges of each potato stack to easily release them from pan.9. Serve warm and enjoy!