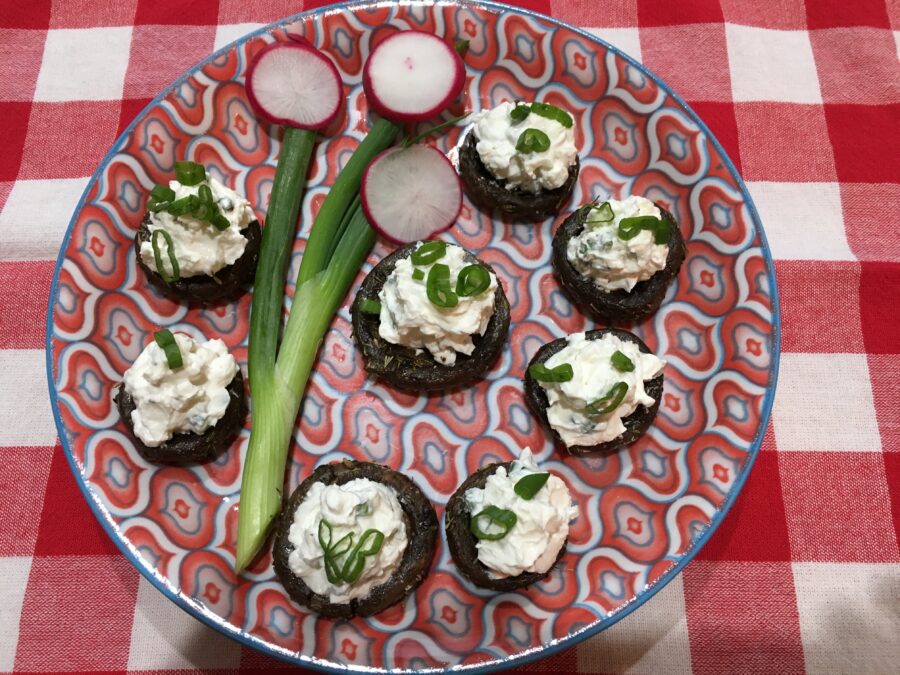 Ingredients
8 button Mushrooms without stems
4 Tablespoon light cream cheese, softened
1 Tablespoon Plain Yogurt
2 Tablespoon green onions, chopped
1 teaspoon dried basil
1 teaspoon garlic, minced
2 Tablespoon Olive Oil
1/2 teaspoon sea salt
1/2 teaspoon freshly ground pepper
Preparation
Preheat oven to 425 degrees Fahrenheit and lined a baking dish with aluminum foil paper.
Meanwhile, clean the mushrooms with a wet paper towel to remove dirt and stems. Set aside caps.
Place mushrooms caps into a zip-log plastic bag. Drizzle with olive oil. Seasoned with salt and pepper to taste. Place over lined baking dish. Bake for about 10 to 15 minutes till slightly tender. Remove from oven. Let them cool before stuffing and drain on paper towels.
In a medium bowl combine softened cream cheese, plain yogurt, dried basil, chopped green onions, minced garlic, and rest of salt and pepper.
Stuff each mushroom with cream cheese-yogurt mixture. Sprinkle with chopped green onions. Serve at room temperature. Enjoy!