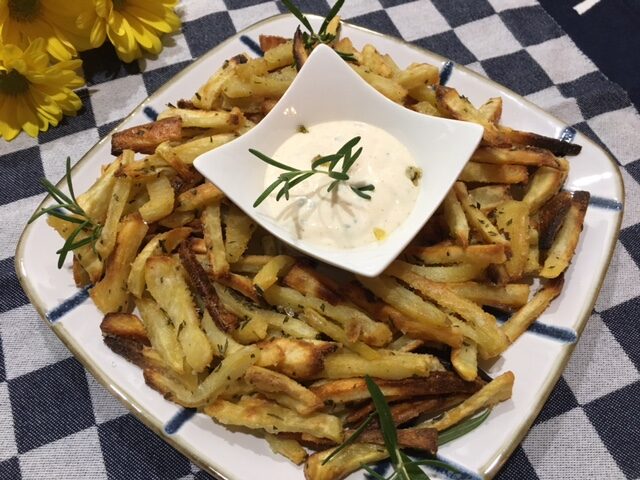 Ingredients
2 white sweet potatoes, peeled and cut into long thin strips
1 Tablespoon of fresh rosemary leaves, finely chopped
2 Tablespoon olive oil
1 teaspoon Kosher salt
1/2 teaspoon garlic powder
1 tablespoon corn starch
water
Preparation
Preheat oven to 425 grades Fahrenheit. Prepare a baking sheet lined with foil paper and set aside. Peel sweet potatoes.
Soak thin strips of sweet potatoes into a large bowl with cold water for at least one hour to minimize excess of starch.3. Drain and pat dry potatoes using paper towels. Add corn starch and toss well.  4. Drizzle with olive oil. Add kosher salt, garlic powder, and chopped fresh rosemary. Toss all ingredients until potatoes are well coated.
5. Arrange sweet potatoes evenly into the baking pan. Bake for 15 minutes first, flipping fries using a spatula to bake evenly.
Bake for  another  5 to 8 minutes until potatoes are crispy and slightly brown.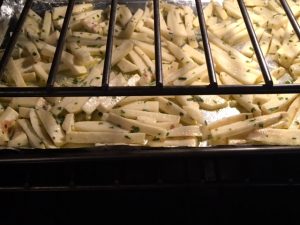 6. Remove crispy fries from the oven. Sprinkle with salt.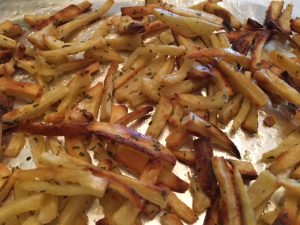 Enjoy next to a Rosemary Garlic Aioli Sauce !
Rosemary Garlic Aioli Sauce: Mix a cup of mayonnaise with the juice of half of a lemon. Add a teaspoon of fresh finely chopped rosemary leaves. Seasoned with salt, a dash of cayenne pepper and garlic powder. Blend all ingredients and chilled.