A HEALTHY MEAL PLAN, DESSERTS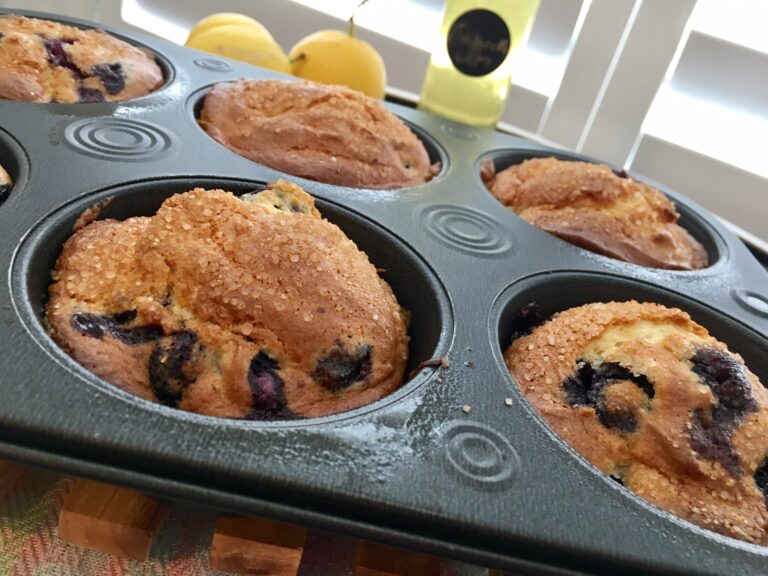 Lemony, slightly sweet and healthier muffins. Super moist, with crispy delicious edges and top. Perfumed your whole kitchen!
Ingredients
1 cup unbleached All-Purpose flour
1/2 cup whole wheat flour
1/2 teaspoon baking soda
1 teaspoon baking powder
2 large eggs, room temperature
1/4 cup coconut oil, melted
1/4 cup of Limoncello (see my recipe on my site) or juice of 2 lemons
1/4 cup of Organic Maple Syrup
2 cups fresh blueberries
zest of a lemon
2 tablespoons of Turbinado raw sugar (for topping, optional)
1 cup of low-fat plain yogurt
1 teaspoon vanilla extract
Preparation:
Preheat oven to 350 grades Farenheit
Coat with baking spray a 12 or 2 muffin cups tins of 6, set aside.
Combine in a medium bowl, flours, baking soda, and baking powder.
Use another bowl and hand whisk together eggs, maple syrup, vanilla, and coconut oil until well blended.
Incorporate plain yogurt, limoncello, and lemon zest. Mix all. Add mixed flour in. Do not over whisk it.
Fold in blueberries gently.
Pour equally amount of batter into your prepared greased muffins cups tins.
 Sprinkle some Turbinado sugar over each muffin cup.
Bake for 20 to 25 minutes or until top are golden brown and toothpick inserted in the center of muffins comes out clean. Remove from oven.
Let it cool in pan for about 5 minutes.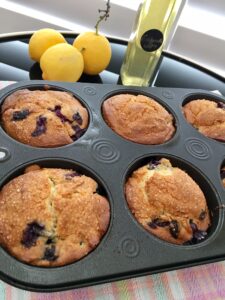 11. Transfer into a rack to cool. Enjoy!