A HEALTHY MEAL PLAN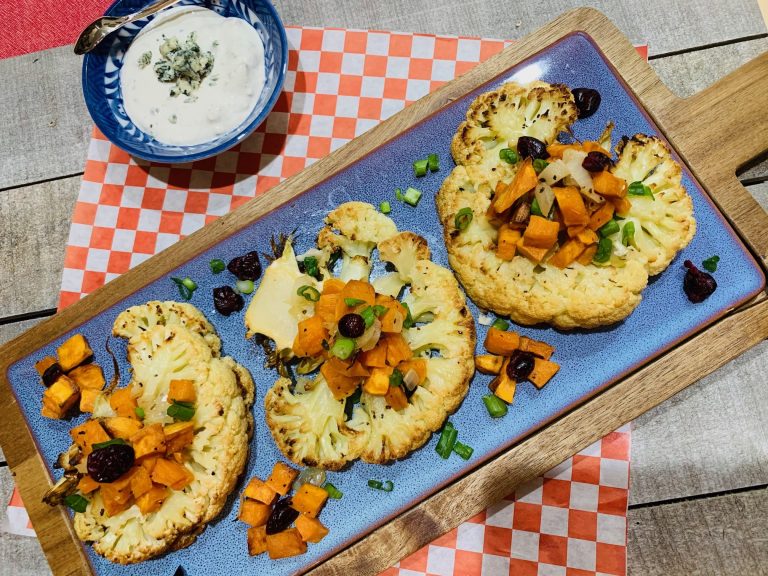 Ingredients
1 head Cauliflower, cut into 1-1 1/2 inch thick slabs
2 sweet potatoes, diced in small
1 teaspoon salt
1 teaspoon garlic powder
1 teaspoon freshly ground black pepper
1 small onion, diced
4 Tablespoons olive oil
Yogurt Blue Cheese Sauce
1/2 cup Plain Yogurt
5 ounces Blue Cheese, crumbled
1/2 teaspoon dill, dried
1 Tablespoon mayonnaise
2 Tablespoon fresh lemon juice
1 garlic clove, minced
Salt and Pepper to taste
Mix all to combine. Set aside in fridge.
Toppings
green onions, chopped
dried cranberries
Preparation for Roasted Cauliflower Steaks with Sweet Potatoes
Preheat oven at 400 grades Fahrenheit.
Wash cauliflower head and pat dry. Remove outer layer leaves. Slice cauliflower head into 5 to 6 steaks ,1 to 1 1/2  inch thick slab to the stem.
Clean and peel sweet potatoes. Cut sweet potatoes into small cubes.
Place into 2 different baking sheet with foil  cauliflower steaks and sweet potatoes-onions.
Drizzle olive oil over cauliflower steaks on both sides and season with salt and pepper.
Drizzle olive oil over sweet potatoes and onions. Toss all ingredients. Sprinkle with salt, garlic powder and black pepper.
Place both baking sheets at same time into the preheated oven and roast cauliflower for 15 minutes, flip the cauliflower steaks and roast for another 10 minutes till fork tender and crispy around edges. Diced sweet potatoes will be done and soft at the same time of the cauliflower steak.
Remove roasted sweet potatoes and cauliflower steaks from oven. Place cauliflower steaks over paper towel.
Transfer cauliflower steaks to a serving plate.
Place roasted sweet potatoes and onions over cauliflower steaks.
Garnish with some chopped green onions and dried cranberries. Drizzle cold Yogurt Blue Cheese Sauce over the top and enjoy!