DESSERTS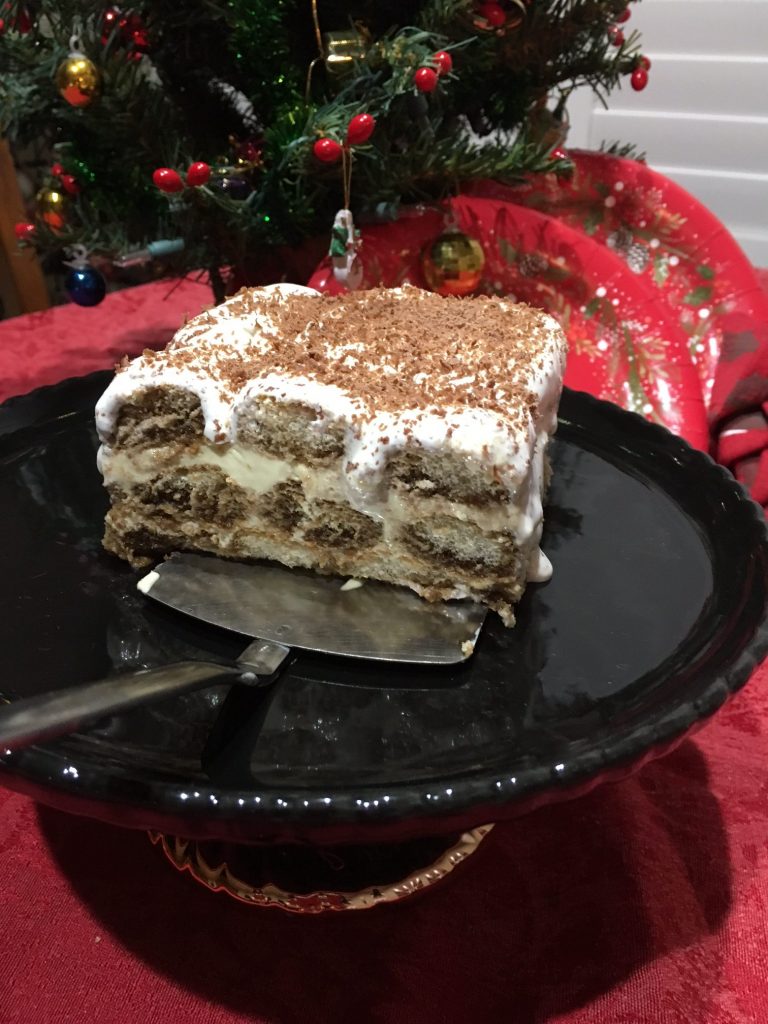 Ingredients for Tiramisu
24 ladyfinger cookies
1 cup fresh brew coffee
3 egg yolks
1/4 cup granulated sugar
2 cups heavy cream
1 1/2 cups powdered sugar
1/2  cup homemade Eggnog or store-bought
2 1/2 cups mascarpone cheese, room temperature
semi-sweet chocolate shaves, for garnish
Ingredients for Easy Homemade Venezuelan Eggnog-Ponche de Crema
2 cups milk
1 can(14 ounces) sweetened condensed milk
5 egg yolks, beaten
1/2 cup rum
1/2 teaspoon nutmeg, freshly ground
1 cinnamon stick
1 lime zest
Preparation for Eggnog
In a large pot heat milk on low . Add cinnamon stick, ground nutmeg and the zest of a lime. Mix and incorporate condensed milk. Stir to combine.
Remove 1/2 a cup of this warm milk mix and added to beaten eggs whisking constantly. Pour this egg mix back into rest of milk and keep stirring until Eggnog has thickened.
Incorporate rum, mix and remove from heat.
Remove cinnamon stick. Pour into a blender and blend until well combined.
Use a funnel to transfer Eggnog into a glass bottle. Store in the fridge. It could last up to 1 month. Enjoy with some cinnamon on top when serving!
Preparation for Tiramisu
Beat egg yolks using a hand mixer at medium-low speed until pale. Add sugar and mix well until creamy and dissolved.
Incorporate room temperature soften mascarpone cheese, 2 tablespoons of brew coffee and 1/4 cup of prepared Eggnog. Mix until combined for about 3 minutes. Set aside.
Mix the remaining coffee with rest of prepared eggnog in a bowl.
Grab each lady finger cookie and dunk for about 5 seconds into the Eggnog-coffee mix. Arrange cookies into a 12 x 12 inch glass casserole.
Spread half of mascarpone cream on top. Repeat with another layer of cookies and spread rest of cream on top.
Whip heavy cream at high speed until fluffy and incorporate powder sugar slowly until well combined. Spread whipped cream over the top.
Garnish with grated chocolate.
Store in the refrigerator for at least 12 hours before serving. Enjoy!