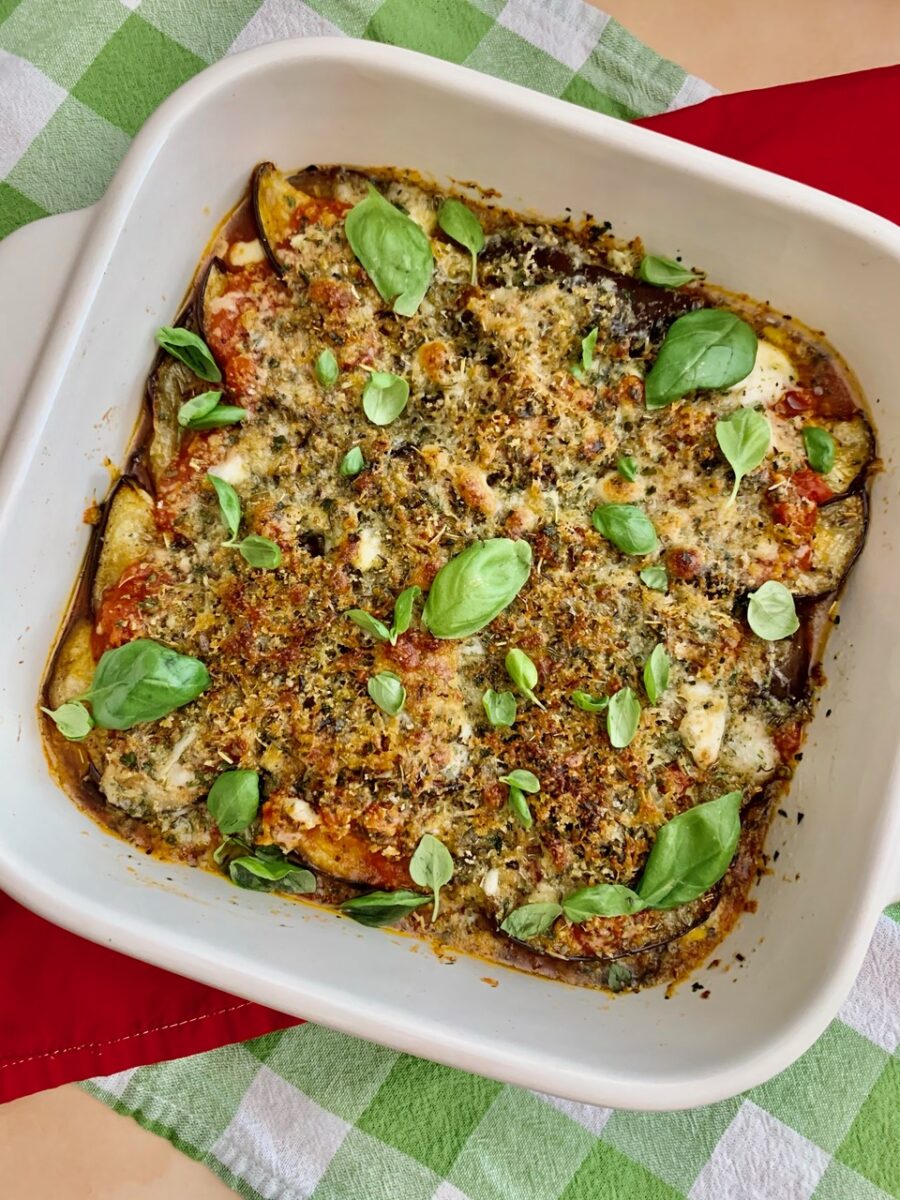 Ingredients:
4 large, unpeeled eggplant, sliced 1/3 inch thick
4 Tablespoons Extra Virgin Olive Oil
2 garlic cloves, minced
24 ounces crushed tomatoes
1 cup mozzarella, shredded
1 medium onion, diced
1 teaspoon oregano, dried
1/4 teaspoon black pepper, freshly ground
1/2 teaspoon, salt
1/2 teaspoon crushed red pepper
1/4 cup fresh basil leaves, julienned cut, some in whole for top
1 teaspoon butter, to grease pan
Topping:
1/4 cup fresh parsley, minced
2 Tablespoons Olive Oil
1 1/2 cup breadcrumbs of a French baguette
1/4 cup Parmesan Cheese, grated
Place all ingredients in food processor. Pulse couple times to combine.
Preparation
Preheat oven to 425 grades Farenheit. Place eggplant in one layer on 2 or three large sheet pans brushed with olive oil. Brush top of eggplants too with olive oil
Sprinkle some salt, pepper, and 1/4 teaspoon oregano over eggplants. Roast for 15 to 20 minutes until tender and golden. Remove and set aside.
Use a 10×14 inch baking dish greased with butter for assembling Eggplant Parmigiana later. Set aside.
Meanwhile make Marinara Sauce: Over medium heat add 2 Tablespoons of olive oil to a saucepan. Heat oil and add diced onions and garlic. Cook until soft for about 3 to 4 minutes. Add crushed tomatoes, salt, pepper, crushed red pepper, and dried oregano. 5. Let it simmer partially cover for about 10 to 15 minutes. Reduce heat and add fresh julienne basil leaves. Remove from heat.
Assembling Eggplant Parmesan
Lower heat to 350 grades Fahrenheit. Spread a third of Marinara Sauce on bottom of 10×14 inch baking dish. Arrange third of the roasted eggplants over sauce. Sprinkle with 1/3 of the grated mozzarella. Arrange second layer of roasted eggplant, top with sauce and mozzarella cheese. Repeat again. Add mixed bread topping evenly. Bake uncovered for 30 to 35 minutes until top is crispy and golden brown. Remove from oven. Sprinkle with some basil leaves. Allow to cool for about 10 minutes. Serve and enjoy!