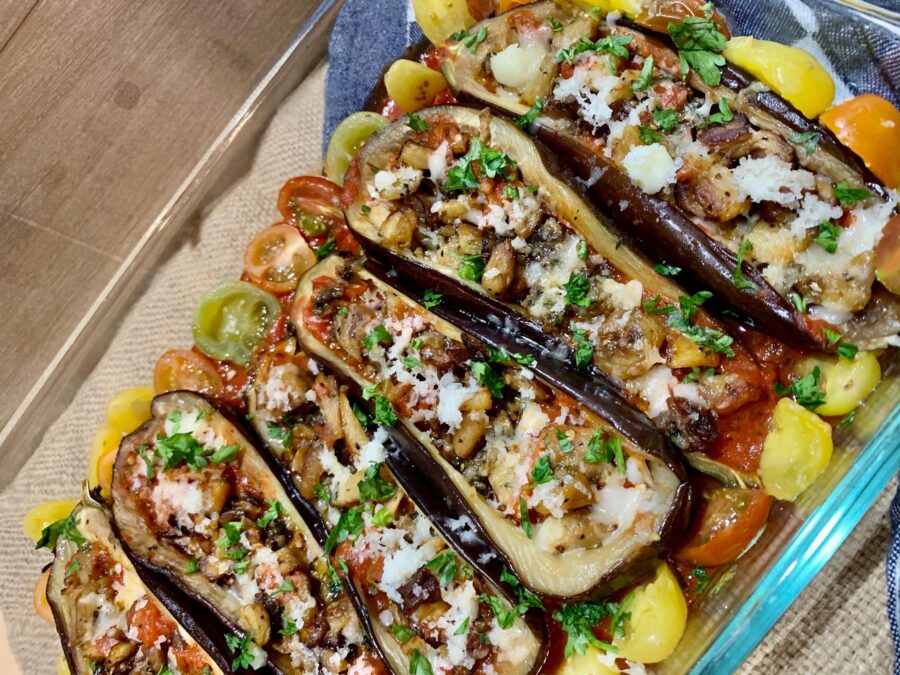 Ingredients
3 medium eggplants, halved lengthwise and trimmed off stems
3 eggplant-flesh diced
1 pound Italian sausages, casing removed
1 small yellow onion, finely chopped
4 cloves of garlic, minced
2 cups cherry tomatoes, halves
1/2 cup fresh parsley, finely chopped + 2 Tablespoons for garnish
1 1/2 cup Marinara Sauce (see my site for recipe)
1/2 cup shredded Mozzarella cheese
2 Tablespoon Olive Oil + 2 Tablespoon for eggplant shells
1/2 teaspoon oregano, dried
1 teaspoon salt
1/2 teaspoon freshly ground black pepper
1/4 teaspoon crushed red pepper flakes
Preparation
Preheat oven to 400 Grades Fahrenheit.
Cut eggplants in half. Use a little spoon to scoop out the pulp. Leave like 1/2 inch border around the skin.
Chop in small pieces the eggplant's pulp removed. Set aside.
Place eggplant side open down on a baking sheet, drizzle with 2 Tablespoon of olive oil. Season with pepper. Roast for about 20 minutes.
Meanwhile, use a large skillet on medium-high heat add olive oil and cook eggplant-flesh for about 4 minutes until brown. Remove and place over paper towel to remove oil.
Brown sausages. Add onions, minced garlic. Seasoned with salt, pepper, crush red pepper flakes, and dried oregano. Cook for about 5 to 7 minutes or until  Add fresh parsley. Set aside.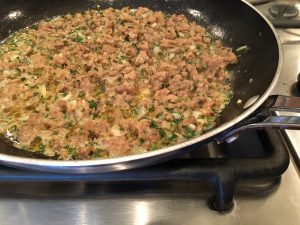 7. Pour 1/2 cup of Marinara Sauce on the bottom of 9 X 12 greased baking dish. Place roasted eggplant shells on top. Seasoned with salt. Add 1 teaspoon of Marinara Sauce on each shell.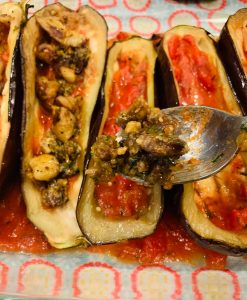 8. Distribute all cooked diced eggplant-flesh into the 6 shells.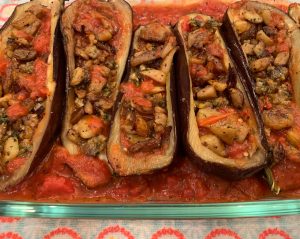 9. Divide sausage mixture evenly over. Top each eggplant with shredded mozzarella cheese.
10. Align all around cherry tomatoes halves. Cover baking dish with foil. Bake for 15 minutes until cheese is melted and eggplant finish cooking.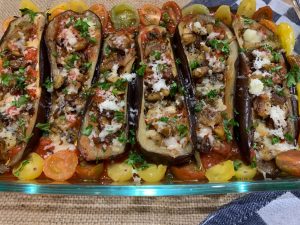 11. Remove from oven and sprinkle fresh parsley on top, Enjoy!