A HEALTHY MEAL PLAN, SALADS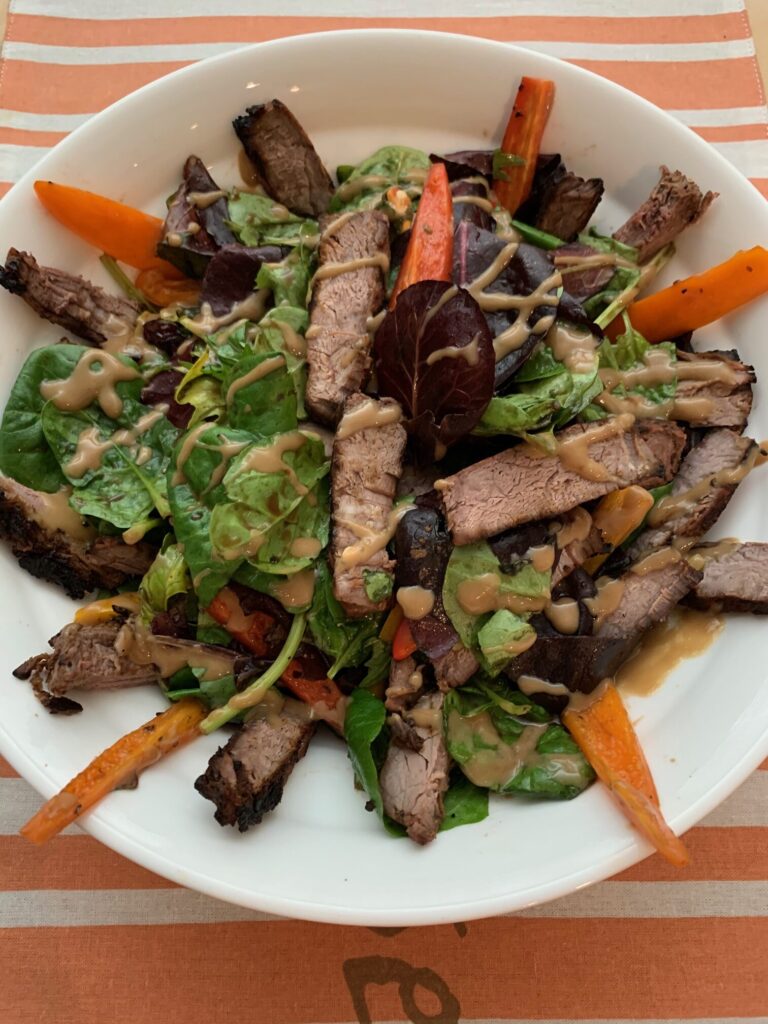 Ingredients
FOR THE SALAD:
2-3 cups Baby Spinach Fresh Leaves
2 carrots, sliced and grilled
1/3 teaspoon grated fresh ginger
1 clove of garlic, minced
1 teaspoon Dijon mustard
1/2 teaspoon soya sauce
1 Tablespoon mayonnaise
1 teaspoon honey
FOR THE STEAK:
1 pound Flank steak or skirt steak
Salt and Pepper to seasoned
1 teaspoon Pomegranate Molasses
2 Tablespoon Extra Virgin Olive Oil
Preparation
Dry Steak with paper towels. Place steak in a large bowl to marinate for about 35 to 40 minutes with salt, freshly ground black pepper, pomegranate molasses, and olive oil.
Meanwhile, heat the grill over medium-high heat. Grill steak for about 3 to 5 minutes on each side. Place steak on a cutting board, cover with foil and let it rest for at least 5 minutes. Cut into strips. Set aside.
Place spinach leaves in a large salad bowl. Arrange grilled carrots all around.
In a medium bowl, combine fresh ginger, minced garlic, Dijon mustard, soya sauce, mayonnaise, and honey.
Drizzle enough dressing over salad. Enjoy!