A HEALTHY MEAL PLAN, MEDITERANIAN DISHES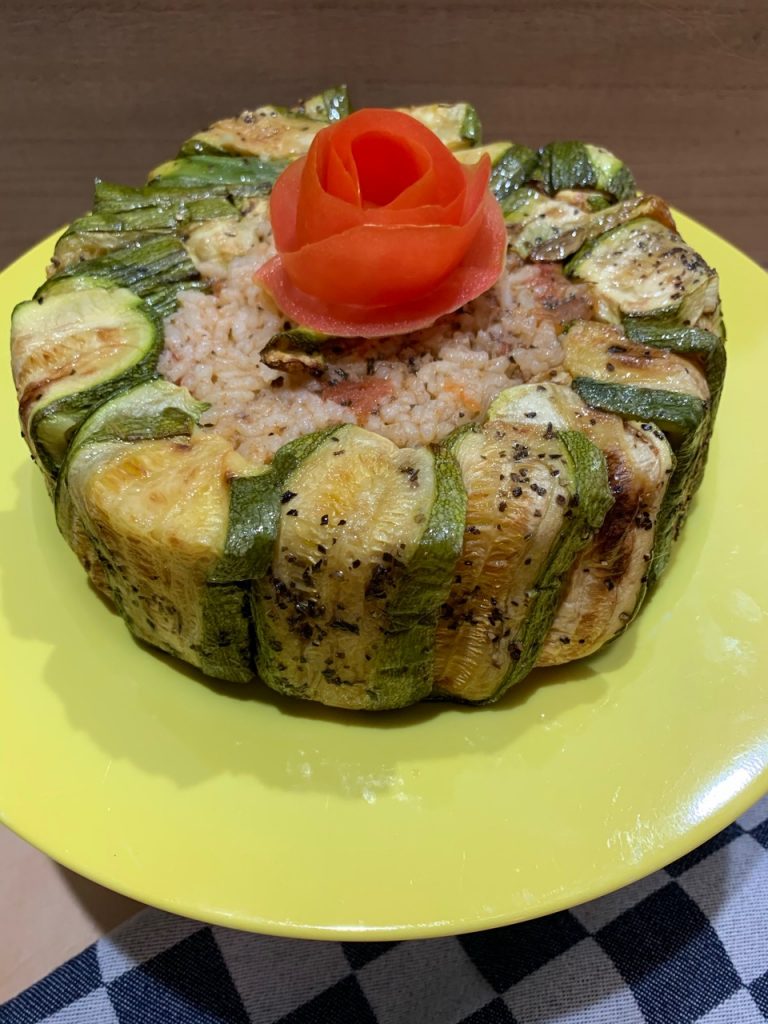 While the original Lebanese Kousa Mahshi might not come together in just 30 minutes, this recipe will !
Avoid the coring and stuffing. Once you try it, it will become a family favorite.
Ingredients
6-7 Zucchini (sliced in quarter-inch strips)
3 Tablespoons Olive Oil
1/2 pound ground beef
1/4 teaspoon cinnamon, ground
1/3 teaspoon nutmeg, ground
1/4 teaspoon dried mint
1 teaspoon salt
1/4 teaspoon black pepper
2 Tablespoons tomato paste
3 Roma tomatoes, small diced
2 large tomatoes, cut in round to layer
2 garlic cloves, minced
3 1/2 cups vegetable broth
1 1/2 cup short grain white rice
2 Tablespoon fresh lemon juice
Preparation
Preheat oven to 400 grades Fahrenheit. Line a large baking sheet with foil and drizzle it with 1 Tablespoon of olive oil. Set aside.
Cut zucchinis lengthwise in quart-inch strips and place over foiled baking sheet. Drizzle some olive oil over zucchini slices, and season with salt and pepper. Roast zucchini strips for about 30 minutes till tender.
Place tomato rounds over another baking sheet and roast for about 15 minutes at the same time of zucchini.  Meanwhile make Zucchini Rice Cake stuffing.
Remove roasted zucchini and tomatoes from oven. Let them cool to then assemble.
Use a 9-inch Nonstick Spring Form Cake Pan and arrange roasted zucchini strips in  a decorative overlapping circle all around the pan leaving end of zucchini strips hanging out a little at top of the spring form pan. Set aside.
Preparation for Rice Mixture(Stuffing) 
Heat 2 Tablespoons of olive oil in a sauce pan on medium heat. Add ground beef. Cook it for about 3 to 4 minutes and add minced garlic. Seasoned with salt, pepper, cinnamon, and nutmeg.
Continue on cooking beef until browned. Add raw rice.Stir and add tomato paste dissolved into the vegetable broth with lemon juice and dried mint.
Bring mixture to a boil. Lower the heat to simmer. 4. Cover the pan with lid and let rice cook for about 20 minutes until broth is completely absorbed and rice is cooked. Uncovered pan and let rice to cool slightly to assemble in spring form pan.
Assembling
Continue from Step 5 above with arranged zucchini all around the Spring-form Pan, pour half of cooked rice stuffing in middle of the pan pressing with back of a spoon making an even layer.
Arrange roasted tomato slices over the rice.
Use rest of the rice and spread evenly over tomatoes all the way to the top.
Press rice down in an even layer using back of spoon.Fold ends of zucchini slices over the rice.    
Remove the side band from the pan and bottom very carefully. Run a knife under it to loosen.
Transfer it to your serving platter. Enjoy!