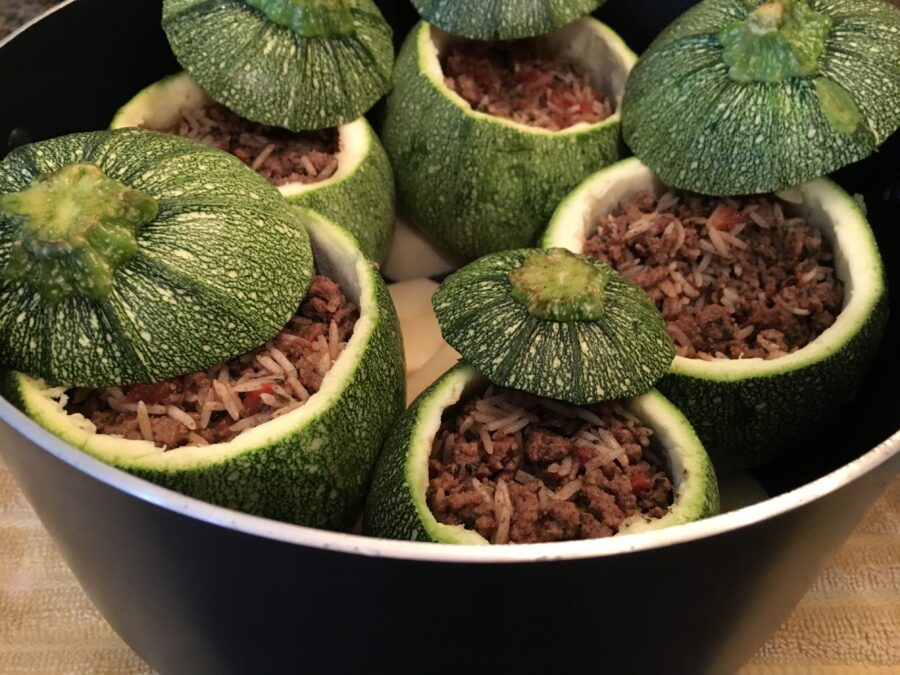 Memorable dish to share! My angel Mom's Recipe…
Ingredients
5 zucchinis
1- 4 oz. tomato paste can (mixed with water)
1 cup basmati rice(uncooked)
1/2 pound sirloin steak(ground)
5 cloves of garlic, minced
2 large potatoes, round slices
2 Roma tomatoes, small diced
2 Tablespoon mint, dried
1 teaspoon nutmeg, freshly ground
3 Tablespoon extra virgin olive oil
4 Tablespoons fresh lemon juice
1 teaspoon Kosher salt
1/2 teaspoon freshly ground black pepper
1/2 teaspoon cinnamon, ground
Preparation
Wash and dry zucchinis. Cut top off each zucchini, do not discard. To hollow out the zucchinis use a corer about 3/4 of the way into each zucchini  by twisting it and pull out the flesh, gently scraping the sides making sure not to poke them until completely clean from the inside leaving about 1/4 inch rim on each one. Set clean and ready to stuffed zucchini aside.
Peeled and sliced potatoes. Lay potatoes on the bottom of a large deep pot.
 For the Stuffing: In a large skillet, heat olive oil and sate ground meat at medium-high heat for two to three minutes. Add half of the minced garlic and diced tomatoes. Seasoned with salt, pepper, nutmeg and cinnamon. Add uncooked rice. Stir and remove skillet from heat. Set aside.Stuff each zucchini 3/4 of the way up with rice mixture, leaving room for the rice to expand while cooking.4. Place all stuffed zucchinis over uncooked potatoes in the large pot next to each others.. Pour over tomato paste mixed in salted water with dried mint, rest of minced garlic and lemon juice covering half of the way up of zucchinis in the pot. Spoon some of the rice-meat filling all around if you have any of the mixture left.
5. Heat covered at medium-high heat until simmering. Zucchinis will cook perfectly with top parts on. Lower the heat and continue to cook until zucchinis are fork tender for about 40 to 45 minutes or until rice is loose and completely cooked.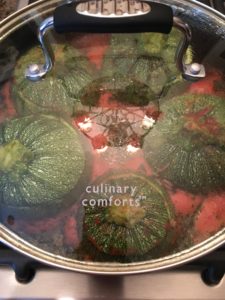 6. Serve warm and enjoy!