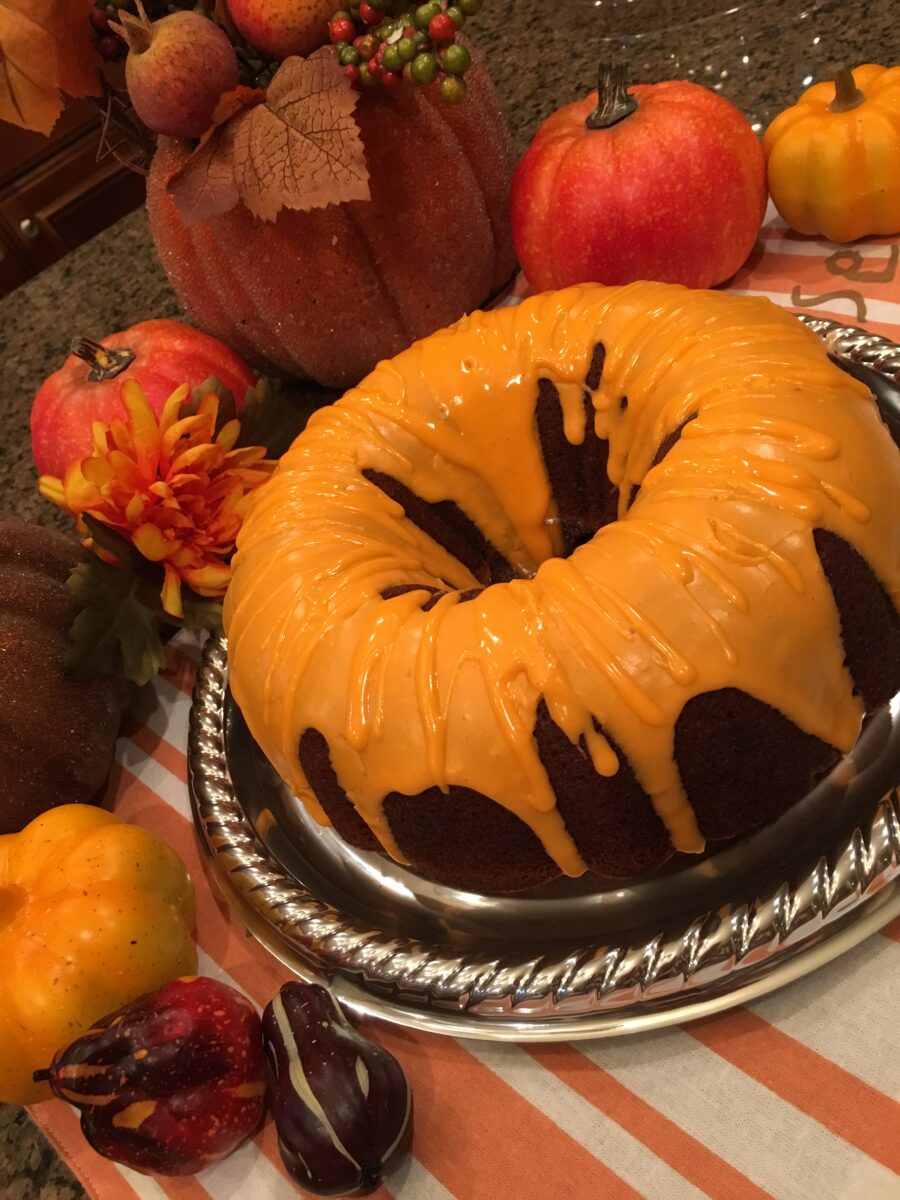 Ingredients
3 cups cake flour
2 teaspoon baking powder
1/2 teaspoon baking soda
1/2 cup Plain Yogurt, room temperature
1 cup Vegetable oil
2 Tablespoon unsalted butter
2 large apples peeled and diced
1/2 cup packed light brown sugar
1 Tablespoon brown sugar
1/2 cup granulated sugar
3 large eggs, room temperature
1 teaspoon cinnamon, ground
1/4 teaspoon turmeric, ground
1/2 teaspoon allspice, ground
1/2 teaspoon salt
Preparation
Preheat oven at 350 grades Fahrenheit. Prepare and grease with nonstick spray or butter and flour a 9 to 10 inch Bundt cake pan. Set aside.
Use a skillet and at medium heat melt a tablespoon of butter. Add diced apples. When apples release their juices, add 1 Tablespoon of brown sugar. Cook until apples are slightly tender. Remove from heat and set aside.
Whisk together in a large bowl, cake flour, cinnamon, allspice, baking powder, baking soda, turmeric, and salt. Set aside.
4. Use another bowl and whisk together eggs, light brown sugar, granulated sugar till yellow pale. Add vegetable oil, plain yogurt, and combine all ingredients well. Incorporate this mixture                  into the flour mix ingredients and whisk well until batter is creamy and smooth.
5. Fold in the cooked apples drained from juices. Pour batter into greased Bundt cake pan. Bake cake for about 55 to 60 minutes or until a toothpick inserted in middle of cake comes out clean. Remove from oven and let it cool completely before applying glaze. Meanwhile prepare The Maple Glaze: Use a sauce pan over medium heat and add 1/2 cup of Organic Maple Syrup with two tablespoon of salted butter. Add 1/4 cup of heavy cream. Stirring consistently and bring it to a boil. Remove from heat and whisk in 1/2 teaspoon of rum extract. Mix and incorporate slowly 1 to 2 cups of powder sugar. Whisk well until smooth and add 5 to 6 drops of Orange color food coloring. Mix to incorporate color very well. When cake is completely cool drizzle maple glaze on top and let it set for 10 minutes, and apply over a second coat of icing if you like. Enjoy!