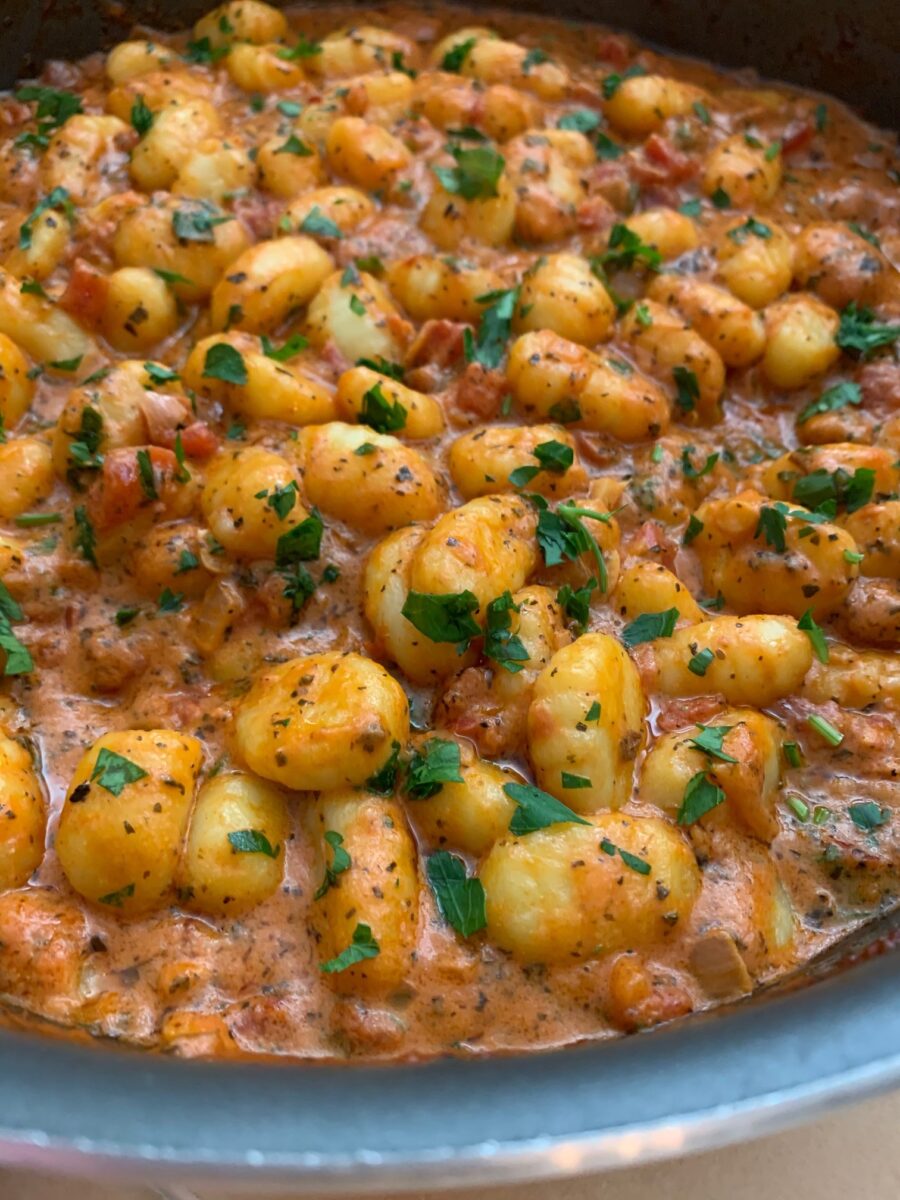 Ingredients for Homemade Gnocchi
1/2 cup mascarpone, room temperature
1 cup whole milk ricotta, rinsed
2 egg yolks
1 cup + 2 Tablespoon of all-purpose flour for dusting
1 cup Pecorino Romano cheese, grated
1/4 teaspoon nutmeg, ground
1 teaspoon Kosher salt
1/4 teaspoon freshly ground black pepper
Preparation for Gnocchi
Take excess moisture of Ricotta cheese by using paper towels. Transfer into a large bowl.
Add mascarpone, and eggs yolks. Beat at medium speed using a hand mixer till well combined and creamy.
Incorporate flour, nutmeg, pecorino cheese, salt and pepper. Do not over mix dough. If it is too sticky add some extra flour.
Prepare a large baking sheet pan with foil paper dusted with little flour. Using your hands form a log about 3/4 inches wide and cut into bite size gnocchi. Gently roll each gnocchi using your hands into an oval shape.
Place oval shape gnocchi over floured dusted pan. Lightly dust and coat gnocchi with flour. Toss well.
In salted boiling water cook gnocchi for about 5 to 6 minutes or until they float. 
Remove from water and toss with Vodka Sauce.
Ingredients for Vodka Sauce
2 Tablespoons butter
1 Tablespoon extra virgin olive oil
2 Tablespoons fresh basil, chopped
4 cloves garlic, minced
1/2 cup lemon vodka or regular vodka
1-32 ounces can crushed tomatoes
1/2 cup heavy cream
1 cup of vegetable broth
1/2 teaspoon Kosher salt
1/2 teaspoon freshly ground black pepper
Preparation for Vodka Sauce
Place olive oil and butter into a large sauce pan over medium heat. Add minced garlic. Sate garlic for about 1 to 2 minutes.
Add crushed tomatoes, salt and pepper. cook sauce for 5 to 6 minutes. Add vodka and cook for another 3 minutes.
Add broth and bring the sauce to a simmer. Reduce heat and add cream. Stir until sauce thickened, has turned pink and creamy. Toss gnocchi with warm sauce.
Sprinkle with fresh basil leaves and grated Pecorino Romano Cheese. A drizzle of Extra Virgin olive oil will add an extra nutty flavor. Enjoy!