A HEALTHY MEAL PLAN, FAST AND EASY SIDE DISHES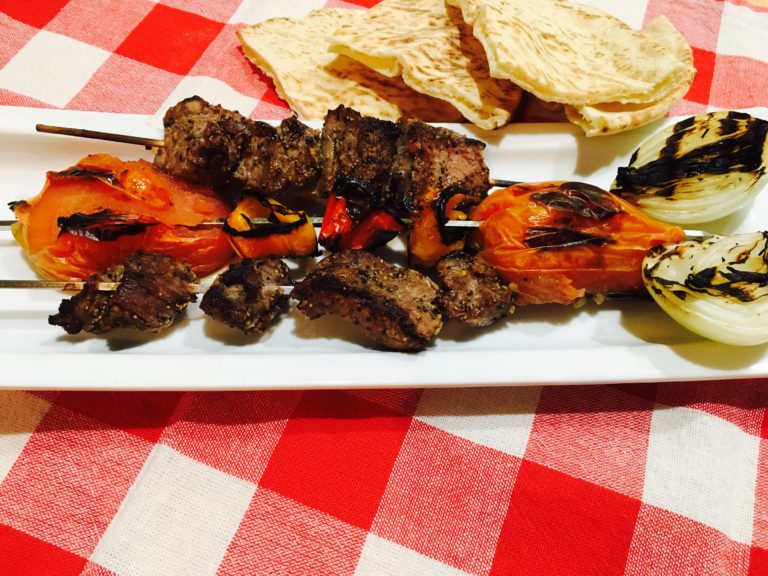 Ingredients
3 pounds Sirloin Steak, cut into 2 inch cubes
1/4 cup vegetable oil
2 teaspoons Kosher salt
1 teaspoon freshly ground black pepper
1/2 teaspoon smoked paprika
1/2 teaspoon ground cumin
2 garlic cloves, minced
2 Tablespoon Worchester Sauce
1/4 cup red wine
4 large onions, halves
4 fresh Roma Tomato, whole
6 metal or bamboo skewers
Preparation
Place sirloin pieces into a large re-sealable plastic bag. Add garlic, Worchester sauce, red wine, salt, pepper, paprika, cumin and vegetable oil. Toss to coat evenly. Refrigerate marinade for 4 to 5 hours or even overnight.
Remove marinade steak from refrigerator and prepare shish kebab into skewers.
Preheat indoor or outdoor grill to medium heat.
Prepare halves onions and whole tomatoes into separate skewers.
Place steak and vegetable skewers on the grill. Grill steak Kebabs until all sides of meat are brown for about 10 to 12 minutes and vegetables are tender.
Remove from grill. Cover for 2 to 5 minutes with foil. Serve and enjoy!