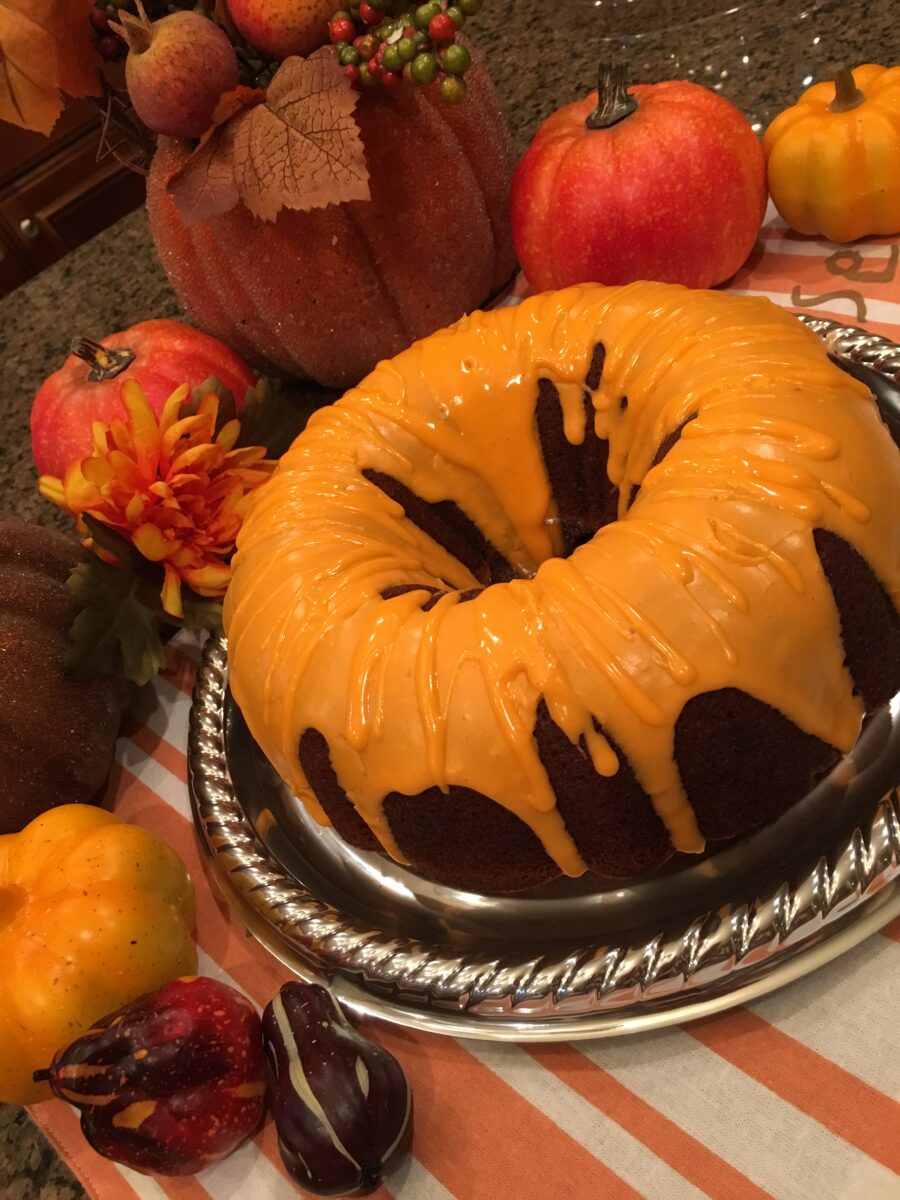 Ingredients
For The Cake
3 cups Cake flour + 1 tablespoon for the pan
3 large Fuji or Granny Smith apples, 1/4 inch diced
4 large eggs, room temperature
1/2 cup light brown sugar
3/4 cup granulated sugar
1 1/2 cup unsalted butter, room temperature + 2 Tablespoon for the pan
1/3 teaspoon salt
1 teaspoon vanilla paste or extract
1 teaspoon baking soda
1/2 teaspoon baking powder
1 cup apple cider
1/2 teaspoon nutmeg, ground
1/2 teaspoon cinnamon, ground
1 teaspoon apple pie spice, ground
1/4 teaspoon cardamom, ground
1/8 teaspoon star anise, ground
1/8 teaspoon cloves, ground
1/8 teaspoon ground ginger
For the Apple Cider Glaze
1 cup apple cider
1  1/2- 2 cups powder sugar
2 Tablespoon butter
drops of orange food coloring
1/2 teaspoon cinnamon, ground
Preparation for the Cake
Preheat oven to 325 grades Fahrenheit. Lightly butter a Bundt pan and dust with flour, set aside.
Using a stand mixer with the paddle attachment, beat together on medium speed the butter, the light and white sugar until yellow pale and fluffy.
Beat in the eggs, one at a time until well incorporated.
Use a large bowl, sift cake flour, baking powder, baking soda and all ground spices together. Set aside.
Combine the cup of apple cider with vanilla.
Add apple cider mixed with vanilla to the butter and sugar.
Add slowly flour and ground spices sifted. Beat on low until all ingredients are well combined but do not over mix.
Fold in diced apples.
Pour batter into the greased and floured Bundt pan. Place it in the middle rack of the oven and bake for 60 to 70 minutes or until a toothpick inserted in the middle of cake comes out clean.
Remove cake from oven. Cool it in pan for 20 minutes before removing. Remove from pan and cool completely over a rack before glazing.
Preparation for the Apple Cider Glaze
Use a medium sauce pan. Over medium heat boil apple cider and add ground cinnamon. Lower the heat and simmer for about 10 to 15 minutes or until glaze is half reduced. Incorporate the butter. Remove from heat and add powder sugar slowly a cup at a time whisking constantly until the glaze thickens. Add food coloring and stir well. Pour glaze onto cool Bundt cake. Enjoy!